Calming sprays are an essential item when you have felines in the house. The purpose of these is evident from their name; they help calm anxious cats and save you the struggle when it's your pet's regular checkup time. You can quickly know if your kitty is disturbed if you sense a change in the body language, eating habits, and behavior like clawing and marking around the house.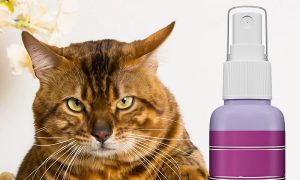 However, the anxiety and unease in pets can stem from a bunch of reasons. This guide will talk about why cats get fearful and show destructive behavior and how these sprays work to reduce and eliminate that behavior.
The formulas mainly include soothing scents and "feel good" pheromones made by mimicking the natural animal signals. You can use these for most common pet issues like scratching, biting, spraying, and general difficulty in socializing.
However, with the increasing popularity of cat calming pheromones, new buyers often find themselves lost in choosing the ideal one for their fur baby. Therefore, to help you out in your quest, our researchers have spent hours creating a list of the few best cat calming sprays.
These have been chosen based on ingredients, effectiveness, specificity, and pet-friendliness. So, keep reading to find out exactly what you need in an ideal cat-soothing formula.
Image
Product Name
Key Features

Our Top Pick

Our Top Pick

Item weight- 4.8 ounces
Contains synthetic cat pheromone
Provides cats with happy messages and calmness

Check On Amazon

Runner Up

Runner Up

Item weight- 3.2 ounces
Features pheromone-mimicking technology
It has calming effect

Check On Amazon

Best Budget

Best Budget

Item weight- 9.6 ounces
Made of herbal extract and essential oil
Concentrated long-lasting calming solution

Check On Amazon

Best Pheromone

Best Pheromone

Item weight- 2.46 ounces
Made with natural herbal ingredient
The effect lasts for 6 hours

Check On Amazon

Best Natural

Best Natural

Item weight- 2 ounces
Made with 100% natural active ingredient
Naturally induces sleep

Check On Amazon

Best Scratch Control

Best Scratch Control

Item weight- 4.4 ounces
Made with a natural calming pheromone
Deter scratching and urinating

Check On Amazon

Best for Training

Best for Training

Item weight- 7.8 ounces
Made with plant-based ingredient
Features ultra-protective properties

Check On Amazon
Best Cat Calming Sprays in 2023 – Reviews
1. Feliway Classic Cat Calming Spray
Top Pick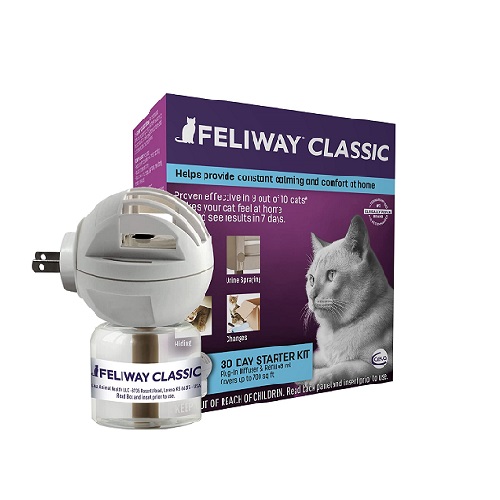 Feliway Cat Calming Spray
The Feliway spray has 700 square feet coverage capacity. It helps to calm aggressive cats by eliminating stress. This vet-recommended spray is odorless, colorless, and safe for human.
Feliway Calming Spray is the best option to achieve a fast behavioral correction mode in your feline friend. This product is Our Top Pick. It is vet recommended and tested to help lessen tension and eliminate unwanted habits that your pet may display as a result of anxiety or stress.
In addition, factors such as change of routine or environment, loneliness, and the long trip can make your cat anxious; thus this spray will help eliminate stress and bring super relief. It has a coverage capacity of 700 sq feet and lasts up to four weeks.
Feliway contains synthetic cat pheromone which when inhaled by pets, makes them comfortable and gives them a feeling that they are out of the danger zone. Also, this product prevents the cat from urinating around the house and deter him from scratching your property. The solution is drug-free and safe for pets; it does not result in any allergies or irritation.
Furthermore, the formula naturally soothes your cat and offers him a reassuring message to keep him temperate and calm. Most cats love to hide especially when they are in a new environment; hence, this spray pushes them out and makes them visible.
Likewise, the product is an effective solution to settle and prevent conflict between household cats, and it acts as a natural solution to calm aggressive cats.
Moreover, the spray is safe for human use and can be applied on items such as fabric, rugs, cars, and furniture. The product is odorless; thus, it is suitable for cats and cat owners with sensitive noses. It leaves no mess or offensive smell in your home. In summary, it is a non-staining spray that would not ruin your property.
Key Features:
Covers up to 700 square feet
Vet recommended and clinically approved
Odorless and colorless formula
Reduces urine spraying
Features no unwanted side effects
What We Like:
Safe for cat and human
Eliminates stress and anxiety
Help reduce scratching
What We Didn't Like:
The spray takes up to seven days before taking effect
2. Feliway Classic Cat Calming Pheromone Spray
Runner Up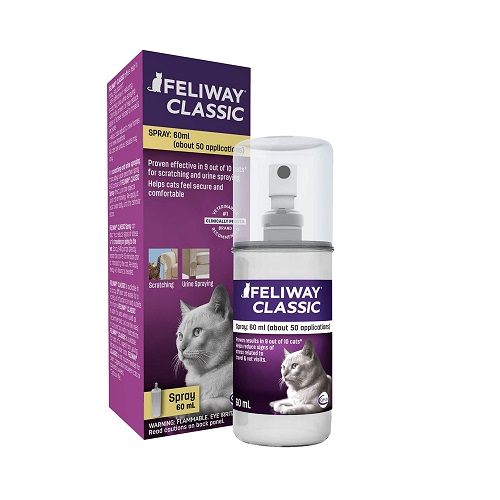 Feliway Classic Calming Spray
This clinically approved safe calming spray reduces aggression, anxiety, fear and brings harmony into your cat's life.
Feliway Classic Calming Spray is a product that offers calmness and eliminates bad behavioral patterns in your four-legged friend. This formula is selected as the Runner Up and provides the best result within a short time. It is clinically approved to decrease stress levels and eliminate behaviors that come with anxiety.
The product works by mimicking a cat's pheromones to make them feel comfortable and relaxed. It naturally helps your cat remain calm and quickly adapt to the new routine and environment without fussing around. Also, this cat spray prevents the cat from scratching properties, reduces urine spraying, and actively pulls them out of their hiding place.
The soothing effect of Feline Classic Calming spray is superior as it provides cats a happy message that makes them feel loved and protected. It effectively brings harmony between a household pet and reduces aggression in aggressive cats. Additionally, the formula is drug-free and has no adverse effect on your feline friend. It is safe for humans and cats of all ages.
The colorless feature makes the spray applicable to your belonging without destroying them. It can be applied to fabrics and every other place your cat loves to play. The product is odorless; thus, it leaves no offensive or irritating smell in your home. Likewise, the formula comes in a portable bottle with easy to spray cover for even diffusion.
Key Features:
Effectively calms many cats
Vet recommended and clinically approved
Eliminate stress and anxiety
Colorless and odorless formula
Eliminates aggression and harmonizes household cats
What We Like:
Applicable for a wide variety of surfaces
Suitable for cats and cat owners with a sensitive nose
Safe for cats and human
Reduces urine spraying and scratching
What We Didn't Like:
The spray has an opposite effect on some cats
3. Nature's Miracle Cats Calming Spray Stress Reducing Formula
Best Budget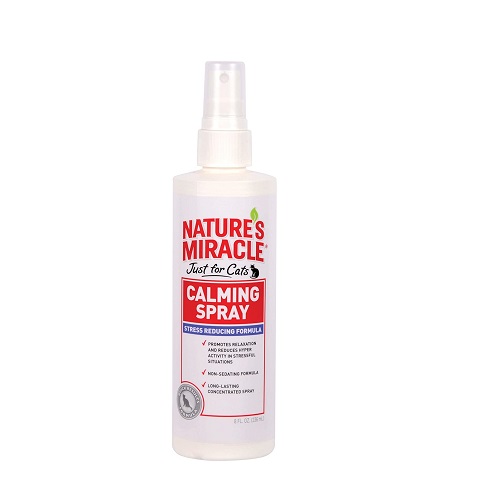 Nature Miracle Cats Calming Spray
This calming solution made with natural extract, which is concentrated and long-lasting, easy to use, stain-free, and prevent scratching. It comes with pleasant scent and very simple correctional approach.
Nature Miracle Cat Calming Spray is a formula that helps prevent the unwanted behavior cats may put up due to anxiety and fatigue. This spray is the Best Budget for cat owners who desire a cheaper and simpler correctional approach for their feline companion. Also, the product is highly concentrated. Hence, it leaves a long-lasting effect on your cat.
Furthermore, the product is made with natural extracts and essential oil to enhance relaxation. It eliminates hyper-activeness in your cat. The spray has a soothing scent that when inhaled by cats, gives them comfort and calmness. In addition, it is the best calming formula for aggressive cats that loves to pick on other household pets. It deters cats from urinating and constantly scratching on your belongings.
Also, the formula is sedative-free but at the same time offers pets safety and relief. It is a non-toxic brand and has no adverse effects or allergies on both humans and pets. Again, the spray leaves your home with a pleasant smell and welcoming atmosphere. The formula is stain-free and can be applied on all kinds of surfaces. It is easy to use and comes in a portable container with a spray cover.
Key Features:
Non-sedative cat calming solution
Colorless and easy to spray
It contains a soothing and sweet scent
Lessens stress and hyper activeness
Suitable for pets and children
What We Like:
Provides immediate and lasting results
Reduces stress and anxiety
Safe for children and pets
What We Didn't Like:
Contains parabens
Not completely natural
4. Beloved Pets Relaxivet Calming Pheromone Spray
Cat owners who want a solution to reduce tension and anxiety should go for Relaxivet Spray. It is the best pheromone calming spray for cats. This product is powerful and can calm the toughest cat.
Again, it features fast action and takes effect immediately you apply it as instructed. This formula saves you the stress of tolerating unwanted behavioral patterns in cats.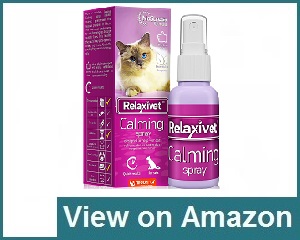 Relaxivet is made with natural ingredients and pheromones that control anxiety and panic in your cat. The formula produces a calming effect for six hours; thus, it is an ideal option for cats on travel or during a change in routine.
Also, this product is non-stress and non-toxic, making it perfect for a pet with an allergic reaction and a sensitive body. It is effective for 90% of cats; hence your cat is not left out!
In addition, this spray brings harmony between pets in the house while preventing them from picking on each other. Also, it reduces scratching and brings cats out of hiding places.
It is safe for cats, and the colorless feature makes it applicable on sensitive surfaces without damage. Finally, the solution comes in a portable container and is easy to use.
Key Features:
Eliminate tension and stress effect
Soothes and calm aggressive cat
Correct unwanted behavior
Pleasant smell and acts fast
Suitable for cats with a sensitive nose
What We Like:
Fast action cat spray
Easy to use deterrent spray
It comes in a portable container
Prevent cats from fighting
What We Didn't Like:
5. Richard's Organics Pet Drug-Free Calming Drops
If you are looking for a way to treat anxiety and short-term stress in your cat, Richard Organics has you covered. This formula is recommended as the Best Natural Cat Calming Spray that calms and reduces hyperactivity in your cat. It is the best solution that keeps your cat under control when introducing him to a new environment or routine. Also, the spray naturally induces your feline friend with healthy sleep.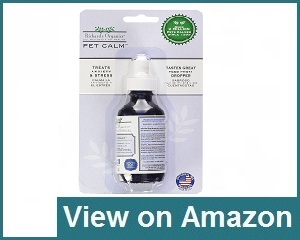 Richards Organics is formulated with 100% natural active ingredients which are clinically approved and proven to alleviate pet stress and promote emotional wellness. The solution is effective and fast-acting for even the most mischievous cat. Moreover, the spray is drug-free; it is safe for cat and household use without leaving your cat in a messy condition.
Furthermore, the formula eliminates fear and makes your feline friend feel comfortable and safe around the house. It is suitable for all cat breeds and shows positive results within a short time. Also, the spray is colorless and effective; hence it can be applied to your belonging without ruining them.
The spray is odorless; thus, it is suitable for cats and cat parents with sensitive noses. Lastly, this product features premium ingredients and comes at a fantastic price pet owners can afford.
Key Features:
Colorless and odorless cat calming spray
Reduces tension and anxiety
Non-toxic solution
Correct unwanted behavior
Soothes and calm aggression in cats
What We Like:
Fast action formula
Suitable for cat and dog
Easy to use
Comes at a reasonable price
What We Didn't Like:
Dropper might be difficult to use
6. Comfort Zone Cat Calming Spray
Providing a calm atmosphere for your feline friend naturally eliminates the unwanted behavioral pattern and keeps him happy all day long. Comfort Zone cat spray is the best scratch control spray as it prevents your cat from destroying your valuables. Also, this product can be used as a deterrent solution for keeping off places your cat loves to visit. It is one of the best formulas that prevent your cat from urinating and messing up in the house.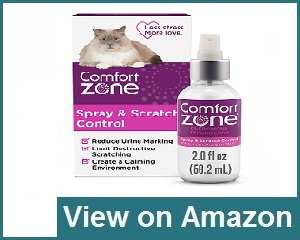 Comfort Zone Spray is a water-based solution formulated with natural calming Pheromones that brings your cat a sense of safety and comfort. Most importantly, the solution is drug-free and non-toxic; therefore, it is ideal for all cat ages and breeds. It is safe for humans and can be applied to any house property.
Also, did you brought bring in a new cat? This formula will help cats adapt to new environment and promote emotional wellness. If you love to travel with your cat, this product will keep him calm while you experience a smooth drive. It helps reduce anxiety and eliminate every horrible behavior that comes with stress.
Likewise, this water-based solution is colorless. Thus, it can be applied on surfaces with sensitive colors. The vapor of the spray is odorless and does not leave your home smelling offensive. The formula works fast and effectively, and it comes in an ergonomic bottle with easy to spray cover for even diffusion.
Key Features:
Enhances positive behavior
Drug-free and non-toxic solution
Has no offensive odor
Suitable for all cats and breeds
Create a calm and safe environment
What We Like:
Veterinarian-recommended
Pheromone-based formula
It comes with a satisfaction guarantee
What We Didn't Like:
It is comparatively expensive
7. Claw Withdraw Cat Scratch Deterrent Spray
Are you searching for a fast and effective way to inculcate good behavioral patterns in your cat? Look no further! Pet MaterMind spray is the best cat calming training spray! This formula deters and trains your feline friend to master his boundaries and keep off restricted areas. Also, it is a perfect solution to discourage destruction and naughty behaviors.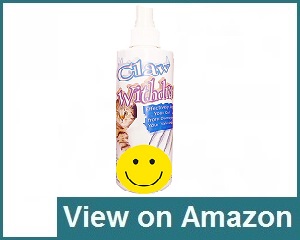 Pet Mastermind Spray consists of a plant-based gentle and soothing ingredient that naturally deters cats from clawing on household belongings. The solution produces a liquid shield with effective, ultra-protective properties to deter the most mischievous cat from clawing through your valuables. Furthermore, the spray is chemical-free and safe; thus, it has no adverse effect on your feline buddy.
In addition, this solution is an ideal choice for Cats with allergies and sensitive skin. The spray has a natural scent that gives your home a pleasant smell. It is a colorless spray that can be applied on furniture, couch, fabric, carpet, and more doorways. Lastly, this correctional formula is easy to use, perfect for travel purposes and has a lasting effect. It can be used daily to break the habit of constant no scratch cat spray.
Key Features:
Eliminate stress and enhance calmness
Prevent cats from scratching and exceeding boundaries
Non-toxic and chemical-free deterrent spray
It is an odorless spray
Suitable for most cat breeds
What We Like:
The spray is suitable for most surfaces
Easy to use formula
Works within 15 minutes
What We Didn't Like:
It does not work on some cats
How Do Cat Calming Sprays Work?
The primary goal of cat calming products is to help your pet cope with anxiety and fear in stressful situations. While the active ingredients in such sprays are few, the results can differ significantly depending on the pet. All cats are unique, and therefore, what works for one feline may not be effective for the other.
With that said, there are mainly three types of such sprays, namely scented, pheromone-based, and a mix of both fragrances and pheromones combined. The most popular and common ones are pheromone formulas. These are natural signals that cats release into the environment in different situations.
For example, a female cat may release pheromones to attract a mate. A nursing feline may release these to allow its young ones to track her back if they are lost. Cats also release these when they urinate and hence, mark an area as theirs.
Lastly, when cats rub their face, the chemicals released are used to deem something or someone as safe. Therefore, there is a huge role that pheromones play in animal communication.
Mimicking the natural soothing chemicals, the sprays can be used on most surfaces, including fabrics, wood, and other places your cat frequents. However, it is best to check the instructions for surfaces it can be used on. These calming sprays focus on your cat's olfactory sense.
Cat pheromones are released by their mothers to help their kittens feel safe. Unfortunately, cats also have a sharper nose and tend to pick up these scents. Other than the soothing effect, pheromones are also used by cats to claim and mark their territories.
Therefore, if your cat is urine-marking around the house, using these formulas can trick him into thinking that the area has already been marked. The end result is that your pet feels safe.
However, the way the spray is used also affects the outcome. You cannot take your cat to a very noisy place full of strangers and expect that a few spritzes of pheromone will do the trick.
However, if it is a safe and healthy regular visit to the vet or a family gathering, these work pretty well. Remember, the spray is an aid, and you should find what you can change to make the environment more comfortable for your pet.
Read more: Signs of cat spraying
Things to Consider When Buying a Cat Calming Spray
When buying a cat calming spray, there are several important factors to consider. Here are some things to keep in mind:
Natural Ingredients
The active ingredients in a calming spray include synthetic pheromones made by closely mimicking the original ones. Since these constitute the actual soothing formula, you need to keep an eye on the extra bit of ingredients added.
Ideally, there should be fewer ingredients. Also, make sure the product is intended for cats and suits your kitty's age group. Some formulas include essential oils and extracts like lavender.
Effectiveness
How quickly a spray shows results is quite important. Mostly, a pheromone spray can take a few hours to calm your pet. However, for more significant behavioral changes, you need to wait and test the product for longer periods.
Therefore, it is a good choice to go with a spray that comes with a warranty. After a week, if you can still see any improvement in your feline's condition, you may need to reconsider changing the application. Sometimes, cats need more than just the new pheromone in their environment.
Scent
As mentioned previously, calming sprays depend heavily on their scents and how cats receive them. Therefore, it is a good idea to make sure your cat likes it. As our furry friends have a relatively sharper sense compared to us, anything that smells too strong will not deliver the desired results. Instead, it may increase your pet's discomfort. Ideally, the formula should have mild fragrances like chamomile and lavender.
Bottle Size
These products are available in multiple sizes ranging from small bottles to large ones. This depends entirely on the number of cats in your house and their overall area coverage. You need to cover more area for bigger homes; hence, it is a good idea to get a larger packing. However, for occasional use or for a single pet, a travel-size spray does the job well. It is compact and easy to carry.
Pricing
Last but not least, the most expensive pheromone spray is not always the most suitable option. The effectiveness is variable, and what works for someone else's pet may not work for your fur baby. You can find sprays for as low as $3 and as expensive as $$$.
Safety
Ensure that the spray is safe for cats and doesn't cause any adverse reactions or allergies. It should be specifically formulated for use on cats and approved by reputable organizations or veterinary professionals.
Ease of Use
Consider the ease of application. Look for sprays that are easy to use and apply directly on your cat or their surroundings.
Longevity
Check the duration of the spray's calming effects. Some sprays provide a short-term calming effect, while others offer longer-lasting benefits.
Warranty
A brand warranty and proper recommendation can give you a risk-free purchase. It also saves you time looking for any side effects of the formula. In addition, many calming sprays come with a lifetime warranty and refund options. If this is your first time getting such a product, make sure to benefit from these choices.
Benefits of Using Cat Calming Sprays
Cat behavior can be unpredictable. However, seeing your feline all stressful is painful. This is where cat calming sprays come in. When used correctly, you can benefit from these in the following situations:
Reduces Marking, Scratching, and Other Destructive Behavior: When your kitty feels unsafe or is in an unfamiliar area, his first course of action may be to spread his scent. Cats do this by marking, also known as spraying. However, each pet is different, and your tabby may use a different approach, like sharpening his claws on your drapes or favorite leather couch.
As mentioned previously, pheromones mimic a cat's natural "feel good" signals. So, when you use these sprays in the places your cat frequents, they produce a calming effect.
As a result, your feline is tricked into thinking that the area is already marked and, therefore, must be safe and familiar. This, in turn, results in reduced destruction. You can also use this approach and combine the spray with treats and praise to redirect the behavior. Get a scratch post and clean up your cat's spray.
Helps Calm Cats when they are being stressed or fearful: Using the particular calming scents can therefore bring an instant sense of ease and safety. There are a few cases where the sprays fail to calm the pet; however, these have been proven helpful in most cases of feline anxiety.
Ideal for helping a young kitten get used to his new environment: Mommy cats release pheromones for their young ones. When cats are born, their eyes and ears are not yet ready for function and remain "closed." Therefore, your kitten's first interaction starts from the senses of smell and touch.
If you have adopted a new fur baby and feel that he is not taking the change with ease, consider using a pheromone spray. Careful actions like slow patting, rewarding treats, and spending time can help the kitty get used to his new environment more quickly.
Natural, Instant Solution: One of the best things about calming sprays is that they use simple, mostly natural ingredients. There are many options with a long list of ingredients; however, it is best to go with limited ingredients and natural scents.
It can Be Used alongside other medications and accessories like flea collars: Last but not least, pheromone products can be used with several other essential cat accessories like flea collars. Most of them are also safe for cats of all ages and can be used even if your feline takes regular medication. If, however, this is your first time purchasing such a spray, consider consulting the veterinarian.
Some Important Tips
Pheromone sprays are species-specific and cannot be used for different pets interchangeably. For example, a product intended for dogs should not be used for cats or other animals.
Some formulas may be too intense for a few-week-old cat. Therefore, if your kitty is too young, it is advised to consult the vet before using it.
Sprays with multiple ingredients may leave stains on some surfaces. Therefore, it is recommended to do a spot test before applying it to furniture surfaces, clothes, and carpets.
When taking your cat to the vet, it is recommended to prepare the crate 15 minutes before taking your pet outside. Use the spray on the crate blanket or bed.
For best results, renew the application every few hours.
Narrow down the locations that your cat frequents.
Pet parents often find that their feline is restless after moving houses or changing the usual furniture setting. This is a good time to use calming aids.
Conclusion
If your cat is restless and exhibits excessive mewling, scratching, and marking, it is safe to say that he is anxious. To find the underlying cause, as a pet parent, you should consider studying your cat's behavior and find out the root cause. Some common reasons why felines get stressed out include environmental changes, fear, and certain physical conditions.
Calming sprays provide you with a quick, easy-to-use, safe method to considerably reduce your pet's stress. When combined with treats, affection, and some positive changes in the environment, you can improve your feline's experience.
Frequently Asked Questions
What is a cat calming spray?
A cat calming spray is a product designed to help reduce anxiety, stress, and promote a sense of calmness in cats.
Are cat calming sprays effective?
Yes. While the effectiveness also depends on each pet, these sprays are known to considerably reduce stress and calm anxious cats. Some products deliver results within a few hours of application, while some may take longer.
It is important to note that calming spray only reduces anxiety and does not treat the original problem. If your cat remains restless, consider changing his environment a little, give him more attention and seek advice if necessary.
Are cat calming sprays safe?
Yes. Pheromone sprays are safe for cats, other pets, and children. As these use species-specific, humans cannot smell these and do not get affected. In rare cases, a kitten less than a few weeks old may feel dizziness if the dosage is too much. However, if the formula uses all-natural ingredients, it should be fine for felines of all ages.
How does a cat calming spray work?
Cat calming sprays typically contain ingredients like pheromones or natural extracts that mimic the scents associated with comfort and relaxation for cats.
When should I use a cat calming spray?
Cat calming sprays can be used in various situations, including during stressful events, travel, vet visits, introductions to new environments, or to create a calm atmosphere at home.
How do I apply a cat calming spray?
Follow the instructions provided by the manufacturer, but generally, you can spray the calming spray in the cat's environment, such as bedding, carriers, or areas they spend time in.
Can I use a cat calming spray alongside other calming methods or medications?
It's generally safe to use cat calming sprays alongside other calming methods, such as behavioral techniques or medications. However, it's advisable to consult with a veterinarian for personalized guidance.