If your pet is a natural explorer, a personalized dog collar could be a very useful accessory for you. This tells at a glance that the canine is owned and prevents the pet rescue authorities from taking the pet away. Dogs have a natural love for exploring places and chewing things. However, regular walks are important for your canine's health. To ensure that your pet stays safe, this collar can provide both leash-attachment and identification.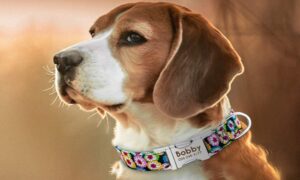 Your pet's name and address can be engraved or embroidered on the strap, making it easy to locate your canine. However, there are so many types and brands to choose from, and it can be challenging to zero in on the ideal personalized collar.
To help you out in this search, our team of researchers has spent hours consulting pet experts and creating a list of the 10 best personalized dog collars. This list is based on the material used, durability, size, adjustability, closure type, and other important features.
Image
Product Name
Key Features

Our Top Pick

Our Top Pick

Highly sturdy design
Made of nylon
Available in different sizes

Check On Amazon

Runner Up

Runner Up

Made of 100% polyester
Strong buckle closure
Colorful in design

Check On Amazon

Best Budget

Best Budget

Beautiful floral pattern
Strong nylon collar
Available in different neck sizes

Check On Amazon

Best Embroidered

Best Embroidered

Stainless steel D-ring
High-quality nylon webbing
Available in solid colors

Check On Amazon

Best for Leather

Best for Leather

Premium leather collar
Buckle closure design
Available in varying dimensions

Check On Amazon

Best Martingale Collar

Best Martingale Collar

Strong and durable nylon fabric
19 vibrant color options
Customized in the USA

Check On Amazon

Best Premium Collar

Best Premium Collar

Premium-quality collar
Robust metal clasp
Multiple sizes and colors

Check On Amazon

Best Reflective Collar

Best Reflective Collar

Reflective personalized collar
14 font color options
3 adjustable sizes

Check On Amazon

Best Engraved Collar

Best Engraved Collar

Customize leather collar
Stainless steel engraved nameplate
5 adjustment eyelets

Check On Amazon

Best Waterproof Collar

Best Waterproof Collar

Laser engraved nameplate
Water-resistant dog collar
Multiple patterns and plate color

Check On Amazon
Best Personalized Dog Collars in 2023 – Reviews
1. Blueberry Pet Essentials Personalized Collar
Top Pick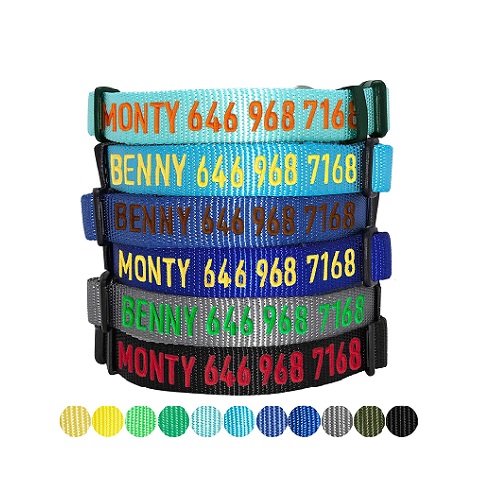 Blueberry Personalized Dog Collar
With embroidery threads, this durable collar is easily customizable
Blueberry Pet is the best one of our picks, as it is highly customizable. From the analysis of customer reviews, we have found it to be the top-rated personalized collar. With 11 font choices and more than 20 color options, you can create this which goes with your pet's personality.
The neck dimension of the smallest size is about 12" to 16", while its width is 5/8". However, as this product is not stretchable, you have to choose the perfect size for your use. The smallest one is right for puppies of about 10 lbs, while the biggest one is the perfect choice for dogs of up to 85 lbs.
The best trick is to leave a gap of not more than 2 fingers between your dog's neck and collar. If it is loose, the dog may try to chew it. Thus, choose the appropriate model for your pets.
Manufacturers have used high-density nylon webbing to design this. To customize the product with your phone number and dog's name, they use the embroidery technique.
The customization options save your puppy from getting lost. As this collar will display your phone number, you will surely get back your pet.
Moreover, the durable buckle design is another notable part here. The eco-friendly plastic buckles help secure the collar properly, and you can easily attach your harness to keep your pet under your control.
Overall, we can say that Blueberry Pet has created the best, lab-tested collar.
Key Features:
Ensures safety to your dog for the personalization options
Highly resilient design to give lasting values
Colorful and stylish look
Quality buckles to secure your pet
Best for puppies and dogs of any species
What We Like:
The elegant and simple design
Ensures high density webbing to add durability
Buckles are designed from ecofriendly plastic
Embroidered with name and phone number
You can adjust the length for proper fit
What We Don't Like:
The small size is too thick
2. Blueberry Pet 8 Patterns Personalized Customized Collar
Runner Up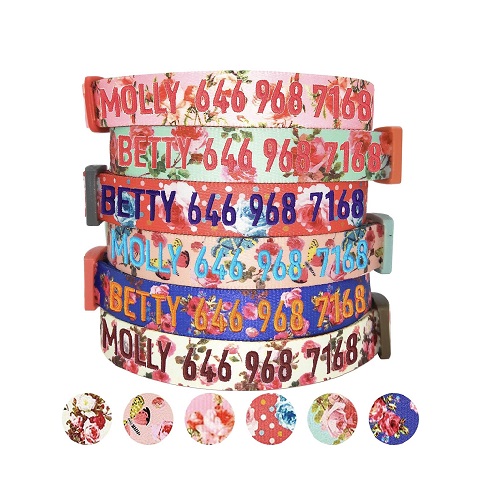 Blueberry Pet Personalized Collar
Quality fabrics and resilient buckles have made this a unique choice
You can find a touch of the spring season with this floral-patterned collar. We have picked this product as the runner-up on our list. The availability of 11 thread colors and font choices will enable you to create a unique item for your dog.
You may customize the design by embedding your phone number and dog's name. Besides, you can find 24 characters to tailor the design and identify your pet quickly. Based on the harness color, you may choose the right one for your dog.
If the neck length of the small one ranges from 14.5" to 20", its width is 3/4". Measure the neckline of your dog properly before investing in the collar. Due to the lightweight design, your dog will not feel heavy with this.
However, manufacturers have not compromised durability and quality while controlling the weight of this collar. They have used polyester to make this unique design. You will find it easy to attach the matching harness and other gears.
Finally, we can say that the fashionable look, premium quality, and lots of customization options have made this color a perfect choice for pet owners.
Key Features:
Available in more than one size for different dog species
Attractive color choices to add a style
Quality buckles that do not open up automatically
Space for displaying characters
High level of durability
What We Like:
The collar is 100% polyester webbing
Easy snap buckle and heavy duty D-ring
The pretty design, recommended for everyday use
Machine washable and the colors haven't faded
Lightweight and very easy to use
What We Don't Like:
The size chart is not accurate
3. Beirui Personalized Dog Collar with Name Plate
Best Budget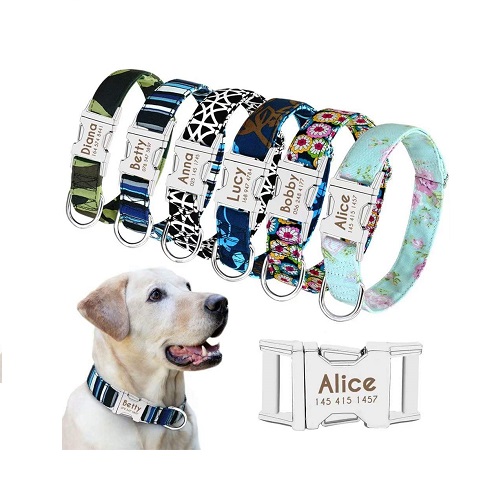 Beirui Personalized Dog Collar
As an affordable and personalized collar, it keeps your dog secure and lets you attach a harness
Beirui Personalized is the best budget collar, and with a reasonable investment, you will get a quality product from this reliable brand. You will find much space to display your dog's name and other information.
Besides, there is no question about the fabrics of this product. Purchase this and have lasting value from it. With the right wordings, you can personalize the collar for your canine pets.
As there are 30 characters available with this, you may choose the right one for your purpose. While customization is one of the important factors to pet owners, you have to check out the resilience of the collar.
The interior side of this product has nylon, whereas the outer side has lint to ensure comfort. Furthermore, due to the wear-resistant design, you can find this lasts longer. Pet owners mostly choose the collar for the macho dog and other medium and large-sized dogs.
The neck dimension of the smallest model is adjustable from 10 to 15. With the secure locking system, this collar can act as the dog ID. Although the metal buckle is slightly heavy, your pet will have no inconvenience at the time of walking, jumping, drinking, and eating.
Key Features:
Floral prints have added a charm
Comfortable for your dog
A variety of characters for personalization
Easy to use buckle closure system
Color does not fade away easily
What We Like:
The durable nylon inner with comfortable outside lint
The nice and comfortable fabric webbing
Water resistant, and easy to clean
Various fashionable patterns make the dog attractive
Useable for walking, jumping, running, and more outdoor activities
What We Don't Like:
4. GoTags Personalized Embroidered Dog Collar
As the best personalized embroidered collar, it helps with the easy identification of your pet. Most of the pet owners customize their collars with their pup's name and phone number.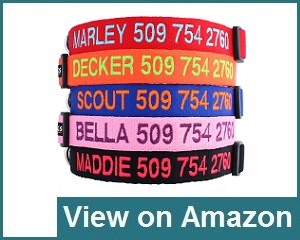 Manufacturers apply stitching techniques to display the essential information on your dog collar. Thus, the customization will be permanent, and you will have no risk of losing your pet.
The width ranges from 3/8 inch to 1 inch and based on your choice of dimension, you can find variations in width. GoTags have presented you with 5 color choices, and 15 embroider thread options.
Moreover, the sizes are adjustable for your convenience. Simply attach the harness and keep your pet under your control. The manufacturer has ensured both functionality and comfort while designing the dog ID.
The smooth design with a comfortable fit with tapered edges has made this product distinctive. Moreover, the D-ring also enables you to attach the leash and tags.
Key Features:
Side-release buckle ensuring safety for easy release
The integrated stainless-steel D-ring is non-corrosive
Strong and durable design
The custom embroidery works add beauty to the collar
Highly adjustable sizes
What We Like:
The smooth, tapered edges nylon webbing for a comfortable fit
Available plastic side buckle for one handed quick release
Perfect for puppies and growing dogs
Machine washable, and easy to clean
Available in five colors blue, black, orange, pink, and red
What We Don't Like:
The measurement should more accurate
5. Custom Catch Personalized Soft Leather Dog Collar
As the best personalized leather collar, this product has grabbed our attention. The use of leather has added a level of elegance to this. There are different ways of customizing this product.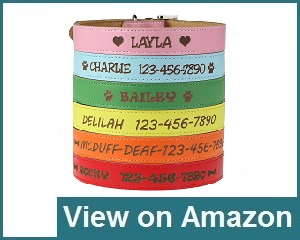 You can engrave your phone, name, and other information with this. Moreover, you add paw, heart, and bone designs to the collar without paying an additional amount.
The leather model prevents you from having any issues with the loose strands of threads. You may use the collar regularly for outdoor purposes without a chance of damage. This will surely last long, and its color will not fade away easily.
This personalized model stands out from other similar collars in the market. Some metal dog tags may be noisy, and you have a risk of losing those small items. Furthermore, the customized leather collar is highly readable.
Key Features:
Cool font styles for customization
Used genuine leather material
Highly sturdy to ensure a lasting value
Attractive look with colorful designs
Keep your dog safe with personalized designs
What We Like:
The manufacturer company ensures the highest quality guaranteed
Various color and text styles to choose from
Most suitable as a service dog collar
You can customize with your dog's name or ID
The most durable collar keeps your dog safe
What We Don't Like:
6. Blueberry Pet Essentials Personalized Martingale Collar
The Blueberry is the best-personalized martingale collar for dogs available in the market. It is made from the best-quality nylon fabric, which is sturdy and durable. This tightly embroidered collar allows you to customize according to your dog's need.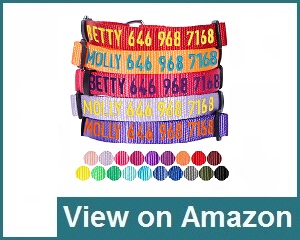 It lets you choose patterns and fonts to add your pet's name, phone number, or other stuff. With this, you can have your dog properly identified if they get lost or on any occasion. Also, the bright, vibrant color helps your dog stay visible when they go for a walk at night.
However, the martingale collar is non-stretchable and there is no buckle attached. So, you will need to adjust this each time you put it on or take it off. Also, it is recommended not to leave your dog unattended with the collar on.
It might get tighter due to pulling and stretching and make your pet uncomfortable. Please take a proper measurement of your dog's head and neck before purchasing the product.
Key Features:
Made from the best quality nylon fabric for long-lasting use
Good quality neat embroidery for easy visibility
Customizable and comes in 11 font options
Bright and vibrant 19 colors to choose from
Available in different sizes to fit all kinds of dogs
What We Like:
High density webbing last long time
There are eleven (11) different font color to choose from
The amazing collar enthusiastically recommended for dog parents
Durable, attractive and comfort with security
Customized in the USA
What We Don't Like:
7. Yellow Dog Design Personalized Premium Collar with Metal Clasp
The Yellow Dog Design Collar is manufactured in the USA and is considered one of the best personalized premium dog collars. It is entirely computer-generated and integrated with the best quality fabric that won't come off.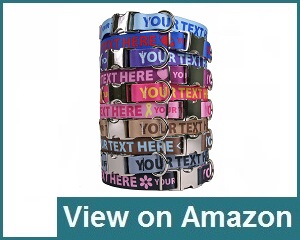 The best in class production process creates a crystal clear finished product to make it look more precise and elegant. Besides, it is a customizable dog collar, allowing you to choose different text, design, and colors.
It also allows you to add fun characters and symbols to appear on the collar. Most symbols are fun, but few of them indicate whether your pet is blind, deaf chipped, etc.
Moreover, it featured all-metal hardware and patented quick-release Batz Buckles. The metal is water-resistant and rust-resistant so that it won't fray or fade easily.
The 20+ bright palettes of colors will let you select your favorite color. It is available in different sizes to fit all size dogs, so measure your dog's neck correctly.
Key Features:
Made with premium-quality material to last long
Completely computer generated and integrated embroidery
Customizable crystal clear font for better visibility
Exciting and useful symbols available to express your dog's personality
Available in more than 20 vibrant colors to choose from
What We Like:
Manufactured with all-weather nickel plated hardware
Available sturdy d-ring for leash attachment
The metal keeper prevents resizing on the dog
Bright, vibrant, and thick collar
Keeps your dog safe and secure
What We Don't Like:
The metal clasp is not much high in quality
8. GoTags Reflective Personalized Embroidered Dog Collar
The GoTags brand manufactures the best personalized reflective dog collar for your furry friend. This highly reflective collar is made to keep durability and safety in mind. The reflective quality increases visibility for you and your dog.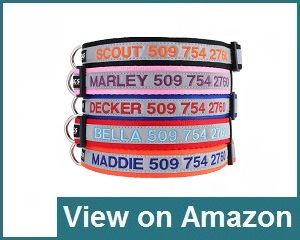 Besides, the premium-quality nylon fabric and smooth and trapped edges of the product offer optimal comfort and do not cause redness or skin irritation on your dog's neck.
The permanently stitched embroidery into the collar lasts long and doesn't fade easily. Also, the stainless-steel D-ring and secure plastic release buckle and make the collar easy to access and operate.
It is machine washable, so you can effortlessly clean it whenever needed. Moreover, the collar comes in three adjustable sizes, small, medium, and large, to fit all size dogs. It has everything you need safety, comfort, durability, and a variety of color options.
Key Features:
The highly reflective and robust nylon fabric used for durability
Smooth and trapped edges for comfortable use
Permanent embroidery that does not fade easily
Equipped with side release buckle and a stainless steel D-ring
Adjustable sizes and a variety of color options available
What We Like:
Visible at both day and night
Ensures optimal comfort and safety
The durable, safe, and customizable collar
Five available colors blue, black, orange, pink, and red
Amazing and very effective collar
What We Don't Like:
Not suitable for very small dogs or puppies
9. Personalized Engraved Dog Collar
Made of 100% genuine leather, it is undoubtedly the best personalized engraved collar available in the market. It is also equipped with a stainless- steel engraved nameplate, which makes it look more elegant.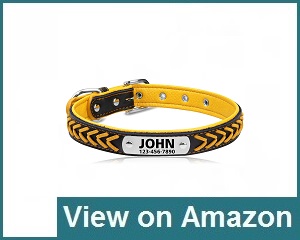 The company uses a top-of-the-line laser for a clean and well-written nameplate. So, you can easily personalize the nameplate by adding the name, phone number, or other characters so that you don't lose your furry friend.
Besides, the leather's quality is strong and durable, and it will definitely make your pup look the most stylish dog in the park. The collar's inner area is padded with PU to provide your dog with the right comfort and avoid irritation and uneasiness.
Moreover, the stylish braided design makes it more eye-catching and attractive. The adjustable buckle, metal D-ring, and 5 eyelets let you adjust the collar according to your need. The eyelets are studded with metal rings to prevent the leather from tearing.
It is available in multiple vibrant colors. It is recommended to measure your dog's neck circumference to select the right size.
Key Features:
Made with premium-quality leather to last long
Easy to personalize stainless steel engraved nameplate
Padded with PU to provide more comfort and less irritation
Equipped with adjustable buckle, metal D-ring and eyelets for flexible use
Braided design to give a more attractive look
10. Personalized Name Plate Dog Collar
Manufactured in the USA, Yellow Name Plate is the best personalized waterproof dog collar you will find anywhere. It is made of urethane-coated durable polyester, which makes it thoroughly water-resistant and durable.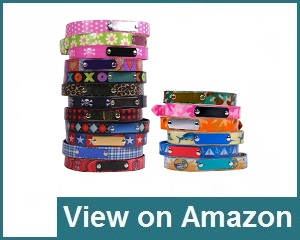 It is easy to clean and you will not need to use any soap or chemicals to wash the collar; simply wipe it with a wet cloth. Moreover, the all-weather nickel buckle and D-ring does fine in any environment and does not get rust easily.
This comes with a laser engraved aluminum nameplate that allows you to add your dog's name, address, phone number, etc. You can also add any design or symbol you want. The quality of the nameplate makes it highly visible, and it is dust and mud-resistant.
The nameplate is built to last; it will not rust, flake off, fade away, or chip easily. The collar is available in numerous colors, and it is mostly recommended for medium and large-size dogs.
Key Features:
Urethane coated durable polyester material used
Waterproof, dust-resistant, and odor resistant
Easy-to-clean and does not require any soap or chemicals
High-quality laser engraved aluminum nameplate to last long and easy visibility
Recommended for medium and large size dogs
What We Like:
Features the highly visible polyurethane coated nylon
Machine washable and very easy to clean out
You can make new holes for proper fit without any tools
Made of your dog's walking, running, and outdoor use
Soften with age and build to last long
What We Don't Like:
Too big for little puppies
What is a Personalized Dog Collar?
A personalized dog collar is a collar that has customized information such as the dog's name, owner's phone number, and address engraved or embroidered onto it. This makes it easy for anyone who finds a lost dog to contact the owner quickly and ensure a quick reunion.
Personalized dog collars come in various materials and designs, including leather, nylon, and reflective materials. They can be a great way to keep your dog safe and easily identifiable while also adding a unique touch to their accessory collection.
Why Should You Buy a Personalized Dog Collar?
Dogs are natural explorers and love to find new places, especially ones they are told not to go to. While you can keep an eye on your pooch when he is indoors, it isn't the same way when he's outdoors.
Many trained dogs can find their way back to the house, but if your pet is new to the area, things get difficult. This is where personalized dog collars come in.
Work Like Regular Collars: Other than having complete features of regular collars like leach attachment, secure closure, and taming your canine, these also serve as an identification tool. You can also find micro-chip collars that allow you to track your dog within a certain radius.
Are Stylish and Unique: These come in a lot of colors. You can also choose various fonts and engraving patterns. This makes the collar look stylish. For leather straps, there are various design patterns. For other materials like nylon, you can find embroidery in different thread colors.
Offer Precise Identification of your Canine: As mentioned previously, this identification is done by getting your pet's name, address, and a phone number printing, engraved, or embroidered on the collar.
That way, whether you are going out when it is dark or crowded, you can be at ease knowing that your canine is safe.
How to Introduce Your Dog with Personalized Collars
If your dog is used to wearing a regular collar, then using a personalized collar will be a breeze too.
However, if your pup's new to wearing, you will need to make a proper introduction and follow the respective steps for collar training.
Step 1: The first step is the introduction. Lay the collar down and allow your pet to observe the new accessory. If your pup shows signs of appreciation, we can continue to the next step. However, if your pet is an aggressive chewer, it is recommended to keep the collar out of his range.
Step 2: Once the above step is clear, you can now put it on around your canine's neck. Make sure the buckle is closed securely. Keep the intervals short at first. Also, in the case of nylon collars, if your canine shows signs of allergy, stop using the collar immediately.
Mostly, however, personalized collars are easy and safe to use. When you find that your pet is comfortable with the collar, you can now extend the periods.
Step 3: Eventually, you'll be able to bring your pet out with you for regular walks. And that's it. However, whichever collar you use, it is recommended to always supervise your canine.
How to Measure the Size of a Personalized Dog Collar
To measure the size of a personalized dog collar, follow these steps:
Use a soft measuring tape or a piece of string to measure around your dog's neck where the collar will sit. Make sure the tape or string is snug but not too tight.
Record the measurement in inches or centimeters.
Add 2 inches or 5 centimeters to the measurement to determine the correct collar size. This will allow for comfortable breathing room and prevent the collar from being too tight.
Choose a collar size that matches your dog's measurements or falls within the recommended size range provided by the manufacturer.
If in doubt, it's always better to choose a slightly larger size collar rather than a smaller one, to ensure your dog's comfort and safety.
When ordering a personalized dog collar, make sure to provide the correct measurements to ensure a proper fit. Many manufacturers also offer adjustable collars that can be resized as needed, or custom-made collars that are tailored to your dog's specific measurements.
Types of Personalized Dog Collars
One of the things that makes this collar so popular is because you can find them in almost any material and color. Based on the material, type of personalization, and strap adjustability, these have the following types.
Waterproof: These collars are waterproof, allowing your pet to go for long swims. If your canine is a water lover, these are a good choice. Since there are moisture and water involved, so these are personalized by using metal engraving on the plate in the middle of the nylon strap.
Nylon: These feature a nylon or neoprene strap. It is a durable option for dogs of all ages and breeds.
Embroidered: These are usually made from nylon, and the embroidery is done on the strap. If your canine is likely to get lost, such collars ensure that his name and phone number are easily visible to the human eye.
Reflective: Other than personalization, reflective collars are ideal for night walks. These keep your pet safe in the dark by reflecting light and improving your pet's visibility.
Leather: These are quite durable and offer engraving on both the strap and a metal plate. Usually, these plates can handle up to three lines of text.
Rolled: If your canine has long fur, it is possible for the fur to get stuck in the collar. To avoid that, you can choose a rolled collar. These have thinner straps and are much comfy for the neck.
Camo: Last but not least, these are ideal if your dog likes to pull on the leash. The strap tightens just enough so your pet does not escape without being restricting.
Things to Consider Before Choosing Personalized Dog Collars
Now that you know about the various types, the next step is to find the ideal one for your pet. To do that, you need to keep the following characteristics in mind.
Material
Choosing the right material is very important as the durability and usage depend on what it is made of. You can find leather, nylon, and neoprene strap collars, which vary in their tensile strength.
While both leather and nylon collars tend to be strong, if your canine has sensitive skin, he may have an allergic reaction to nylon. It is therefore recommended to go with a leather collar.
Size
The next most important thing to look for is the right size. This depends on your canine and the type of collar you plan on buying. Usually, the average size recommendations are available in the manufacturer's size chart. However, if you find yourself unsure, you can take the measurements yourself.
For the thick size, consider adding a few inches to the measured length. By a rule of thumb, there should be space enough for two fingers to pass through. Lastly, if your dog's neck size is between two sizes, consider the larger one as a smaller collar will constrict breathing.
Type
From reflective collars that glow in the dark to waterproof collars for swimming lovers, you can find almost any type of personalized collar. Depending on how you plan to use it, you can find the most suitable type.
Ideally, you want one that is a combination of both functionality and comfort. A leather collar is a good recommendation for that.
Engraving vs. Embroidered
Customizing a collar can be done by both these methods. The embroidery is usually done on the strap of materials like nylon. Engraving can be done either on a leather strap or a metal ID tag pined or hung from the collar.
Both options work just fine for waterproof collars. However, if you want to focus on visibility, an embroidered item will be more obvious even from a distance. On the other hand, a personalized collar with a metal engraving plate will be more stylish and durable but less visible from a distance.
Closure Type
How secure a collar is, depends on its buckle and closure hardware. Usually, dog collars offer both plastic and metal buckles. The former are known for their quick and easy working while the latter is more sturdy.
If you own a large dog, consider investing in a metal buckle product with an anti-rust coating. These buckles are vulnerable to moisture. If you choose one with metal hardware, make sure it has minimum contact with water. On the other hand, plastic buckles work for smaller breeds and are resistant to rust.
Leash Attachment
When you are walking your pet, a leash is an important thing to have. In fact, you cannot have much control over your canine if there is no way to handle him. Usually, personalized collars offer a D-ring made from either plastic or metal for secure leash attachment.
Easy to Clean
A collar stays quite close to your canine's body and tends to get dirty, especially if your pooch loves to play in the mud. Ideally, you want to get one that is easy to clean and can withstand water. Both nylon and leather are good options for this.
However, for most dog collars, it is recommended to wash them by hand and use pet shampoo or hypoallergenic detergent for cleaning. It is also advised to dry the collar out in the sun instead of using artificial methods like a hairdryer.
Warranty
Last but not least, choosing a product with a warranty gives you a risk-free purchase. Many brands even offer a lifetime warranty.
Cleaning and Maintenance
Dogs love to play and run around in water and mud. Since they are wearing a collar most of the time, the accessory is bound to receive considerable wear and tear.
However, no matter the quality, even the best item will eventually snap if it isn't taken care of properly. To maintain proper hygiene, it is recommended to clean the collar regularly.
Cleaning:
For a leather dog collar, it is recommended to use saddle soap. This is because this soap does not decolorize or stain the surface.
Do not put the soap directly. Instead, make a soapy solution with warm water in a bowl and then soak it for 10 to 15 minutes.
Nylon collars can be washed with water and regular soap.
Do not scrub the collar surface too hard.
For metal engravings, use a towel and soak it in the soapy water and then wipe the surface.
After you have cleaned this, leave it out in the sun for drying.
While most collars can stand water, too much exposure to it can cause deshaping.
Maintenance:
Dogs love to chew things; therefore, it is recommended to always keep the unused collar out of your canine's reach.
Do not use chemicals on the surface.
Benefits of Personalized Dog Collars
Personalized dog collars offer several benefits, including:
Comfortable

: These are known for their comfort. For example, some older pets tend to suffer from joint pains, especially in the neck region. A soft padded item will stick close to your canine's body while being soft and comfy. In the same way, a rolled collar is beneficial for pooches with long fur and prevents tangling of hair.
Easy identification

: A personalized dog collar can help your dog be easily identified if they get lost or stray away from home. The collar can include your dog's name, your contact information, and other identifying details that can help reunite you with your pet.
Training aid

: Personalized dog collars can be used as a training aid, helping to reinforce commands and promote positive behavior.
Improved safety

: A personalized dog collar can help prevent mix-ups at dog parks or boarding facilities, ensuring that your dog is returned to you and not mistaken for another dog.
Durable materials

: Personalized dog collars are often made of high-quality materials that can withstand wear and tear, ensuring that they last longer and provide better value for your money.
Stylish: Last but not least, these offer so many colors, fonts, and materials that you can choose and make a unique design just for your furry companion. Nylon collars are known for their multicolored straps, and leather collars offer various fun engravings.
Help Locating a lost pet

: This is by far the most important feature of a personalized collar. By putting your pet's name, phone number, and address through either engraving or embroidery, your canine will be much easier to find.
Studies suggest that these help in many of the pets' lost and found cases. If you want to get more precise, you can introduce a microchip in the collar's ID tag. That way, you can track your pet with your device and instantly know of his whereabouts.
Some Important Tips
Size is crucial, and you need to pay good attention to it when making a purchase.
If your canine is at a growing age, consider getting an adjustable collar.
Wash and clean according to their material and instructions.
Never leave your pet unsupervised with the collar.
If your pet is likely to put on weight, keep an eye on the size. If it presses against your canine's neck, adjust the size or get a larger one.
Combine a strong leash for maximum results.
When getting the collar personalized, consider putting a name, address, and a phone number.
Depending on your canine's size, decide which buckle will be best. Usually, a solid plastic buckle works fine for most breeds.
Final Thoughts
If your pet loves to explore the world, sometimes things can get out of hand. However, with personalized dog collars, you can be at ease knowing that your pooch is easy to find.
Personalization is done by various methods, including engraving and embroidery. You can find these in many different colors, types, and materials. However, before making the final purchase, keep the important characteristics like size, material, and closure in mind.
Frequently Asked Questions
What is a personalized dog collar?
A personalized dog collar is a collar that is customized with your dog's name, contact information, or other unique details that reflect their personality and style.
How does a personalized dog collar work?
These give you the option to get your pet's name and address engraved on either the strap or a metal ID tag. With the unique design, your canine stands out from the crowd and is easy to find if he wanders away. These are recommended for new pet parents who own active puppies.
What should you put on your dog's tag in a personalized collar?
It is recommended to put your dog's name, address, and an active phone number on the ID tag. That way, if your canine gets lost, people will be able to quickly find its owner and return the pet to you. You can also get a microchip put on the tag. This allows you to easily track your pooch.
Can personalized dog collars get wet?
It depends on the material and the personalization method. Usually, nylon and leather items can get wet but shouldn't be exposed to water for long periods. If your canine loves to swim, consider removing the collar and drying it off with a towel.
How do I clean my dog's personalized collar?
To clean your dog's personalized collar, wipe it down with a damp cloth or mild soap and water. Avoid using harsh chemicals or abrasive cleaners that could damage the collar.
Should I keep the personalized dog collar on at all times?
No. If your canine is indoors most of the time, a personalized collar isn't necessary. Leaving your canine with the collar on can be dangerous, and it is better to remove it, especially if your canine will be unattended.
Are personalized collars cruel for dogs?
No. A personalized collar is, in fact, the opposite. It gives the dog identity and tells that the animal has a home to return to. If your pet goes missing, people can reach you quicker, and your canine will be found more easily.
How much is the common budget for personalized dog collars?
You can find a good-quality item from $15 to $25. However, an expensive collar doesn't always guarantee quality. For that, you will need to look for certain characteristics and durable material.