There are many methods you can apply to train your dog but a training collar is very effective in correcting their undesirable behavior. It is also known as e-collar or shock collar which delivers some form of vibration, sound and small shock to discourage pet disobedience.
Suppose, you would like to teach your dog not to bark when guests come at home, you need to teach him obeying commands or field recall. For hunting purposes or other sophisticated training, e-collar also be a more useful training tool.
Finding a good training collar is not an easy task, especially from this wide variety of market. Our team of experts completed extensive research into various training collars regarding their size, range, materials, and the technology involved. Finally, we have selected the 10 best dog training collars and reviewed them below with a detail buying guide for your canine training.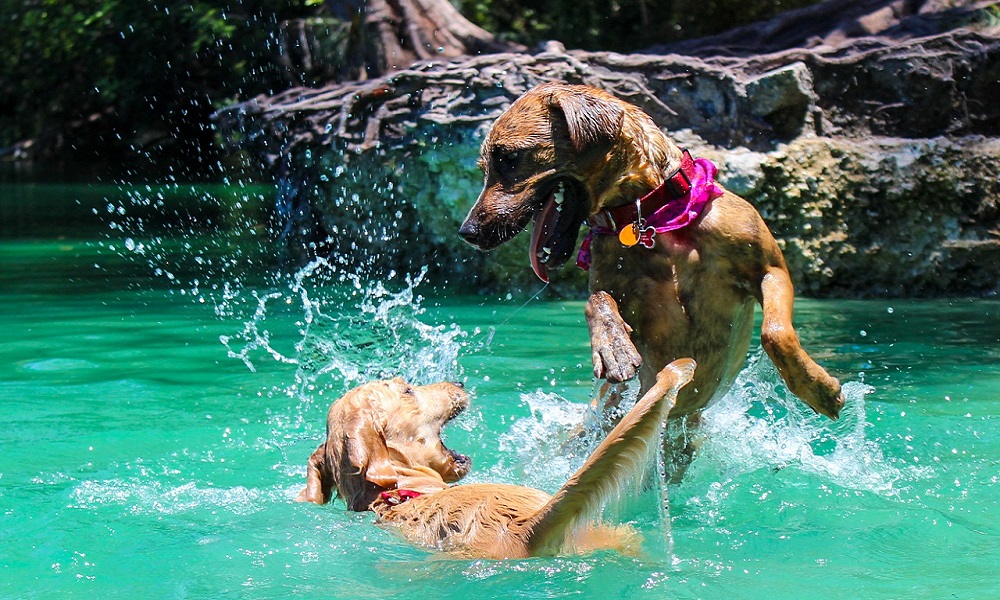 10 Dog Training Collars in 2023 – Reviews
1. Our Top Pick – Dog Training Collar Review
Top Pick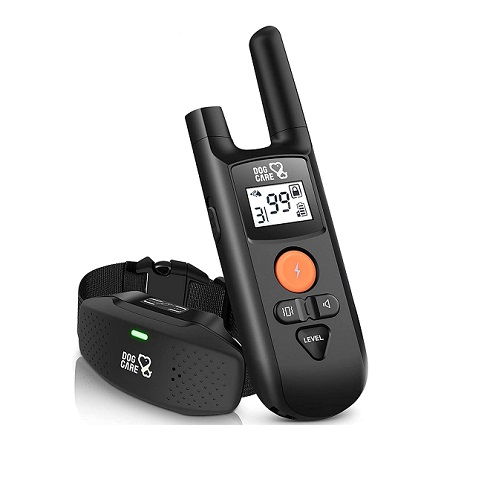 Dog Training Collar
DOG CARE Dog Training Collar is committed to better communication between human and pets with better technology
Here we have reviewed this Dog Care is the best dog training collar, that comes with advanced anti-jamming technology and delivers a strong and stable signal for different training environments. It features 3 safe and very efficient training modes like beep, vibration, and shock those are very effective to teach your dog all basic obedience commands and reduce their extreme behavior problems.
Most of the times this collar achieved the #1 Best Seller Position at Amazon and has near about thousands of positive reviews from pet proprietors. It is ideal for pups or adult dogs who still act like pups and show very awkward behavior. This training collar supports 3 dogs through a single remote transmitter. If you have multiple dogs, Dog care would be the best option for you.
Normally, it is expensive to provide quick training to your dog for any emergency. Fortunately, Dog care is one of the most cost-effective training collars that provide you near about 100 different levels of intensity to ensure the exact level wherever the pup responds properly. It is fully adjustable and can fit for dogs from 15 to 100 pounds.
This collar contains a waterproof receiver and both the receiver and the transmitter are rechargeable with a long lifespan. The wireless controller features a lock pad that keeps your dog safe from any unintentional shock. It has 330 yards remote range and you feel easy to train your dog in the park or backyard.
Key Features:
Available 3 training modes
Comes with 3 channels with adjustable control
Adjustable for dogs of all sizes
The wireless control can cover up to 330 yards of range
Long battery life
Pros:
Made with the best technology to maintain better communication
Build an effective relationship between pets and their owners
The security lock prevents all misoperations or accidental shocks
Automatically shut off if not used for few hours
Efficient to train multiple dogs simultaneously
Cons:
Not suitable to use in water, snow, or rain
2. Educator E-Collar Humane Dog Training Collar with Remote
Runner Up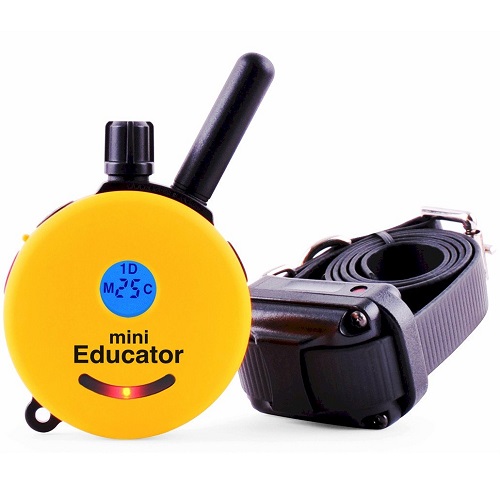 Educator E-Collar Remote Training Collar
Very safe and humane dog training collar helps to eliminate stress and improve your dog's effectiveness
This is the great choice for dog owners who desire an exceptional alteration of the traditional shock collar. It comes in an innovative ergonomic design with single or double dog options to train multiple dogs at a time. It uses the lowest levels of blunt stimulation technology and delivers a tapping sensation like vibration which makes it more intensive but effective.
Educator -E-Collar is built with the highest quality standards and it is technically rich to tolerate ultimate environmental dog training conditions. The assigned stopwatch-style controller controls a tracking light that assists your dog visible in the dark. This collar also includes a Pavlovian Tone feature by which your dog can realize and try to respond to the sound.
The educator is less stressful for dogs but more effective to motivate them in training sessions. It generates an adequate incentive for obedience with your commands. This is full of unique features. It has 1 to 100 stimulation levels and the ability to set a boost level from 1 to 60 for guiding most stubborn dogs. Educator's low-level stimulation process accomplishes great training results instead of excessive stresses. The "lock and set" feature allows pet owners to hold in the finest stimulation level.
Dog owners can finely tune the stimulation level of this training collar for all the different characters of dogs. There are different contact points are available for different sizes of breeds. So, make sure the shortest contact point to create the most reliable connection. Some contact points are designed with stainless steel material like nickel, may hurt your dog's skin at the point of contact in sensitive dogs. But this Educator collar uses titanium contact points are made without nickel, which keeps dogs free from facing redness and irritation.
Key Features:
1 to 100 adjustable stimulation levels
Waterproof receiver and transmitter
Mini ergonomic stopwatch
Available Lithium-Polymer battery with dual charger
Charges fully within 2-hours
Available Tracking light
Pros:
Features a remote dog training collar
Ensures highest quality standards
One system can cover ½ mile of range
Very less stressful for your furry friends
Fully assembled and tested in the USA
Cons:
Few dogs can't adjust to the stimulation levels
3. Petrainer PET998DRB1 Dog Training Collar
Best Budget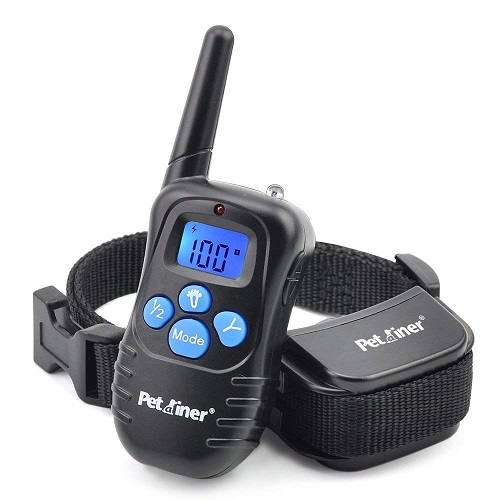 Petrainer PET998DRB1 Rechargeable Dog Collar
This training collar provides everything you would expect from a collar without shocking your wallet
It is another fabulous dog training collar from Petrainer a renowned pet product manufacturer company offers different models of best budget collars. This specific model features 3 different types of safe humane corrective stimulation modes: shock, vibration, and beep for controlling various behavioral issues like excessive barking, aggression, and unruly behavior.
It is the ultimate remote training collar that provides 0-100 levels of corrections for stimulation and vibration with a standard beep for dog disobedience. It has a total range of 330 yards or 900 feet to reach the dog even from a considerable distance. The RF434Mhz technology confidently tackles the total outdoor environment so that you can control your dog any time.
Petrainer shock collar is adjustable for all sized dogs including small, medium and large size. The contact points of the receiver have a soft nylon strap helps to protect your dog's sensitive skin. This incorporates every function needed for a beginner and allows the trainer to receive the best possible results. The light mode facilitates finding dogs in the low light situation and reduces the possibility of losing your dog.
The collar also offers a rain-resistant receiver that allows your dog to enjoy optimum entertainment in any weather conditions. You don't need to worry if get caught your dog in an unexpected shower. Moreover, the transmitter is simple to operate with simple buttons. The LED-backlit screen clearly displays the settings and battery life.
Key Features:
Available 3 types of stimulation modes
Rechargeable lithium batteries and remote transmitter
Quick pairing process
The collar ranging from 14-25 inches
Protect sensitive skin
Ensure a safe training experience
Pros:
Designed for common household dogs
Assigned every function considering a beginner
Adjustable for dogs of all sizes
Amazing progress can be noticed within 1 week.
You can achieve the best experience from the support team
Cons:
Some complain of Poor battery life
4. Petrainer Waterproof Rechargeable Dog Training E-Collar
If you are looking for the ultimate dog training collar, then this Expert Training Control device would be one of the optimum options for you. It is the Best Dog Training Collar Under 100 offers beep, vibration, and shock modes to find your dog's actual behavioral problems to quick solve.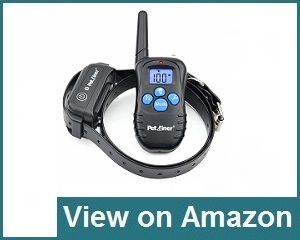 This is good for new pet owners who want to modify their pet training methods. It is the ideal tool to train family dogs around the house, yard or smaller park. The total system is designed simply to fulfill all trainer's needs with 0-100 levels of vibration, standard beep, and sock stimulation.
It is very easy to understand interface and needs less time to learn all technical operations. With this wireless collar, you are ensured to control your pet up to 330 yards of range which is more flexible to train in the smaller parks. The adjustable size is (6 to 25 inches) able to fit for dogs even more than 12lbs or larger.
The power-saving design offers rechargeable lithium batteries for both transmitter and receiver, can be charged together to save time. It is 100% waterproof, and pets can always enjoy with water. It has zero skin irritation can protect your pet's skin and ensure a safe and benevolent training experience.
Key Features:
Remote training E-collar performs an effective training session
Basic dog obedience, barking, hunting, digging, aggressive, jumping up, bolting and so on
Effective for basic obedience like barking, jumping, digging and so on
It can cover the range of 1000 to 1200 feet
Adjustable for all dogs
Longer battery life
Pros:
Features an expert training control
Very efficient to correct behavior problems
Save time to charge receiver and transmitter
Soft silicon cover helps to protect dog's skin
Dogs can enjoy adventures
Cons:
Great for training but some are skeptical about the reliability
5. Pet Union PT0Z1 Premium Training Shock Collar
The best E-collar for dog training offers lots of convenient features like beep, vibration, light and various modes of shocks. It can provide 100 different levels of shock and vibration customization facilities to select from. So, undoubtedly Pet Union is a great pick for professionals and other trainers.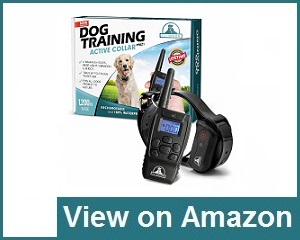 The impressive system is also ideal for new pet proprietors and beginner trainers. Basically, it is designed through the kid of novice dog trainers. Within four operational modes, you can choose the best option relating your dog's behavior to lead the training session.
The collar features an LCD screen with a blue backlight which makes the screen easy to read at both day and night. It has a total range of 330 yards or 900 feet and allows you to reach your dog from a considerable distance. So, the device is very effective to control various behavioral issues like excessive barking, aggression and unruly behavior.
Pet Union Shock collar is 100% waterproof and has no options to be damaged by rain or splashes. The system comes with lithium-ion batteries for a long-lasting charge like two or three days depending on use. You will also appreciate the power-saving mode that puts the collar into sleep mode and does not waste battery life.
Key Features:
Very popular dog training collar for pet owners and trainers
It features 3 modes of training
0-100 levels of customization facility for fine control
Fit for all sizes of dogs like small, medium, and large dogs
Comes with a one-year warranty with an extended three years warranty
Pros:
You can customize the stimulation and vibration
Helps to correct barking and aggression behaviors
Features an LCD screen with a remote can cover 1200 feet
Appropriate for leash training
Best for getting customizable dog training experience
Cons:
Not suggested to switch into different modes frequently
6. TBI Pro Professional Dog Shock Training Collar with Remote
Are you looking for the best remote dog training collar? This high-quality TBI Pro Collar provides a customizable experience to help both new pet owners and expert trainers. You will feel very happy to guide your small puppy or adult dogs with 4 effective modes including beep, light, vibration, and shock.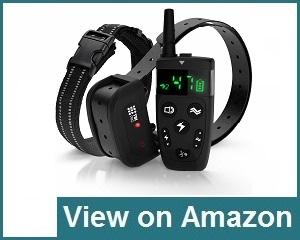 The stimulation shock and vibration modes have levels ranging from 1 to 100 for customizing training sessions. The ergonomic design makes it easy to hold and control the device with large separate buttons. You won't need to worry about your dog size before purchasing because of its free sizing facility.
Definitely, you will use this transmitter and receiver collar for many years. The improved design comes with high-quality materials to enhance the longevity and the long battery life save the additional time by charging the remote and controller simultaneously.
Key Features:
Advanced dog training collar assures longer distances
Ultra-durable materials ensure safe use for years after years
It can cover 1600 feet of range
The available big LCD controller
Completely waterproof and
Available long-lasting rechargeable battery
Pros:
Meet all your needs with immediate results
Helps to correct non-responsive dogs
Comes with nylon and leather collar
Highly recommended by pet proprietors
Saves your money and time
Cons:
It may not enough for too large dogs
7. SportDOG Brand 425 Remote Trainers – 500 Yard Range
SportDog is the Best Waterproof Dog Training Collar submersible to 25 feet with DryTek technology. It is the ideal system for starting your dog to in-the-field training or hunting technique. SportDog Brand 424 remote trainers are specially made to cover up to 500 yards of range. It is pretty cool for aggressive dogs and they do not feel any barrier around them.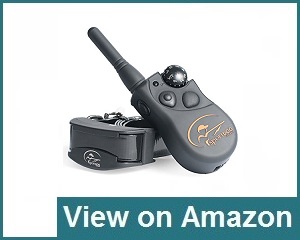 The E-collar allows you to train up to 3 dogs with the same remote transmitter. The receiver fits for dogs weighing 8 lbs or more with 5"-22" neck size. The transmitter features one of the 7 levels of static stimulation within low to medium ranges. You can also apply vibration and beep according to your dog's behavior.
Here used rechargeable lithium-ion batteries last 50-70 hours by charging only 2 hours. Both transmitter and receiver feature a low battery indicator and get fully charged at the same time. This collar is useable in the yard, field, cold, rain, snow, dust, mud, or wind weather. Dog owners and trainers enjoy many of the same hunting facilities and outdoor activities by using this collar.
Key Features:
Features tone(beep), vibration, and 7 levels of static stimulation
The decent frequency for shock
Supports for training up to 3 dogs at a time
Available long-lasting rechargeable lithium-ion batteries
Waterproof and submersible to 25 feet
Pros:
Ideal for providing training in the field or yard
The DryTek technology allows it to perform any weather
This brand can instantly switch between seven levels
Very easy and simple to operate
Consistently works every time without any trouble
Cons:
Very tough packaging and wrapping to open out
8. Starmark Pro-Training Dog Collar Large
StarMark is well renowned from the very beginning for its quality and outstanding performance. It is the Best for Large Dogs and not suggested to use on puppies. The pinches of the collar may hurt too intense to the dog's neck and he may feel discourage to wear it further time.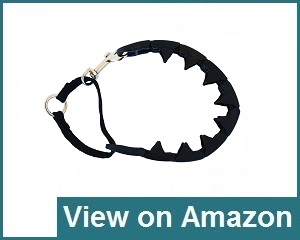 Without these restrictions, The Star Mark Pro training collar works very gently and effectively on dogs with enough size range. Mainly, this made of plastic and impose less pain compared to a metal prong collar.
Here is an extra collar attached to the main collar that works as a back-up if the main comes undone. It is as wide as 20 inches but you can add a few links if feel to make it large more. There is a regular round ring to attach the leash and it is more comfortable than D ring.
Key Features:
Provide better quality and performance for your pet
Made of plastic materials
20-inch circumference for large dogs
Very easy to add and remove adjustable links
Safety and healthy for large dogs
Manufactured by certified experts at Triple Crown Dog Academy, Inc.
Pros:
Adjustable for dogs of all life stages
Much less invasive than other typical prong collars
Helps to control dog pulling on the leash
A great teaching tool for bossy dogs
Amazing and highly effective for dog training
Cons:
Less appropriate for small dogs
It's all plastic structure
9. EXuby Shock Collar for Small Dogs with Remote
The eXuby features very simple in design and familiar as the Best Training Collar for Small Dogs. It helps you to keep your dog safe from excessive barking, chewing, biting, running, jumping, attacking, etc. It has heavy battery life can last up to 10 days on a single charge.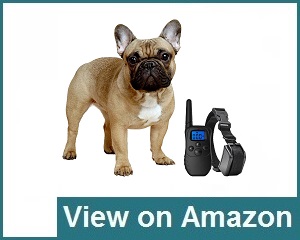 This comes with a free training clicker which combines the power of the shock collar and clicker for faster results. Learn your dog, after every click, there is a shock emits and don't apply unnecessary shock to stop them. These have a range of 1000 yards making it ideal for outdoor training. The edge of the covered area the shock will trigger as soon as you apply it.
There are three training modes beep, vibration, and stimulation shock. You can adjust the shock from 1-9 level to make it softer for tiny breeds. In this case, most of the dog responds to the vibration or beep mode. The electronic receiver and collar strap are waterproof and can be used in the rain or water.
Key Features:
Ideal for puppy training to control aggressive behavior
Available free training clicker for faster result
3 training mode- shock, vibration, and beep
Can cover up to 100 feet of range
Waterproof design with rechargeable collar and receiver
30 days money-back guarantee
Pros:
Ensures a dependable and quality performance
Durable training tool conforming optimum longevity
Available blue back light feature for nighttime use
The great battery life with perfect sizing
Best for small and medium sized dogs
Cons
Not suitable for very small or tiny dogs
10. DogRook No Shock Dog Training Collars
The DogRook features a mixture of sound and vibration corrections to help your dog understand that aggressive barking is not desirable when the collar vibrating or beeping. Within a very short time, you can control your dog's behavior with this Best No Shock Dog Training Collar.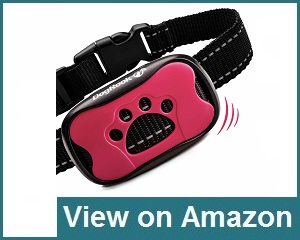 It is vital to use the device together with sound training rules to gain the maximum benefits. There are only two buttons on the receiver for navigating the different levels of stimulation and if the dog is small, start with the first (1) sensitivity level.
This bark collar comes with an intelligent barking sensor chip that immediately identifies the bark signature of the dog. So, you do not doubt to trigger the device if other dog barks or sounds come from other sources. The DogRook is perfect for pet owners or trainers who know the value of using this device.
Key Features:
Works on both vibration and sound correction modes
Heavy-duty Nylon collar with splash, rain, and snow resistant design
7 bark sensitivity levels
Available 2 6v 4LR44 alkaline batteries
1-year free service warranty
Pros:
The battery life supports 10-14 days
Only take 2-3 hours to get a full charge
Do great fun in water, snow, or rain with dogs
Absolutely works 100% humane
Cons:
Not appropriate for small dogs
What is Dog Training Collar?
A training collar is designed to be worn around the dog's neck. It involves a handheld transmitter and a wireless collar receiver. Then you can send radio signals to the dog's receiver through the transmitter. Most of the collar features to transmit tone, vibration or static shock to guide or control your dog's aggressive behavior.
How Does it Work?
Basically, dog training collars designed with two components – a portable remote transmitter and an electronic receiver collar. The receiver collar is worn around the dog's neck and the owner sends different types of stimulations from the remote transmitter. Sometimes it comes with a dial to fix the strength of the static stimulation.
There are three stimulation modes including beep, vibration, and shock. The collar doesn't send any signal which may hurt your dog. It just gives him a small shock to deter from doing anything bad like digging, chewing, biting, barking, etc. The ideology behind the collar is to train the dog association.
When the dog engages with doing bad things or violates rules, applying a single shock may be enough to stop him to do intolerable activities. You can also apply a beep that warns your dog before doing something bad. By using all of these features properly you can train your dog within a very short time.
Key Considerations Before Buying a Training Collar
There are several things you need to keep in mind when selecting a dog training collar. Most of them look the same and features similar things like an LCD screen, remote, battery charger, and attractive design. So, how can you differentiate the better one from others? That's why here we have discussed some important factors in detail to consider in buying the best dog training collar.
Size
Perhaps size can be the most important consideration when purchasing a training collar for your dog. Every unit is designed for a certain size of dogs. So, make sure the actual size of your dog's neck before finalizing the model.
Now a day, almost all collar features a small LCD screen, a remote and rechargeable battery with an appealing design. That's why measuring your dog's neck, and the thickness of the collar for a better fit.
Don't pick a large, heavy, thick training tool for your Chihuahua breeds. If the dog feels comfortable wearing the collar, it will provide you more facilities about the training process.
Range
It is another vital consideration to manually control the training collar. There are a variety of ranges assigned with each collar and when purchasing, you should think about the range of area you want to cover up by this set.
Many dog owners and trainers feel interested to choose a product with a receiver and a transmitter. This set is good till the collar exists within the specified range and it can be an issue if the dog goes out of the range.
Modern training collars will give you a range of hundreds of yards range which is more effective for use in the large garden, park or open area. There are some dog collars have ranged up to a mile long but consult with a specialist or your vet about its usability.
Technology
It is another crucial factor to know about the used technology including different modes, stimulation levels, rechargeable batteries, LCD screens, safety protections, and more. Like sonic collar or pinch collar this is also effective to control aggressive barking.
Some of these features a few good options that are very useful like a built-in beeper when the dog is too far or a vibrator notification. The waterproof technology allows your dog to make fun in rain, snow, or swimming in the deep water.
Sometimes buyers also like to check the battery life and charging time of the collar. Ideal divices come with long battery life even can run 7 days by a single charge. They have also low charging time, only 3-4 hours. During recharging you don't need to purchase any new batteries.
Used Materials
You also have to consider the materials, durability, metallic strength, and fabric of the collar. There are various scents that displease your dog and you may also feel bothered a bit.
Always prefer 100% waterproof version which allows your dog to move at snow, rain and even in water. Normally many actions dogs take to get water on them. They also run in the rain and could splash through a mud puddle.
A comfy construction always ensures a successful training session. Dogs never like to bring excess weight so don't load your dog with an unnecessary heavyweight. Ergonomic design enhances your dog's regular training activity.
Cost
Cost is the bigger fact like some collars are incredibly cheap and some are much more expensive. The regular price range is $30 to $100 but sometimes it runs upwards of $200. Normally, quality dog collars meet specific training needs can easily be purchased around $50.
The product with high-end features may run a little above the average price and these are more effective and easier to use. Before concentrating price, range dog owners should follow the quality with extended options.
So, if you are motivated by the best quality, then you must ready to spend a high price. Modern training devices come with good quality with many advanced options.
Few Benefits of Using Dog Training Collar
A high-quality, well-designed training collar can provide you the facility to stop any type of behavioral problems of your dogs without causing any harm. Here we have discussed some common disruptive dog behavior and the ways of controlling them through an electronic dog collar.
Deter Jumping Habit: Dogs love to jump on their owners and feel it is the only way of showing affection to their proprietors. But sometimes it can be embarrassing for them and many dog owners mark it as very irritating. So, they try to stop their dog's unwanted jumping activities immediately. In this case, a dog training collar would be the best option for you to discourage your dog from jumping habit.
Controls Barking Behavior: Like jumping habit, the majority of dogs like to bark aggressively and might be upsetting close relatives and neighbors. Using a training collar would be a very effective way to stop this manner. In fact, it is very easy to operate the collar and motivate your dog within a short time. When the dog wears this device around their neck, it helps to check to bark in the sense. Moreover, you can apply a static correction signal to control its barking habit.
Controls Your Dog's Aggression: Nobody in the world likes their dog's aggressive and frightening behavior for a single day. They are very unpredictable and not ideal for living at home. Basically, they become dangerous and may suddenly harm family members, and even neighbors. But you need to be very sincere and use a dog training collar to protect them at the necessary time. Within few days your dog begins to learn about the signals with their objectives and try to follow properly. So, it is better to save your dog's aggressiveness with this collar.
Reduce Destructive Chewing: Chewing is a common behavior for both puppy and adult dogs. But sometimes it may dangerous when they start to chew everything around you like furniture, bed cover, carpet, clothes, toys, and even shoes. This behavior is very unruly and unexpected for pet owners. In this case, an electronic dog training collar is a very effective tool to control this bad habit.
Final Words
There are plenty of positive considerations on buying the best-suited training collar and plenty of issues to take away from these devices. Not everyone in the world wants to spend their money but it is crucial to buy the best one with the highest quality features for your dog's safety.
When purchasing the best dog training collar, it is definitely come to ease of use, modern technical facilities, efficient training modes, size, weight, and cost. Considering these issues, we have listed above all top products regarding various breeds and sizes of dogs so that you can make the right and quick decision.
Frequently Asked Questions
How do dog training collars work?
Dog training collars are comprised of two main devices: the remote transmitter and the electronic receiver. Primarily, the remote will have buttons to transmit static correction and the receiver which snugly fitted onto the dog's neck receive signals within a certain range of area.
How long should I conduct the training session with a training collar?
Actually, the duration depends on the age of your dog. Most pet owners use the collar for a total of 20 minutes a day but you can divide the time length into two sessions. During the first few sessions, you might take a few minutes for your dog's warm-up.
Are there any alternatives to electrical stimulation?
Yes, there are. Some manufacturers make collars that use tone, or vibration. You can use a puff of citronella spray at your dog's nose instead of static correction. But, for an ideal training electrical stimulation can be effective.
How far is the range of a dog training collar device?
The range may vary by each system. There are some short-range collars mostly used by pet owners who train dogs in yards and parks. Long-range collar systems are used by hunters at distances as far as ten miles.
How old should my puppy be before using a training collar?
You should use training collars when your dog becomes 5 to 6 months old. At this age, they can effortlessly carry the weight of the collar and receive basic commands.
How much is the proper weight for a dog for using a training collar?
There are no specific limits but for small dogs, the weight should be more 8lbs. it is better to read the products recommended weight while you purchasing.
Which types of battery life does a training collar have?
The ease of battery recharging and the accessibility of the traditional batteries are more preferable at present. The charging time should be 3 to 4 hours for a full charge. There are some collars can support up to 1 week after charging.
How much cost is ideal for a quality training collar?
Cost is a vital issue and there are some products in the market that are incredibly cheap and some are more expensive around $160-$280. Obviously, big-budget products offer extraordinary performance and easier to use. But there are so many quality dog training collars available in the market within cheap price range.