SportDOG FieldTrainer is a long-range e-collar with multiple stimulation levels and training modes to suit your pet's training needs. From sports to average boundary training, this collar is a pro tool and can be used by most pet owners as well. Teaching new skills to your dog is important and useful. It allows you to give your pooch more freedom and be confident when he is running around without a leash.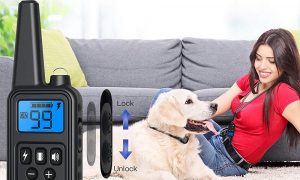 With a suitable training collar, you can be sure that your pet is safe. The multiple vibrations and stimulation settings help canines associate and learn different commands with the collar signals. Many dogs can be trained using the tone alone. It depends entirely on how you wish to use the collar.
Lastly, if you are troubled by your furry friend's aggressive behavior, the SportDog field trainer can help you out. The higher level shocks prevent dogs from continuing bad behavior without being inhumane. In this guide, we bring you everything you need to know about this collar. Keep reading on to find out the specifications and usage of this collar.
SportDOG Brand 425X Remote Trainers
Electronic Dog Training Collars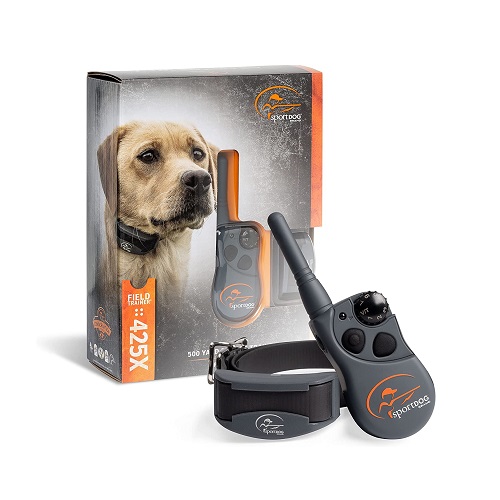 SportDOG Brand 425X Remote Trainers
SportDOG Brand electronic collar for small and large dogs in a 500 Yard Range E-Collar with Static, Waterproof, Rechargeable, Vibrate and Tone.
SportDog Brand 425X Remote Trainers is recommended for pet owners who want professional training sessions for their dogs. This trainer device covers a 1500-foot range that allows the trainer to stay in total control from a distance. Most importantly, the remote can be used into training three dogs while saving you money and reducing the amount of gear you'll have to carry along.
This unique training product is made of a quality and durable rechargeable lithium-ion battery which life span is 50-70 hours. The long battery life span gives you the confidence for long adventures and hunting without frequent recharging. It comes with a remote that transmits a radio signal to the receiver smoothly and uninterruptedly without diversion or waste of time.
Moreover, this collar is fully adjustable and features 21 adjustable static stimulation levels. It has been programmed to operate with three different modes like tone, vibration, and static level of stimulation. Therefore, the collar device is a suitable correctional device featuring all kinds of temperaments. Similarly, it is ideal for a puppy, adults, and senior dogs.
The device is manufactured with DryTek tech making it a waterproof product ideal for a pet owner to train dogs in all kinds of weather, either under the rain or sun. The waterproof feature makes the collar submersible in 25 feet without getting damaged. Also, the battery recharge fast within the space of just two hours. Likewise, the availability of sufficient eyelets makes the collar fully adjustable and suitable for all dog sizes and breeds.
This product features several variants to match all needs. The user manual help non-experts navigate their way through the function and operation. Lately, you can select from camouflage or matte gray design.
Pros:
Adjustable and suitable for all dog breeds
The single remote trains up to three dogs
Fantastic battery lifespan of 50 – 70 hours
Operating guide manual for easy navigation
The capacity to cover 1500feet
Cons:
Not the cheapest option available
Can be complicated to figure out
How Does Sportdog Fieldtrainer Work on Dogs?
The primary purpose of a training collar is to allow communication with the dog within a specific range. The SportDOG 425X has a range of 500 yards. The main theme of this collar is minimal. You will find that it is very lightweight and compact.
Like any other e-collar, the main method of the 425X is by using either electric signals or vibrations/tones. The levels of the stimulation can be adjusted easily by turning a knob and pressing a button. Using these steps, you can deliver a tone or shock.
When training dogs, it is crucial that your timing is correct. When you take your pet out for a walk, reinforce what you want your pet to do using vocal commands. It is advised to divide the training into two parts, the first with the leash (on-leash training) and the next without the leash (off-leash training).
Here, it is important to note that the tones themselves do not mean much to your pet. Increasing the stimulation level will only annoy your pet further, and he may struggle to remove the collar itself. Therefore, it is important to associate the tone with something.
It can be a tug on the leash, a vocal command, or both. Make sure your pet understands what you want him to do. This association is what these collars help create, and this is what you should use them for. Never use this or any other training collar for punishing your dog, and start from the lowest possible setting.
Read more: Mockins remote dog training collar review
Features of SportDOG FieldTrainer 500 Yard Range E-Collar
Collar and Remote Design
The package features a compact, long collar strap with the receiver. For the most comfortable fitting, you can trim down the strap to the size of your canine's neck. Here the key is to ensure that the contact points are actually in contact with your dog's neck. It also depends on your pooch's fur length.
The metal prongs on the inside of the collar can be changed if you want a different length. The default size is already fixed; however, for dogs with longer coats, you can use the longer prongs also available in the box.
The size of the remote is very small, compact, and convenient. The body of the transmitter has a rubbery feel to it and allows for a firm grip even when it is wet. The antenna is also not too big, and you can carry it around with ease.
The SportDog transmitter comes with a lanyard which makes it a lot easy to find. You can have it on your person or attach it to a bag. It saves you time and effort when looking for the remote in case of an emergency.
Stimulation
The collar has 21 stimulation levels and 7 tone settings as it also features vibration or tone mode. Many pet parents find that their canine responds well to the tone alone, and they do not have to use the shock. It can be a good idea to use the tone mode before increasing the shock level.
The collar has a default mode which comes with a one-dog, no-tone setting. You can also change these settings with a different button configuration, multiple dog mode, and vibration settings. It has 21 levels of continuous stimulation and 7 levels of momentary shock levels. Change modes for a different training style to suit your needs.
Humane
The collar is designed for dogs 6 months or older, weighing at least 8 pounds. This range should be kept in mind when purchasing the collar. When used for dogs of mentioned age and weight, the collar is effective in grabbing the pet's attention without causing harm. The tone-setting, for example, only uses a noticeable vibration to strengthen your canine's recall.
Battery
Both the remote and collar receiver need to be charged separately and come with lithium-ion batteries. The batteries do not need to be replaced before 3 – 5 years, and after that, they can be easily replaced by the user.
It takes around 2 hours for the batteries to charge completely. The charger features two plugs so you can put both devices for charging simultaneously. When fully charged, it lasts for about 50 – 70 hours, depending on the level of usage.
Effectiveness
The SportDog collar is able to deliver quick results when used correctly. The tones and stimulation are not harsh, and the collar can be used for dogs weighing 8 lbs and above. The easy remote configuration also allows you to focus on your dog instead of the device every time. The result is quick. The collar set also comes with a training manual that helps you get the most out of the collar.
Modes and Range
The transmitter also features multiple modes and covers a range of 500 yards or 0.28 miles. You can also use this for more than one dog. The SportDog remote can be used to control up to 2-3 dog collars simultaneously. It depends on the version of your transmitter, and you need to get new collars.
What We Liked:
Compact design

: The main focus of the whole collar set is the compactness of the design. It is one of the lightest e-collars on the market featuring quality materials and excellent performance. Furthermore, the added lanyard makes it easy to carry the remote around as it weighs only 2.4 ounces.
Waterproof DryTek technology

: Both the remote and the collar are designed such that they are waterproof and can survive submersion up to 25 feet.
Ergonomic transmitter

: The transmitter has a soft rubbery coat that is very pleasing to handle. The transmitter also features a very ergonomic and easy-to-remember design. This allows you to concentrate on your canine instead of having to look at the remote every second.
Gradually changing stimulation levels

: The multiple stimulation levels are gentle and gradual, which makes the e-collar ideal for small-sized or sensitive dogs.
Long battery life

: The lithium-ion batteries can be used for 3-5 years, and later, you can replace them with ease. When fully charged, the e-collar and remote can be used for 50-70 hours, depending on the activity. You will only be needing to charge it once a week.
Charge Indicating LED

: When the transmitter is fully charged, the LED indicates it. You can then plug it off and use the device.
What We Didn't Like:
Unclear Button Labels

: The buttons are not labeled clearly. You will need a manual to figure these out. The three buttons are basically low, medium, and high. The knob has 7 levels for each. This gives you a total of 21 settings; however, it can be difficult to adjust.
Complex Modes

: The e-collar features seven different modes, each with different settings that can be changed using a tiny button at the back of the transmitter. While having multiple modes is helpful, it may confuse some users as to which one is the best.
Range

: The collar features a 500 yards range which is less for hunting dogs and active canines in open areas. This means that you cannot allow your puppy to roam very far away.
Multiple dog mode reduces functionality

: When the transmitter is set to multiple dog mode, you are unable to use the tone and vibration setting as the buttons are set for three different collars.
Final Thoughts
When it comes to construction, compactness, and weightlessness, this collar is one of the best. The shock levels change gradually, and there isn't a sudden change in the level to startle or hurt your dog.
The collar set also comes with a training guide and can be used for three dogs as well. Overall, it is a good choice if you want something that has a long battery life and is easy to carry around.
However, just like any other collar, it is up to you to train your pet and help him develop an excellent recall. Eventually, your dog should be able to listen to your command on the tone alone and then without it altogether.