The Mockins Electric Dog Collar is an affordable, entry-level option for pet owners who are using an e-collar for the very first time. E-collars are an excellent tool to help your pet develop a good recall. When your canine is outside, away from your reach, off-leash obedience is useful training.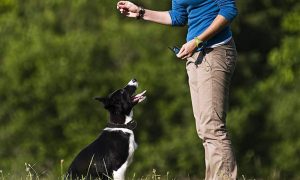 The Mockin's collar features over 100 stimulation settings, tone-setting, and multiple vibration settings. In addition, this features an adjustable strap and a receiver that goes on the strap. On the inside of the receiver, there are prongs or metal probes that transmit a small amount of current. Due to their crucial function, these need to be in direct contact with the canine's neck.
The primary purpose is to train your dog with a cause-and-effect method. Timing is crucial, and the shock should only be implemented when your pooch does something you do not want him to do. With the increasing popularity, there are tons of e-collars in the market with improved range, modes, increased comfort, and training preferences.
However, this item stands out because of its affordable price and essential functions. It is a great option for beginners and gets the job done. To find out about the detailed features, advantages and shortcomings, keep reading on.
Remote Training Collar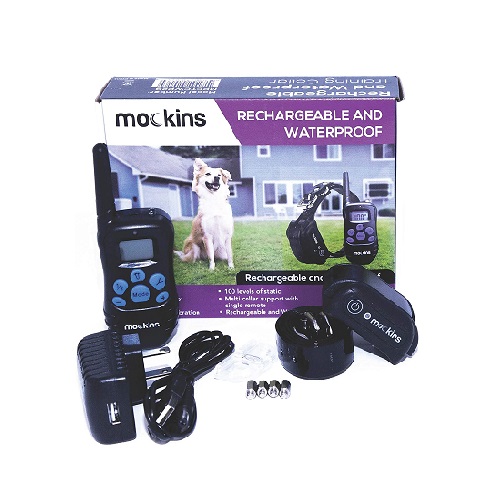 Mockins Waterproof and Rechargeable Electronic Remote Training Dog Collar
The Mockins Shock Collar is a great training tool for your small, medium, and large dog.
This training device is the best choice for the pet parent who does not want much financial commitment. Mockins Remote Dog Training Collar can be one of the most valuable training devices for dog owners. This E-collar has a superior range remote control with RF43Mhz technology that covers 330 yards or 990ft. Thus you can train your dog in a park, yard, and distance position without running after him.
The strap is made of durable nylon material with a buckle and a strong D-ring for leash attachment. Similarly, the remote control has an LCD screen and well-labeled hotkeys to enhance easy operation for a starter or professional dog trainer. The transmitter effectively conveys command without break in transmission. Both the remote and collar receiver has rechargeable long-lasting lithium batteries.
In addition, the rainproof nature makes it suitable for training to take place under the rain. It comes with customized 100 levels of static shock stimulation and vibration respectively. The standard beep tone mode provides an audible warning that effectively works for all dogs.
Moreover, the shock collar has been programmed with an interrupter to control and eliminate unnecessary barking habits in anxious or aggressive canines. It helps correct bad habits and leaves your dog with the best behavior. The adjustability goes from 2' to 22". Thus large, medium, and small dogs can get a perfect fit.
Furthermore, this advanced tool is safe to train dogs without hurting or giving them negative feelings. Again, you can set the level of shock according to each training demand. The vibration or shock reaches your dog through the stainless-steel prongs that come with the collar. It will help proper communication between you and your dog without verbal signals. The entire package comes with receiver, transmitter, charging cable, charger, test tool, and a nylon belt.
Pros:
Remote control covers up to 330 yards or 990ft
Effective and safe for training
Power saving and lasting design
Rechargeable lithium remote and collar battery
Rainproof and adjustable nylon E-collar
Cons:
The remote control looks big to hold
Remote goes to sleep often
How Does the Mockins Dog Collar Work?
Much like any other e-collar, the Mockins works by using either tones, vibrations, shocks, or some combination of these three to grab your pet's attention. This model can be charged and used without the need for external batteries. The main objective is off-leash training. Therefore, these differ in models based on their ranges and shock levels.
This comes with a transmitter, the receiver, a collar strap, two pairs of probes, long and short, a charger, and a tester. The shock receiver comes separately and needs to be attached to the strap. After the basic introduction, you need to secure the collar around the canine's neck in such a way that the contact points are touching the skin.
This shouldn't be saggy otherwise, the e-collar will not be able to deliver the signal and your pet will not feel it. However, the probes should not be poking into the skin either, as it is unnecessarily painful and annoying.
This comes with two different length probes. The ideal pair depends on how long your pet's fur is. Longer contact points are meant for longer coats and vice versa. Once that is set, the next important step is determining the correct level of shock.
When starting out, it is strongly advised to start off with the lowest setting possible. If you need to increase the level, do so gradually instead of skipping levels. Many owners use the shock as a last resort and consider using tones and vibrations as warnings before applying the shock.
Here, the level of shock and timing of correction is important. When used correctly, you can help improve or build a strong recall, so your pet responds to your voice command or a certain gesture.
Mockins have a special battery-saving feature. When the remote and collar are not used for more than two minutes, they go in standby mode. While this feature helps prevent unnecessary battery depletion, you need to make sure the device is active before pressing the button.
It is recommended to combine voice commands, praise, and rewards with the training for best results. By the end of the training, your pet will have developed a good recall to stop and stay on your voice command alone. Depending on your canine's temperament and behavior, the training may take a few weeks or longer.
Features of Mockins Electronic Remote Dog Training Collar
Design
The design is relatively straightforward and simple. You get an adjustable strap, a receiver, a transmitter, and a charger. It is easy to use, and the controls can be easily remembered. In other words, you will not have any trouble operating it. Admittedly, it is not one of the most fashionable collars nor is it the most sturdy. However, it is a good option if you are getting an e-collar for the first time.
Collar
This features an adjustable nylon strap. The size can be changed by using the adjustment buckle. However, it is recommended to avoid changing the strap length too often as it may cause the adjustment buckle to lose its grip and slide easily. The receiver can be attached to the collar manually. It features a plastic closure and has a size range of 2 to 22 inches.
Remote and Range
The plastic remote has average construction and comes with many clearly labeled buttons. The range of around 990 feet or 330 yards. While this distance is suitable for a beginner collar, it is not of much use if you are a professional trainer. However, it is enough for smaller dogs and pups who are mostly accustomed to staying at home. It has buttons for tone, vibration, shock levels, and collar mode including 1 and 2 dog modes.
Stimulation Levels
This e-collar features 100 vibration and stimulation levels and tones or beeps. The stimulation is best used in combination with the tones and vibration. That way, your pet will learn by constant usage that an electric shock is coming next. However, many trainers have found the tone alone to be effective.
Rainproof
This training collar is not waterproof; therefore, it should not be submerged in water. However, it is rainproof and can withstand moisture and water to some extent. With that said, when bathing your canine or cleaning the collar, you should remove the receiver and then proceed with using water or soap. Finally, reattach the receiver after the strap and your pet's fur have dried completely.
Battery life
Both the receiver and remote work using rechargeable lithium-ion batteries. While the battery life is not mentioned precisely on the product's label, some users have reported that it lasts around six to eight hours. This is when the collar is used excessively. The automatic sleep mode also saves battery. After that, you will need to put both the collar and the remote for charging.
Effectiveness and Multiple Dog Mode
The remote can be used with two dog collars at once. The controls do not need to be changed. The remote has a button to change the mode with ease.
Charger
Like most other e-collars, the Mockins model also comes with a charger. However, the only difference is that it is not a split charger, and you need to charge both items separately. On average, charging one of the devices, either the remote or collar receiver takes about 2 hours which means a total of 4 hours are required for the set to be completely charged.
Pricing
This is one of the most budget-friendly items out there, and this is also the main selling point. You can get this e-collar set for only 20$, which is a big difference compared to other options available in the market.
Warranty
Last but not least, the total set comes with a lifetime warranty allowing you to have a risk-free purchase. Overall, it is a good choice for first-time e-collar users or pet owners who have a limited budget.
What We Liked:
Design is simple and easy to use. When you open the set, you will find that the design and button labels are user-friendly. Their function is easy to grasp, and you will not need to keep the manual with you for every little mode changing or shock setting. The remote is easy to handle, and while the plastic isn't the best, it is a good start.
It is very affordable and makes for an excellent entry-level product. Unlike many other shock collars in the market, this one has all the basic features at a very suitable price. As it covers almost all functions, and makes an excellent beginner's collar to get used to how this work properly.
The battery is saved by automatic sleep mode that activates after 2 minutes of inactivity. E-collars have limited battery, and their constant usage can eventually reduce the battery life. However, the Mockins is designed to automatically go into sleep mode if it is not used for more than a few minutes. This prevents unnecessary battery depletion.
The price makes it really affordable, and it comes with a lifetime warranty. All Mockins products come with a lifetime warranty giving customers a choice to freely buy and test the product.
What We Didn't Like:
Remote: The remote training collar needs to be turned back on every time before using as it goes to sleep after a few minutes of inactivity. Some users have complained that it often makes them miss the right time for correction. As timely correction is a key factor in e-collar training, this can be disturbing for some users.
Short-range: The Mockin's dog collar has a range of 950-990 feet. For large canines who love to run around, the distance is not enough and you will need to walk over to them. While this can be fixed by improving the canine's recall, the range is unsuitable for professional trainers or large hunting breeds.
Cheaper materials: The 20$ price is quite reasonable for this model; however, it does not change the fact that the material used feels quite low quality. The remote feels like it is made from average plastic, and the nylon strap gets loose and saggy even after adjusting it.
In short, it is a great option for beginners; however, if you want improved quality, features, durability, and a wider range, you will need to replace it soon.
Final Thoughts
The Mockins e-collar may not be one of the best, but it certainly is a good place to start. It covers all essential features that a shock collar should have. However, like any other correction tool, these should also be used for training purposes only. Using this to punish your pet is wrong and will not get you the desired results. Instead, focus on conditioning your canine to respond to your voice.
In the end, reduce the shocks, use the tones and vibrations, and eventually switch to only tones. This Mockins model is not waterproof and therefore should be used accordingly. If you are interested, the same brand also offers a completely waterproof version as well.