Mini Educator E-collar is one of the most popular electric collars used for off-leash training. It is an important tool for teaching your pet how-to live-in society while exploring and staying safe. For this purpose, we need something other than a leash and treats, and that is where these collars come in.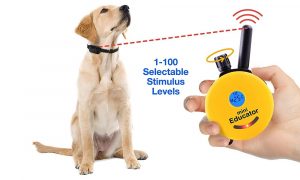 The function of these shock collars is to allow communication with your dog even when he is walking without a leash or when he is far away. The said communication is done via electric stimulation or vibration, both of which require a remote, signals, and a small receiver attached to the collar strap.
Due to the popularity, you will find a lot of these in the market. However, to find ones made from good quality material and offer humane training, you need to know a few things beforehand.
To help you out in your search, our experts have spent hours researching the educator e-collar. This mini device offers an amazing range, multiple stimulation levels, quality construction, 2-dog mode, lights of visibility, and much more. Keep reading to find out what you need for your canine.
Et 300 Mini Educator Remote E-Collar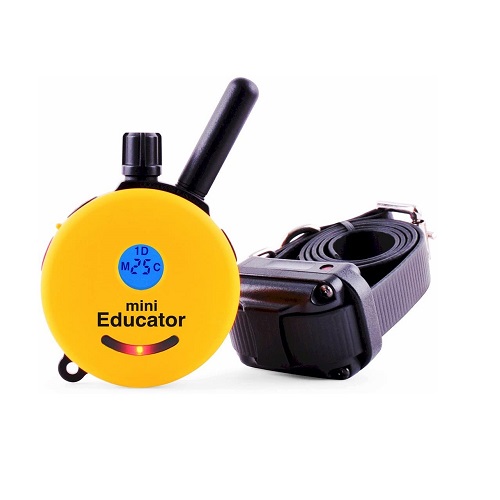 Educator Remote Dog Training E-Collar
Educator E-collar for small and large dogs Safe and humane remote dog training to improve effectiveness.
The Educator E-Collar Dog Training Collar is a perfect choice for those who need a longer-range device for training. This collar is well known for its versatile design that can be used in several ways till you find what works best for your pet.
Furthermore, the device comes with varieties of setting such as tone, regular stimulation, boosted stimulation, and vibration. Another fantastic feature of this E-collar is the tracking light for more effective use under low light conditions.
This innovative transmitter covers a range of ½ mile and has an antenna for an uninterrupted transmission. For insightful reading and precise follow-up during training, the transmitter features a small LDC display screen. Moreover, the device comes with a designated button for each training option and easy navigation.
The receiver and transmitter feature rechargeable lithium polymer batteries and comes a 5V charger/auto charger. Most importantly, the batteries quickly recharge within 2 hours and last for the expected period of training. The transmitter features an advance ergonomic design with a compact size that enables easy handling and control during training sessions.
Likewise, this training device allows you chose a stimulation level between 1 and 100. You can boost the stimulation level between 1 and 60. The lock and set features enable pet owners to set the best stimulation level. However, the mode of correction for this device is more of simple tapping instead of intense shock.
The transmitter and receiver are waterproof, making it suitable for dogs to play in wet areas and train under intensive weather conditions. Similarly, the receiver features several contact points to suit different sizes of dogs. The length of the biothane collar is 30 inches long, meaning you can reduce it to the perfect length for your dog's neck.
Pros:
Remotes help with effective and clean stimulation
Compact and ergonomic design to fit into a small hand
It comes in multiple contact points different breeds
Transmitter and receiver are water-resistant
It comes with a tracking light for easy operation in darkness
Cons:
Only available in the United States
The signal varies with obstruction
How Does An Educator E-Collar Work?
These e-collars work using strong tones, vibrations, or electric shocks. You can select various modes, including a Pavlovian mode that uses beep sounds just before the strong vibration. The main task of this collar is to help your pet learn what kind of behavior you want from him. The training is supposed to be regular and quick, so your pet can develop an accurate recall.
When used correctly, you will be able to give your pet more freedom. These are not supposed to restrain your canine. Instead, the e-collars are there to help learn commands and skills better, using stimulation and vibrations.
The stimulations are noticeable for aggressive dogs and sensitive enough to be used on young puppies. These are used for training over longer distances without shouting or yelling at your pup. The collars work using two modes. You can select from either vibration or electric signals and whether you want a continuous or momentary shock.
Like any other collar, the distance range is limited, and the E-300 offers a correct range of up to half a mile which is more than enough for training most dogs. If you want a more extended range, you can look for the newer models, including the E-400 and E-800, which have a range up to a mile.
Usage:
It has a hundred different stimulus setting levels. You can also use the lock and set function to set the shock to one level. Usually, low levels of shock are suitable for most pets, and higher-level shocks are only required when your canine is being really aggressive.
The transmitter is used to adjust the stimulation level. You can use the knob on the side for this purpose. The changed settings appear on the display.
When everything is set, you need to direct the remote at the collar to deliver the shock. On pressing the button, the receiver receives the signal, which in this case is the collar.
The metal electrodes, or contact points, press close to the skin and deliver a slight shock. The trick is to time the stimulation with commands and actions like a little tug on the leash.
General Features of Mini Educator E-Collar
The Mini-educator offers quality materials, multiple modes for better and quicker training and extra safety. Following are some of these useful features:
Material
These educator collars strap features biothane construction, which is soft water and dust-resistant, PVC-coated material. E-collars work best when they are in contact with the dog's skin. For this purpose, these need to be made from non-allergenic material, so they do not cause any rashes or irritation.
This material is very easy to clean and safe for dogs. It is also waterproof. The transmitter also features durable construction with a sturdy knob, antenna, and buttons.
Size
The collar strap is around 30 inches in length, and as it is made from soft material, you can also cut it to attain the desired length. With the multiple contact points, you do not need to worry about the collar fitting.
LED for Visibility
The e-collar receiver also features an LED light for improved visibility during night walks. The light operates using the battery and works accordingly.
Modes
The number of modes this mini e-collar offer is one of the reasons it is so popular. You can use the same transmitter for more than one dog by changing the mode or getting a different version. This allows multiple pet owners to save money and time. However, it requires some adjustment, and the buttons work differently in the multiple dog mode.
Stimulation and Pavlovian Mode
With the mini educator, you can use electrical stimulation, vibration, or Pavlovian mode. The first one is the usual e-collar mode that sends a small electric shock. The vibration mode does the same thing, using vibrations.
The newer pavlovian feature is a mode that makes beep sounds right before the vibration or electric current is released. This allows the pet to quickly associate the two, and he learns to avoid it by following a specific command.
Technical Features of Mini Educator E-Collar
The technical features of this collar set are as follows:
Design
The design of this educator collar is cute and minimal. The transmitter can be bought in multiple colors, including yellow, purple, and black, and features many buttons and an antenna for the signal transmission. The only con is that many users find it difficult to get used to it as many of the buttons are not labeled.
If you are trying to test it right away after buying, you will have a hard time doing so unless you consult the manual. However, once you get the hang of it, it is pretty ergonomic and easy to use. It is also important to work with the manual as using too strong settings can be dangerous or scary for your canine.
Weight
The suitable pet weight is usually mentioned on the manufacturer's label. For these collars, the recommended range is for puppies weighing 5 pounds and above. While most e-collars may be too early for a puppy this small, most users have found this to be an accurate minimum weight limit. As long as you use the collar starting from very low stimulation, it should be safe for most canines.
Stimulation
This is where the mini educator truly shines. It offers a hundred different levels of stimulation, and you can also lock and set the one that suits best for you. This makes it ideal for most pets who only require a little nudge and have a fairly good recall.
For aggressive dogs, there are plenty of stronger levels that can get their attention without being inhumane. Therefore, whether you are training your canine for the first time, or you are getting a collar after failing on every other training method, you will find this useful.
Collar
The collar itself is made from biothane, which features polyester webbing and a soft PVC coating and weighs only 1.4 ounces. These materials are quite popular in dog collars as they do not absorb sweat, dirt, or odor. So even if your pooch has played outside for a long time, it will not affect the working of the collar. It is also super easy to clean and does not cause any rashes near the pup's neck.
Transmitter
The transmitter looks like a cute little round device and has a lot of buttons that you might get scared of at first. However, if you follow the manual, you will find that it has an antenna, a knob for adjusting the stimulation levels, a boost button, an LCD display, an LED, Tapping sensation button, Mode selection, ON/OFF magnetic dot, light on/off, momentary and continuous button and the battery cover and charging receptacle.
Range
The mini-educator comes in different versions, with each having a different range. The E-300 can be operated from half a mile away. This distance is suitable for most large dog breeds, especially if you are training your dog for regular walks.
However, in the case of hunting dogs, you need to cover large distances, and the newer models like E-400 and the E-800 offer up to a mile coverage. However, with the increasing distance, you will have to adjust and direct the antenna for the best results. Lastly, if you want this collar for a smaller dog, you can also find ones with a lesser range.
Contact Points
E-collars work by releasing a small electric shock through the metal contact points situated on the inner side of the collar strap. Most such collars only come with two contact points; however, this can be less effective for dog breeds with longer or thicker fur.
The E-300 comes with multiple contact points in various lengths, ½ inch and ¾ inch, to overcome this problem and provide effective stimulation regardless of your canine's fur length.
Battery
The collar features a rechargeable lithium-polymer battery. While the exact battery life is not mentioned on the package, however, according to most users, when fully charged, the battery lasts about 15-20 hours, depending on the usage.
While this is enough for most dogs, you will need to charge it quite often if you own a larger breed for hunting purposes. The led lights indicate when the battery needs to be charged. It can be used when it is green; however, if the light glows red or orange, you need to charge it.
Charger
This collar takes about 2 hours to charge completely; the transmitter and receiver need to be charged separately. When fully charged, it lasts for about 10 to 15 hours under extensive use, and then you need to charge it again. For regular training, it can last up to 24 hours; however, if you train your dog excessively, you will have to charge it a lot often.
Effectiveness
The multiple sensation modes, including vibration, have various intensity levels that you can use to get your pet's attention. Ideally, it is recommended to start with very low levels. For most dogs, a level 12 stimulation is enough to get their attention.
The pavlovian mode is also highly effective in improving your canine's recall. In short, whether your pet has been trained previously or not, he will benefit from the collar, and it will also save you a lot of time.
How To Train Dogs with A Mini Educator E-Collar
Setting up your collar:
The Contact Points
When you open the package, you will find the collar with its half-inch long contact points on the receiver; the strap is around 30 inches long, with a metal buckle, and can be adjusted.
For large dog breeds like German shepherds and Labrador retrievers, a collar with ¾ inch contacts is recommended. For smaller dogs, the ½ inch contacts work great as they are able to stick close to the canine's skin without poking too much in the neck.
The E-300 model comes with the ½ inch contacts already installed in the stock, and the ¾ ones come as extra. If those are the ones you will be using, start by replacing these. The Allen key, also available in the box, can be used to pull out and change the contact points.
Size Adjustment
Once that is done, the next thing you need to check is the collar size. The E-300 features a long strap, so it fits even large dogs. However, if you do not want the extra length, you can measure it by slipping it around your pup's neck. Make an estimate of the required size and cut off the rest. Here's an expert tip. If your puppy is small, leave some collar length so it can later be adjusted as your dog grows.
Configuring the Transmitter
Now we get to the transmitter. The back of the transmitter has an ON/OFF button with the letter L on it. That button also functions as a light. After pushing the button, when the display glows blue, it means the transmitter is on. In order for the collar to work, you also need to turn the receiver on.
Both the receiver and transmitter come fully charged, so you can start using them right away. For switching on the receiver, you need to use a magnetic button. A small red magnetic button on the transmitter needs to be aligned with the red spot on the collar receiver. When the receiver's green led turns on, it means the device is now in a working position. The same light glows red when the battery is low.
Introducing the Collar to Your Pet
Training a dog with e-collars is quick and long-lasting when done correctly. The training is basically divided into two parts, the on-leash training, and the off-leash training. If this is your canine's first time wearing a collar, you will need to get him accustomed to it before starting the training.
Suitable Mode Selection
Allow your pet to feel comfortable with the new collar. When using e-collars, it is recommended to start with a very low setting. Decide the mode. The display shows the letter D to indicate which mode it has been set on. 1D means it is set for one dog, which is the default setting. You can also change it by following the manual.
If you are using the shock levels, use very low settings at first. For example, a level 10-12 is suitable for most dogs; however, for aggressive ones, you can adjust it accordingly.
Reinforce Commands Your Pet Already Knows
Regular collar training is a must, and only when your canine is comfortable with it can we start the training. Secure the collar with a leash and take your dog outside. Don't let him wander away. Keep a firm grip on the leash.
Slowly loosen the grip on the leash but don't let go yet. The goal is to associate the collar signal with your vocal commands. Start off by commands your pet already knows, like sit, come, and stay.
Then, whenever your pet is distracted, use a very low shock and tug on the leash simultaneously. Keep practicing this until your pet responds to all the basic commands.
Similarly, Continue with Boundary Training
You can add treats for a better incentive. Once your canine has mastered most of the vocal commands, you can begin boundary training. Like the previous steps, you need to be very careful about the timing.
It is crucial to release the button as soon as your pet listens to the commands, so he is able to associate that as a good thing. It is also recommended to change the position of the contact points every few hours to avoid any sores.
It is useful to add treats and appreciation to the training. Lastly, it is strongly advised to never use the e-collar as a punishment tool. It is designed for training dogs so they are safe and should not be used to harm them.
What We Liked:
Range

: This collar offers a long range of ½ miles. You can also find versions with ¾ mile and 1-mile range. This radius is suited for most dog and pet owner needs.
Quality construction and pet-friendly materials

: The E-300 is made to last and offers non-toxic, dirt-resistant material. It is very easy to clean and ideal for large dog breeds.
Choice in stimulation levels

: You can choose tone/vibrate collar, electric shock, and multiple modes using the transmitter. This allows the user to adjust it according to the pet's response.
You can use the lock and set button to keep the settings. However, it is recommended to use the continuous mode as it allows for better control.
What We Didn't Like:
Short battery life: While the battery can last for 24 hours when used moderately, the time reduces considerably if you are using it for extensive training, which is around 10-15 hours. As compared to many other e-collars, the 10 to 15-hour duration is relatively less. If you own a large dog that requires a lot of exercise, you will be charging the collar quite often. The blinking green receiver light also turns orange/red when the battery is low. The user then has a few minutes before the collar stops working.
Buttons aren't labeled very well

: While each button has some sort of marking like T for tone, L for light, M/C for momentary and continuous, it is not specific. For a new user, using it without a manual would be nearly an impossible task.
A new mode changes button setting

: The collar offers a 2-dog mode, and while it is convenient to have it with one transmitter, the controls get changed.
The antenna is direction-specific

: Many users have mentioned that when the collar is far from the receiver, the antenna needs to be pointed directly towards it to deliver the signal.
Final Thoughts
The E-300 mini educator is a popular dog training collar suitable for dogs of most ages and breeds. The training tool comes with an extra pair of contacts, a long strap, receiver, transmitter, and charger. You can use this for regular training collars like teaching your pet to come and stay and for somewhat complex training like boundary training.
The multiple level settings allow you to adjust it according to your pet's behavior. While it can also be used to train rather aggressive dogs, the collar is not meant to be a tool for punishment. Instead, when used correctly, you will be able to give your pet more freedom, and it will help him learn to respond to helpful commands.
Frequently Asked Questions
Is A Mini Educator E-collar effective for multiple dogs at once?
Yes. The collar can be used for more than one dog. However, this requires a different setting for the buttons. This is important so the remote signals can be directed towards the appropriate collars. It is shown on the display as 1D for one dog and 2D for two dogs.
Is A Mini Educator E-collar effective for small dogs?
Yes. These are effective for puppies weighing 5 lbs and above. However, if this is your pup's first time wearing a collar, remember to use a very low setting. Release the button as soon as your pet listens to your command.
How is the e-collar charged, and how long does the charge last?
The e-collar is charged via the charger given inside the package. Both the receiver and the transmitter have a charging port; it is on the inside of the stock of the collar and at the back of the transmitter.
The lights glow red when the battery is not charged. After charging, they are green. A fully charged battery lasts 2 hours on moderate usage and about 10 to 15 hours for continuous use.
Is A Mini Educator E-collar waterproof?
Yes. The mini educator is waterproof, dirtproof, and does not absorb sweat or smell. As a result, it can be cleaned with ease, and you do not have to worry about getting the collar off when your pet goes out in the rain.
When can you stop using the e-collar?
These are for helping your pet learn specific commands. When your canine responds to your voice alone and has a good recall, you can stop using the collar.