Soft Touch Leather Padded Dog Collar is a classic, fashionable choice suitable for most canines. Whether it is your first time buying a leather dog collar or you are getting a new one, a quality accessory is crucial for your pet's safety and identification. This is one of the reasons why the market is overflowing with multiple dog accessory brands and types.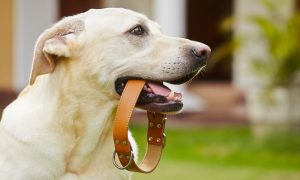 A dog collar is helpful for your pet's identification, leash training, secure walks, and more. Therefore, it is crucial to find one that suits all these requirements. When choosing the ideal one, you need to keep your pet's size, fur length, and any skin conditions in mind.
The perfect collar is one that is durable, easy to clean and maintain. Other features like breakaway buckles, material, and finishing are also quite important. In this guide, our experts have spent time researching the Soft Touch leather padded collar based on customer reviews, quality, and construction. Keep reading to find out what we liked about it and where we found the collar lacking.
Luxury Leather Dog Collar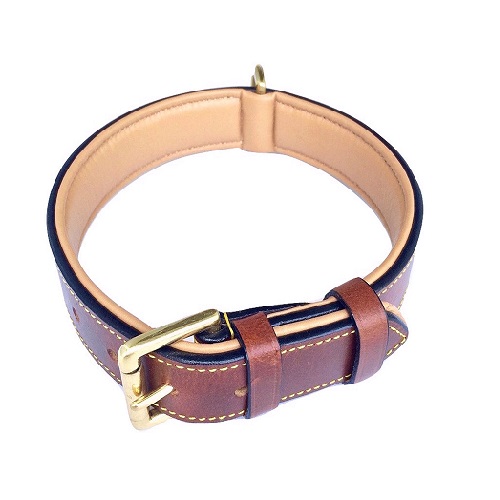 Soft Touch Collars Luxury Real Leather Padded Dog Collar
Soft luxury leather collar is stylish, comfortable, durable, sizing, design and affordable.
There is nothing as classic as getting your dog a beautiful leather accessory. Soft Touch Leather Padded Dog Collar is the best way to keep your pet identified among his fellow canine companion. For the sake of extra comfort, the interior features soft sheepskin leather padding that feels relaxed on your dog's neck without pulling off his hair. Thus, pets can have the collar on for a long period with feeling discomfort.
It is made of full grain naturally tanned genuine leather for exceptional durability. Most importantly, the product is naturally made without chemicals and dyes. Hence, pet parents have no worries over their pets getting skin irritation. The collar features a heavy-duty buckle and D-ring made of solid brass and coated with anti-rust material against natural elements. Also, the D-ring enables leash attachment for training, adventure, and outing.
The small D-ring near the buckle enables pet parents to fix in tag and other charming pet accessories. Furthermore, it has perforated eyelets for easy adjustment and perfect fitting. And, the double leather straps allow you to fix the excess collar length in place for a smarter look. The round edges are carefully sealed with a neat finishing which promotes collar longevity and prevents water from entering the interior of the collar.
For perfect sizing, the collar comes in small, medium, large, and extra-large sizes. It comes in brown and cream colors that are neutral and perfect for all skin types. Moreover, the price of this collar is affordable and worthy of purchase for pet parents with slim pockets. In addition, the collar features reinforced stitches to keep the sturdy and in good shape. It is easy to clean and dries within a short period.
Pros:
Stylish and has a sturdy appearance
comfortable and suitable for all dog
It comes with heavy-duty hardware and thick stitching
 Rounded sealed edges prevent water from entering
Available in different sizes and colors
Cons:
It has no quick release buckle
Not 100% pure leather
How To Train Your Dog with the Soft Touch Leather Padded Collar
Collar training is an essential task when it comes to adventurous pets. Whether you are using a regular or an e-collar, it is recommended to properly follow a set of steps to ensure your pooch enjoys the experience.
Step1: Get your pet acquainted with the accessory
Ideally, you want your pet to be comfortable when wearing the collar, especially when you are going for leash training. When getting your canine to wear a collar for the first time, you need to be patient.
Let your pooch observe the new article and sniff it. Make sure he does not chew it. Once your pet seems to approve of it, you can put the collar on him.
Step 2: Aim for the ideal fit with enough wiggle room
Proper fitting is important for the best functioning of the collar. If it is too tight, it will hinder your pet's activities and, in extreme cases, may even put pressure on the trachea.
On the other hand, a loose fit cannot hold a dog firmly, and your canine may slip through. For pets with longer fur, a hanging strap tends to get hair stuck in it, which can make it difficult to remove the collar later on.
Therefore, correct fitting and size are important. As a rule of thumb, adjust the strap so you are able to slide in two fingers in the space between your pooch's neck and the collar.
Step 3: Slowly increase the intervals and let your canine get used to the feeling of wearing a collar
Once you have got that all set, you can now let your pet wear the collar. For most dogs, it is quite easy to get used to the new article; however, some might resist after a while. For that, it is recommended to slowly increase the time interval.
Step 4: Attach the leash, and off you go!
For walks, it is strongly advised to use the collar's D-ring for leash attachment. With a leash, you can easily keep your pet near you. For increased security, use an ID tag with your phone number and address. That way, even if you do end up losing your pet, someone will be able to return him to you more quickly.
Features of Soft Touch Leather Padded Dog Collar
There are so many features of soft touch leather collar and you must consider the following while deciding to choose one.
Design
The Softtouch padded collar has a stylish leather design with quality finishing. It is elegant and looks great on dogs. The inner side has soft padding with foam for added comfort. It fits nice and is snug around the neck, and does not cause any scratching because of the rounded edges.
The outer and inner bands of the straps are of different colors, with the outer layer being lighter with a flatter finish and the inner layer a darker, cushioned one made from sheepskin leather. The outer band also has a black lining for sealing the sides giving it soft edges with quality finishing.
You can also get other two-tone color options with more neutral shades. The strap also has an attached D-ring that matches with the small loop for the ID tag and the metal closure.
Size
On the outer side of the front corner of the collar, you will find a small number indicating the collar size. The Softtouch collars come in various sizes depending on your canine's weight and neck size. This one is available in four different sizes suitable for dog necks in the 18-21 inch range.
These include small, medium, large, and extra-large. Each of the sizes differs in the strap width, length, and buckle size. When selecting the ideal one for your pet, it is recommended to leave some wiggle room. Space enough for two fingers to fit in is enough for most canines.
Quality
The soft-touch collar is made from naturally tanned, full-grain leather. As it is naturally dyed, it is also free from any harsh dye chemicals. It is safe for dogs with sensitive skin and can withstand water and cleaning to some extent.
Durability
This brand offers a lifetime warranty, and you do not have to worry about the collar breaking any soon. Despite looking rather fancy, it is also quite durable. The leather used has been tanned naturally. This leaves it more durable as compared to other options that face harsh dyes and artificial drying methods.
Comfort
The inner collar padding is made to fit nicely around the canine's neck without causing any stiffness or rashes. The rounded edges make sure the collar is comfy even if your pooch decides to pull on it.
What We Liked
Soft and padded, ideal for dogs of multiple ages and sizes: The Softtouch collar's inner padding makes the leather collar extra soft and comfortable for dogs. It is made from easy-to-clean sheepskin leather and gives off a soothing touch. The inner padding covers the D-ring. The entire design is made, so nothing gets stuck in the fur, making it ideal for dogs with longer coats.
Rounded edges and quality finishing: Other than the black lining at the edges, the entire strap is rounded so as to reduce the risk of scratching. This makes it more comfortable for dogs who tend to pull on the collar.
Available in multiple sizes: The collar is available in 4 sizes, including small, medium, large and extra-large.
Dog tag ring and D-ring included: The included dog tag-ring is available in the front, near the buckle, which you can use with ease. Simply clip on an ID tag, and your pet is ready for his stroll. The added D-ring allows leash attachment as well.
What We Didn't Like:
While this collar is overall a good purchase for the price and quality, the following are some things we did not find ideal.
Size is mentioned on the outside of the strap: One of the important features of this collar is the natural, smooth leather feel. However, there is one tiny catch, the size is printed on the end of the outside edge. While some people may ignore it, others find that it ruins the elegant finishing and takes away the overall luxurious feel of the collar.
No break-away closure: The soft-touch collar does not feature a safety release; therefore, you will have to keep an eye on your pooch. Make sure he does not go in small places or bushes, especially where a collar is likely to get stuck.
The collar buckle isn't the quickest to close: Some users have found it difficult to put the collar on. The closure is akin to a regular belt's buckle, and if you take off your canine's collar every day, it can be a cumbersome task. Similarly, your dog will have to be more patient when you are putting the collar on.
Final Thoughts
When it comes to looks, durability, and comfort, the Soft-touch leather padded collar is one of the best options. This features soft sheepskin padding and quality finishing making it comfy for your pooch even when he is taking a nap. Despite the leather layers and inner foam, the collar is quick to dry, even if your pooch loves water.
The length of the collar is adjustable for a few inches; however, if your canine is in the growing stage, it is best to go with a bigger or a different flexible option. With that said, the collar comes with a lifetime warranty allowing you to get a replacement if anything goes wrong. Therefore overall, it is a good choice if comfort and style are the main features you are looking for.