The Adaptil calming pheromone dog collar is a calming device designed for canines that suffer from stress or anxiety. Pets may experience such emotions due to a variety of reasons. However, the most common factor is a change in the environment. Meeting new people and encountering strange sounds and places can upset young puppies and even adult dog's sensitive about their surroundings.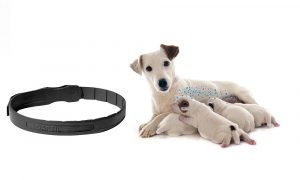 The Adaptil calming collar works by using synthetic pheromones, identical to canine "feel good" pheromones. It relays the message of safety and reassurance. The scent is released constantly and lasts for about 4 weeks. These are effective for dogs of all ages. However, the effectiveness also depends on your pet's behavior and stress levels.
In this guide, we will discuss in detail pheromones, how they help appease stressed canines, usage, important features, and more. Lastly, we will share our thoughts on the Soft Adaptil collars and share what we liked and could use some work on.
Adaptil Calming Pheromone Collar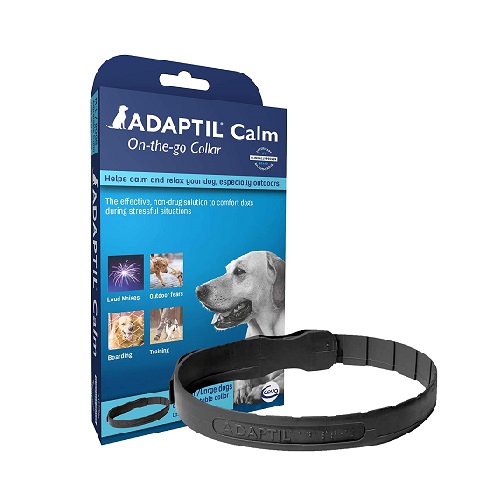 Soft Adaptil Calming Pheromone Dog Collar
ADAPTIL Calm On-the-go Collar is a solution to calm your dog comfortably, durable, sizing, design, affordable indoors and outdoors.
Every dog owner knows how unpleasant it is to see their dog behave anxiously. It could be a result of separation, change of environment, or stress. Adaptil Collar for Dogs is designed to make pets feel calm and relaxed.
This contains 5% DAP that makes it a collar with the highest DAP concentration. It is fully adjustable and comes in three sizes for small, medium, and large canines. Most importantly, you see a possible behavioral change in your furry friend within 24 hours of application.
This is formulated with a non-toxic all-natural ingredient that would not harm your canine companion. When you place the collar on your pet's neck, the body heat released by him helps activate the pheromones content and continuously send a calming signal to the brain. Also, the chemicals work and do not fade away prematurely.
The collar is waterproof, making it safe for dogs to play in the water. It helps your dog feel more comfortable and less worried. Again, this improves socialization, reduces barking/fear levels, controls anxiety, and can be used alongside flea and tick topical medication. It is suitable for indoor or outdoor to reduces the stress that comes along with a long journey.
One of the merits of the Adaptil collar is the odorless feature. Therefore, if your furry friend is allergic to a strong smell, this is the best option for him. This works for 30 days of continuous diffusion and takes effect immediately while making your dog happy.
When it comes to the affordable and economic aspect, this calming product is one of the best budget-friendly collars in the store. It is easy to use and clinically approved for all breeds.
Pros:
It is easy to find and have no side effect
It is safe for any behavioral medication
The collar features both small, medium, and large sizes
Odor-free and with other flea or tick medication
Provides four weeks of support
Cons:
Some dogs might react to the collar negatively
It has zero behavioral change on some dogs
What is A Pheromone Dog Collar?
A pheromone collar is one that releases a synthetic formula by either using the pet's body heat or by simple diffusion. The released chemicals are designed to mimic appeasing pheromones which in turn calm your pet.
To be precise, pheromones are signals that animals use to communicate with each other. Therefore, these are species-specific. This will not work for cats and vice versa. In the same way, the signals can be used to attract or repel other members of the species.
The formulas in dog calming collars are designed by using the "soothing pheromones" that mothers release to calm their young ones. As dogs are accustomed to relying on their smell when they are first born, the chemicals have an instant effect.
As the collar formulas aren't directly derived, these can be enhanced by adding some scents like chamomile and lavender for improved effects. These are not designed for regular training or leash use. Instead, you can use these as a substitute for medication to some extent.
These can also be used alongside traditional collars. In some cases, however, the collar alone is not enough. If that is the case with your canine, you can use the collar alongside his medication. However, it is advised to consult your veterinarian to avoid any allergic reaction.
How to Use an Adaptil Pheromone Dog Collar?
While a pheromone collar is different from a regular one, the mechanism of using it isn't much different. When using the pheromone collars, you need to keep two things in mind. The first is that these are not designed to be used with a leash.
Even if you are able to stick one on it, the strap will break as it cannot bear the weight or pressure. The second thing to remember is that these collars are body-heat activated. Therefore, to get them working, these need to fit nicely around your pooch's neck.
Pheromone collars usually come packed nicely, so their chemical does not wear off. Therefore the first step is to remove all the packaging and get the collar out. Next, prepare the collar for putting it on your dog by forming a loop. Finally, get the free end of the strap through the buckle.
Now put it around your pet's neck and adjust it, so the strap fits nicely. As mentioned before, these are body heat-activated; therefore, the material needs to maintain constant contact with the pet's skin. If this condition is not met, it will stop the pheromone release, and the collar will not work.
Therefore, fit the collar, so it touches your canine's neck without causing trouble in movement or breathing. Now leave this on. These are usually for all-day use. This allows the chemicals to be constantly released into the air. However, their effectiveness can be reduced if they are exposed to water or moisture. Therefore, it is strongly advised to remove it if you are bathing or shampooing your canine.
Features of Adaptil Pheromone Dog Collar
Adaptil or DAP is short for Dog appeasing pheromone, and these collars start working when they come in contact with body heat. The following are the main features of this collar.
Clinically Proven Formula
The Soft Adaptil collars are clinically proven and may even appear on your veterinarian's recommendation list. The chemicals used are mild in nature and do not have any harsh effects on young and old dogs.
Odorless
The calming formula is odorless and species-specific. This means that surrounding humans and other pets, including cats, will not be affected by it. In addition, unlike many other collars, these do not have a strong scent and are safe even if you have children in the house. However, for diffuser collars, it is recommended to use them in a separate room, especially if you have pet birds or fish.
Quick Effect
The Adaptil collar works by coming in contact with the skin and absorbing body heat. While it immediately begins to release "calming messages" into the air, complete results take some time to appear. You should be able to notice a considerable change in your pet's behavior within 7 days. However, it also depends on how the collar is used and the anxiety level of your canine.
Most dogs begin to feel safe and calm in only a few days. However, if a dog has gone through something traumatic, then signs of relief and soothing will not appear immediately. This also rely heavily on the material's chemical storing ability. Therefore, you cannot wash or soak these freely.
For regular use, the collars tend to last up to 4 weeks; however, the duration may be reduced if your pooch loves water.
Material
It is made from soft non-recyclable plastic. The is not greasy and releases the pheromone when it is dry. It is not recommended to use it in water and with a leash. If you plan on walking your pet, consider using a separate regular collar for the purpose.
Usage
The Adaptil collar is ideal for training, loud noises, socialization, barking, and chewing problems, and crate training for puppies that tend to feel lonely. However, in some cases, the collar alone is unable to appease dogs.
Therefore it is recommended to combine it with your pet's favorite treats, an additional calming spray, lots of praise and love. Leave the collar on for continuous release and calming effect.
Size
The Adaptil collar comes in two sizes; the small is for dogs weighing up to 35 lbs with a neck size range of 37cm. The larger size is suitable for medium to large breeds weighing 110 lbs or less. The strap length is 62cm.
Both of these sizes are adjustable and should be set according to your canine's neck. Make sure the collar touches the pet's skin. You can then proceed to cut off the excess. If, however, your pup is still growing, consider leaving some room for that.
Warranty
The Adaptil company offers a full money-back guarantee if there is no improvement or relief even after using the collar for 30 days. This allows you to have a risk-free purchase.
What We Liked:
The collar does not interfere with flea collars or tick treatment medication. However, if your canine suffers from digestive or skin-related problems, it is recommended to consult the veterinarian with a complete medical history of your pooch.
Adaptil is a popular brand, and its products have not had any harmful effects as of yet.
You can get the collar in two sizes: small and medium/large. There is also a special version called Adaptil junior available for young puppies that are 8 weeks or above.
Once the collar is fitted nicely, your pet receives the calming treatment for 30 days.
It is odor-free and undetectable to humans and other pets.
The formula used is mild and has 2.5% active releasing pheromone, and the rest of the 97.5% are inert ingredients.
With patience and consistency, the is bound to bring a positive change to your stressed pet's behavior.
What We Didn't Like:
While the Adaptil collar is effective for 4 weeks, it needs to be replaced afterward.
The effects wear out as soon as the contact to skin is lost. Similarly, it needs to be removed before bathing or shampooing the canine. Chlorinated water also tends to deactivate the pheromone release.
Sometimes the effects can take up to 7 days to appear.
The collar alone may not work for extreme cases or behavioral problems like excessive marking and destructive behavior.
Strength isn't a strong suit of the collar. So while these are not designed for excessive tugging, if your pet gets a hold of it, you will need to get a new collar.
Final Thoughts
Getting your cowering pooch to calm down is by no means an easy task. While pheromone collars definitely help, sometimes you cannot rely on these alone. In the same way, the soft Adaptil calming collar works for most canine stress and anxiety-related issues. However, if you also want behavioral corrections, then a change in the environment and some training may also be required.
Overall, these are a good choice because of the milder formula and 30-day constant release technology. These also do not interfere with flea and tick treatments and can be used alongside the medications.
Frequently Asked Questions
What is the neck size of this collar?
The Adaptil collar comes in two sizes ranging from small to medium-large. The smaller size has a 37cm strap, and the medium one is suited for dog necks of the size 62cm. When selecting the ideal size, it is recommended to keep some space for wiggle room and error margin.
How long does this pheromone dog collar last?
The Soft Adaptil collar lasts for about 4 weeks on regular use. However, if this is exposed to water and moisture, the effects tend to wear out quickly.