A cat calming collar can help your anxious feline feel more comfortable and safer. Whether your cat shows destructive behavior including scratching unnecessarily on the walls, spraying in the house or feels uncomfortable even after receiving lots of love and attention, a calming collar can soothe him.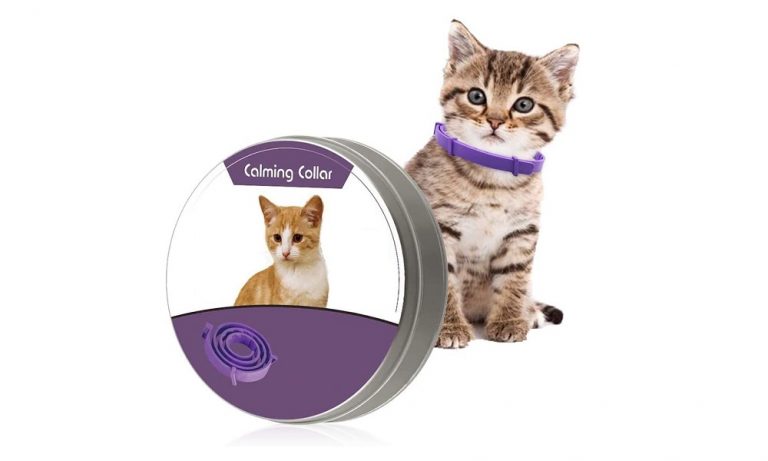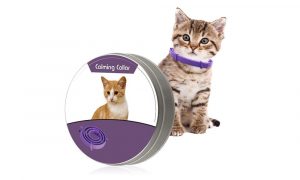 These work by releasing cat pheromones, chemicals that make your cat feel at ease. The scents are designed to give the message that it is safe for your cat. However, the collar can vary depending on the size, your kitty's age, usage, and anxiety level. With so many characteristics to keep in mind, it becomes challenging to find the most optimal solution.
To help you out, our team of experts has researched for hours to compile a list of the top 5 best calming collars. These have been chosen based on the material used, duration of usage, and user reviews. In this guide, we will also share why your cat would need a calming collar, how this works, and how you can choose the best one for your feline.
Image
Product Name
Key Features

Our Top Pick

Our Top Pick

Product weight -1.14 ounces
Features a lavender and chamomile smell
Made of durable and flexible material

Check On Amazon

Runner Up

Runner Up

Item weight -0.704 Ounces
Contains calming pheromones
Effective for 30 days

Check On Amazon

Best Budget

Best Budget

Product weight -0.634 ounces
Made of durable PVC plastic
Features essential calming oils

Check On Amazon

Best for Pheromone Collar

Best for Pheromone Collar

Product weight -1.13 ounces
Contains pheromones and natural ingredient
Made of durable PVC plastic

Check On Amazon

Best Collar for Kittens

Best Collar for Kittens

Product weight – 0.81 ounces
Contains calming pheromones
Made with waterproof PVC plastic

Check On Amazon
Best Cat Calming Collars in 2022 – Reviews
1. Sentry Pet Care Behavior and Calming Cat Collar
Top Pick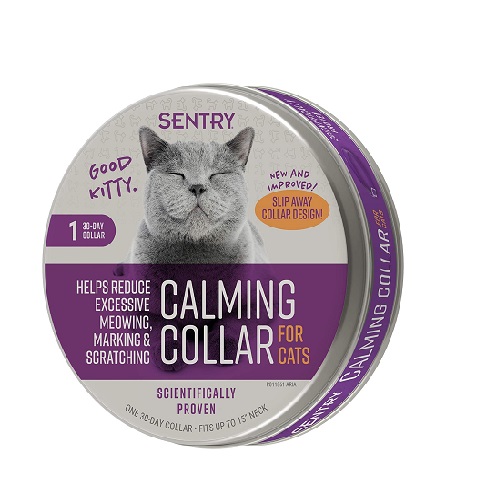 Sentry Calming Collar for Cats
The most durable, adjustable, and suitable collar is the right calming solution which helps to reduces unwanted behavior with excessive meowing
Sentry Calming Collar is one of the best choices that keep your cat calm and relaxed at all times. It has special qualities that make your cat feel safe wherever he finds himself. It helps reduce annoying behaviors exhibited out of fear or stress. Also, this tool is scientifically proven to reduce excessive meowing and scratching on your belongings.
This collar releases calming pheromones that work like what a mother cat produces to calm their kitten. The calming lavender and chamomile fragrance immediately signal your cat's brain that he is secured and out of the danger zone. This innovative solution is made of durable material that even the toughest cat cannot break.
Likewise, it is 15 inches long; this makes the collar adjustable and suitable for all cats. It is highly effective and keeps launching pheromone for 30 days to relieve and soothes your pet. Additionally, the collar comes in purple color to give your cat the appearance of royalty while maintaining extreme calmness. It has a long-lasting effect and is extremely safe for all cats without causing allergies.
Also, it is easy to use and fits perfectly into your cat's neck without causing discomfort or injury. The product is suitable for indoor use and serves as the right calming solution for cats during outdoor adventures.
Key Features:
Eliminates fear and unwanted behaviors
Features 30 days of pheromone release
Lasting and safe for all cats
Adjustable and suitable for all cat sizes
Suitable for outdoor and indoor use
Pros:
Mimics the pheromones that soothe cats
It is practical for 30 days
The method works wonderful for your feline
It has no side effect on your cat
Has soothing chamomile fragrance
Cons:
Some cats react to the fragrance
It is not a breakaway collar
2. Comfort Zone Cat Calming Collar
Runner Up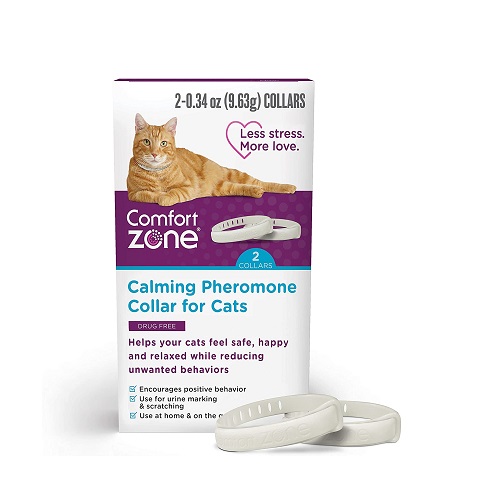 Comfort Zone Cat Calming Collar
Veterinarian recommended drug-free solution, which is ideal to keep your cat calm. The breakaway design is affordable for both indoor and outdoor use.
Comfort Zone Calming Collar gives your cat 100% satisfaction and keeps him calm all day long! This product comes as the Runner Up in our listing. It is a drug-free solution for cats experiencing fear and stress. The product naturally stops your pet from meowing and marking unnecessarily.
The collar features odorless vapor released to make cats feel safe and comfortable in a new environment or when they are left alone. Once you have the collar on your cat's neck, it works with immediate effect and produces a visible result within an hour. Again, the product is manufactured with highly flexible material and has an eyelet for easy adjustment. Therefore, it is suitable for all cat sizes.
Furthermore, this cat accessory can be worn 24/7 without choking your little friend. It is reliable and provides 30 days of total calmness. With the breakaway design it features, cats can easily break out when they get trapped.
Also, if you find your cat scratching on household properties, use this collar to correct unwanted behaviors. Cats naturally respond to stress or anxiety through urine marking or meowing, thus, the item helps stop the negative responses. The affordable price and effectiveness make the product a choice for cat owners.
Key Features:
Contains pheromone powder
Full benefits can be visible in two weeks
Made with durable and flexible materials
Features breakaway design for safety
Ideal for all cat sizes
Pros:
Suitable for all cat sizes
Affordable and effective
Save your money
Useful to prevent destructive and scratching behavior
Works with immediate effects and provides visible results in an hour
Cons:
Some cat owners complained that the smell is too concentrated
Not as durable as expected
3. CPFK Calming Collar for Cats and Kittens
Best Budget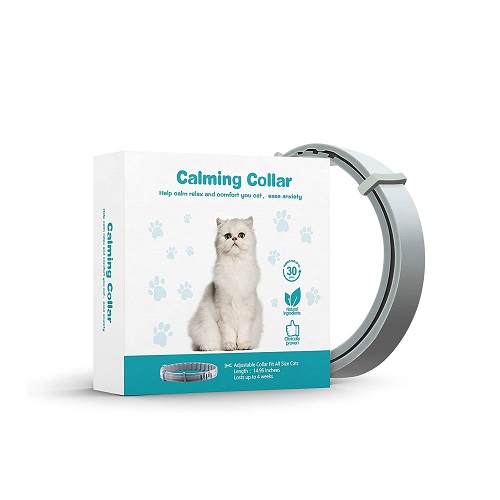 CPFK Calming Collar for Cats
The budget-friendly item, made with drug-free formula which is safe for all cats.
CPFK Calming Collar is the Best Budget for pet owners with slim purses. It is a calming device that helps relieve cats from anxiety and meowing. The waterproof feature makes the collar reliable for cats that love to play around moist areas, and you don't need to remove it when bathing. It is a fast calming solution that takes effect within an hour of administering the collar to your cat's neck.
It is built with durable PVC plastic material that cannot get ruined easily. It contains lavender and chamomile essential oils that have a calming effect to eliminate stress and anxiety. The 15 inches' grey cat collars sit comfortably on your cat's neck, and it is extra-long for perfect sizing. Likewise, the neutral color makes the product suitable for all shades of cat.
Moreover, the release of pheromones lasts for 30 days and has no chemical component that could harm your cat. Bad behavior such as scratching and pet marking can be controlled with the use of this product. It makes traveling and going on an adventure with your cat a worry-free task.
Similarly, the collar is flexible and adjustable to fit small or large cats. It is drug-free and safe for your pet. The soothing effect creates easy bonding between you and your new cat or kitten.
Key Features:
The collar is effective for one month
Has immediate effect with one hour
Adjustable that means it fits all cat sizes
It has a lovely essential oil smell
Reduces stress and anxiety
It is vet recommended and clinically approved
Pros:
Long-lasting effect on cats
Easy to put on your cat
Veterinarian suggested
Cons:
It is toxic for some pets
It is not suitable for pets with sensitive stomach
4. Relaxivet Cat Calming Collar & Pet Anti Anxiety
Relaxivet is the best cat pheromone calming collar that provides calmness and eliminates bad behavioral patterns in your cat. This reduces anxiety and gives the best result within an hour, and it serves as a soothing formula that can induce calmness and sleep during an adventure. Also, the product creates harmony between cats and cat owners while reducing undeliverable behaviors.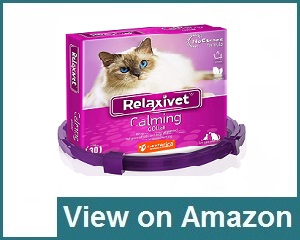 Relaxivet collar contains pheromones and natural ingredients that have a positive effect on your cat's nervous system. It signals that the new environment is friendly and safe by relieving tension and fear. The release of pheromone has a long and lasting effect on your four-legged friend for 30 days.
It is safe, non-toxic, and effective; you don't need to worry about allergies and irritation. Thus, your cat can comfortably have it on every day before replacement. Again, the formula can calm hyper-activeness, aggressive cats, and prevent scratching.
Furthermore, the size is adjustable to fit small and large cats. This improved non-stress formula has been proven to prevent excessive meowing and reduces tension when introducing a new cat to your home.
Key Features:
Reduces destructive scratching and urine spraying
It makes adventure stress free
Suitable for all cat breeds
Versatile and adjustable cat collar
Correct unwanted behaviors
Pros:
Reduces fear and eliminate the effect of stress on cats
Soothes and calm hyperactive cats
It works quickly and has a long-lasting calming effect
Easy to use a cat collar
Cons:
Some cats dislike the smell of the natural ingredient
You have to replace it every 30 days
5. Healex Cat Calming Collar for Cats
Did you just bring a new kitten into your home? Healex calming collar is the best for kittens. It is the best formula to ease your kitten and eliminate tension. Kittens are known to be nervous and meowing all day long! But, with the help of this collar, you can help your newly found friend experience calmness and security.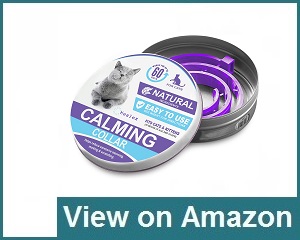 Healex cat collar contains 100% healthy natural ingredients. Thus, when inhaled by a kitten it signals she is in a safe hand. It features a thick and sturdy material compared to other similar products. The collar is non-toxic with zero tendencies to harm your little friend. Again, the product help reduces hyper-activeness and aggression that are common with a kitten.
The waterproof design makes the collar superior and gets wet without getting damaged. Thus, a cat can play around the water-logged area, and you don't need to remove the collar before showering your cat.
It offers overall two months of protection while relieving you of the thought of visiting the pet store anytime soon. The solution works quickly and takes effect within one hour with a long-lasting effect of calmness. The calming product is adjustable and clinically approved for all breeds of kittens.
Key Features:
Offers overall two months of protection
Adjustable and suitable for all breeds of kittens
Made with waterproof material
Suitable for delicate and fussy kittens
Safe and effective calming solution
Pros:
This collar reduces aggression
It works fast and has a lasting calming effect on kittens
Reduces aggression and makes a calmer kitten
Defends against anxiety and stress
Cons:
The collar might injure kittens with sensitive skin
The smell is too concentrated
How Does a Cat Calming Collar Work?
A calming collar is worn just like any regular collar. However, these differ in their purpose, material, and construction. It is observed in cats that they like to release certain chemicals called pheromones and communicate with other felines. Cats can also use these chemical signals to claim a place as theirs, attract a mate, or simply calm themselves by spreading their scent.
Calming cat collars work using the same method. The chemicals used in their straps very closely mimic the smell of natural pheromones and bring the desired effect of telling your feline that it is safe.
Some collars also use mild scents and essential oils instead of pheromones. As cats have a sharper sense of smell, these are also effective. It starts working the moment its covering is removed, and your cat can then feel the scents. However, your cat's anxiety levels will determine when your kitty starts to feel better.
Therefore, you should give the collar some time. Most of these are effective for a whole month. However, depending on the types, their chemical-release function has a limited duration which is why these are not recommended for long-term usage.
The working method is the same for cats of all ages; however, you cannot use this intended for a different animal as it will not be effective for your feline.
Why Are Cat Calming Collars Necessary?
Cat calming collars are required when your cat is suffering from anxiety. These are quick solutions to help your feline feel at home. It involves no medication, is affordable, and can be quickly applied.
As mentioned previously, anxiety in pets can stem from a variety of reasons, with the most common one being when they feel threatened. To deal with this, you need to know when your cat feels unsafe and what causes this feeling.
This could be due to adding a new member to the family; both kids and pets count. If your kitty feels that he is not getting the attention he needs, you will notice excessive scratching, meowing, and sometimes even spraying. When you introduce a calming collar, you can make your feline feel safe and loved.
Pet parents mostly encounter anxious behavior when it is time for their feline's vet visit. However, a combination of treats and pheromones or calming oils tends to do the trick for most types of cat behaviors.
Lastly, if you have recently moved or made some changes to your surroundings, your cat may have trouble getting accustomed to the change. The same goes if you have adopted a little kitten. These are used to be close to their mother, and a calming collar mimics those scents.
In short, these calming accessories are able to soothe your pet before the problem gets out of hand. While these are pretty useful for most stressful situations, the usefulness also depends on your cat's condition and level of aggressiveness. For some extreme cases, you may need professional help and veterinarian advice.
Things to Consider When Choosing Cat Calming Collars
Now that you know why you would need a calming collar, you need to keep the following characteristics in mind when purchasing one of these.
Material
As calming collars use chemicals and release scents, you cannot find a wide variety of materials to choose from. The strap material, flexibility, and fitness, however, determine how comfortable a collar is. Since these are often worn with regular collars, the strap should be one that is soft and does not cause irritation.
Many of these are made from soft, non-toxic plastic. This material is odorless, however, in some cases, uses scented oils. Once it is taken out of the package, the scent begins to get released. If it does not start working immediately, leave it on for 30 to 60 minutes.
Length
Length is an important factor that determines both its comfort and usage. You can find these in universal lengths with straps that are adjustable for most cat breeds and ages. Most universal-fit collars can be adjusted to get a 15 inches diameter. In the case of a longer item, you can simply clip off the excess and use it.
Effectiveness
Depending on the ingredients used and the brand, most calming collars remain effective for up to 30 days. However, there are few brands offer long lasting like for twice the time.
After that, this does not release the calming pheromones and needs to be replaced. However, the effectiveness also depends on how you use it. Excessive cleaning, contact with water and dirt can affect and reduce prolonged usage.
Safety
Ensure that the collar you choose is safe for your cat. Look for collars that are non-toxic and made with high-quality materials that won't irritate your cat's skin.
Active Ingredients
Calming collars use multiple ingredients, and this blend may be a mixture of different essential oils or a mixture of natural herbs and odorless pheromones. When looking for a calming collar, consider choosing ones with natural chemicals and mild scents.
Depending on the types, the active ingredient may be pheromones or scents like lavender and chamomile. As long as the ingredients are not too potent for your kitten, it should do the trick.
Size
Make sure you choose the right size collar for your cat. A collar that is too tight can cause discomfort, while a collar that is too loose may not be effective.
Warranty
Most calming collars start working within hours after opening; however, it never hurts to be on the safer side. Many brands offer a warranty, refund, or replacement policy to reassure their customers. If this is your first time purchasing, it is recommended to go with one that comes with a warranty.
Price
Cat calming collars can vary in price. Consider your budget when choosing a collar, but remember that the cheapest option may not always be the most effective.
Waterproof
Other than the fact that calming collars cannot be used as a replacement for regular collars is that you cannot simply wash or scrub them clean. Doing so can affect the working as the released chemicals may get washed away. Therefore, a waterproof item can be an excellent option for felines that love to get dirty.
Break-away
Cats tend to crawl into many small places, and with most collars, there is a risk that they may get stuck somewhere. As it can be dangerous for your kitty, choosing a breakaway collar can ensure that your cat is able to free herself by simply pulling on it.
You may not be able to find this feature in many calming collars as most of these are not intended to be used for the outdoors. However, if you plan on using these with your cat's regular collar, it is recommended to look for a calming collar with a breakaway feature.
Benefits of Using Cat Calming Collars
Here are some of the main benefits of using cat-calming collars:
Reduces anxiety and stress

: Cat calming collars release pheromones or herbs that can help reduce your cat's anxiety and stress levels. This can be particularly helpful if your cat is prone to anxiety or if you are introducing your cat to a new environment or situation.
Easy to use

: Cat calming collars are easy to use – simply attach the collar around your cat's neck and let the calming properties take effect.
Helps with behavioral issues

: If your cat is displaying behavioral issues such as excessive meowing, scratching or urine marking, a calming collar can help alleviate these issues by reducing their anxiety.
Promotes relaxation

: Cat calming collars can promote relaxation in your cat, helping them to feel more calm and content in their environment.
Inexpensive

: Pheromone collars are available in a wide price range, starting from as low as 10$ and reaching up to 50$. The pricing depends on the material used, the size, and the formula's effective duration. Nevertheless, you can find a suitable one for a reasonable price. These are inexpensive compared to other solutions for dealing with aggressive or anxious felines.
Provides Instant Relief

: This starts releasing soothing oils and pheromones as soon as they come in contact with your cat's skin and body heat. Most of this starts working right away, and you will be able to notice the effect in 30 to 40 minutes. Some collars take slightly longer, but they remain effective for a month. These are also suitable for cats of all ages and do not use any harsh chemicals.
It can be used alongside other treatment methods

: If your feline is going through some illness, you can use the calming collars to add a soothing effect while continuing to use the medication and special diets, if any. The essential oils do not interfere with the treatment. Similarly, for injured felines, such collars can help them sleep better and relax while they are recuperating.
Some Important Tips
Always choose a high-quality collar from a reputable brand.
Replace the collar when necessary to ensure continued effectiveness.
Follow the instructions for use carefully to ensure the collar is effective.
Avoid using calming collars as a substitute for veterinary treatment if your cat has a medical condition.
Avoid using other types of collars or accessories at the same time as the calming collar.
Monitor your cat's behavior and remove the collar if there are any signs of discomfort or irritation.
Ensure the collar is the correct size for your cat, not too tight or too loose.
Use the collar in conjunction with positive reinforcement training to address underlying anxiety issues.
Store the collar in a cool, dry place away from direct sunlight or heat sources.
Final Thoughts
Scratching and spray marks on furniture, restlessness and fear of going to the vet are some of the common behavioral characteristics shown by anxious cats. Seeing your cat in distress can be upsetting. Using a calming cat collar can provide you with an instant solution for your cat's discomfort.
These emit the scent of pheromones and soothing oils like chamomile. The formula is effective in providing an instant feeling of comfort and safety to your cat. You can find these in universal sizes and multiple colors. The effect is instant, and most of these last for up to 30 days.
Frequently Asked Questions
What is a cat calming collar?
These collars are made from soft, non-toxic plastic and release soothing chemicals, including pheromones and mild scents like lavender. Their primary purpose is to eliminate or prevent destructive behavior like scratching, spraying, and other anti-social behavior.
Are calming collars safe for cats?
Yes. Most of these collars use pheromone technology which is safe for most cat breeds and ages. There aren't any known side effects. However, it is to be noted that a very strong pheromone dosage may be overwhelming for young kittens. Therefore, the formulas contain very small amounts of pheromones.
Can calming cat collars be used at the same time as flea collars?
This depends on the brand and formula used. Usually, it is mentioned in the product description, and some can be used alongside flea collars. However, it is recommended to keep checking for any irritation or signs of restlessness.
Will calming collars help aggressive cats?
Many calming collars are proven clinically to work against aggressiveness in cats. However, sometimes, this alone is not enough, and you may need to train your feline or make some changes in his environment, so he is able to adapt better.
How long does a cat calming collar last?
Most have a chemical-releasing duration of 28 to 30 days. However, you can also find ones that last longer, even up to 60 days. After that time, the collar needs to be replaced.