The common complaints of dog owners are when dogs bark aggressively without any reason. Normal barking is not a big issue, but when your dogs do it continuously for a long time, it can become a serious problem. Luckily, bark collars can especially help you by stopping their incessant barking habit with ease. Now the problem is how do you mark out a collar as best suited for your pooch?
Really, it's a serious issue for new buyers because there are plenty of bark collars on the market and features different mode with various stimulation mode. By considering this situation, our team of experts analyzed dozens of products and compared the specialized features of each.
They researched the method of stimulation, the number of sensitivity levels with bark detection procedure for each. Finally, we have listed 10 best bark collars that will never hurt your dog and most appropriate for small to large breeds.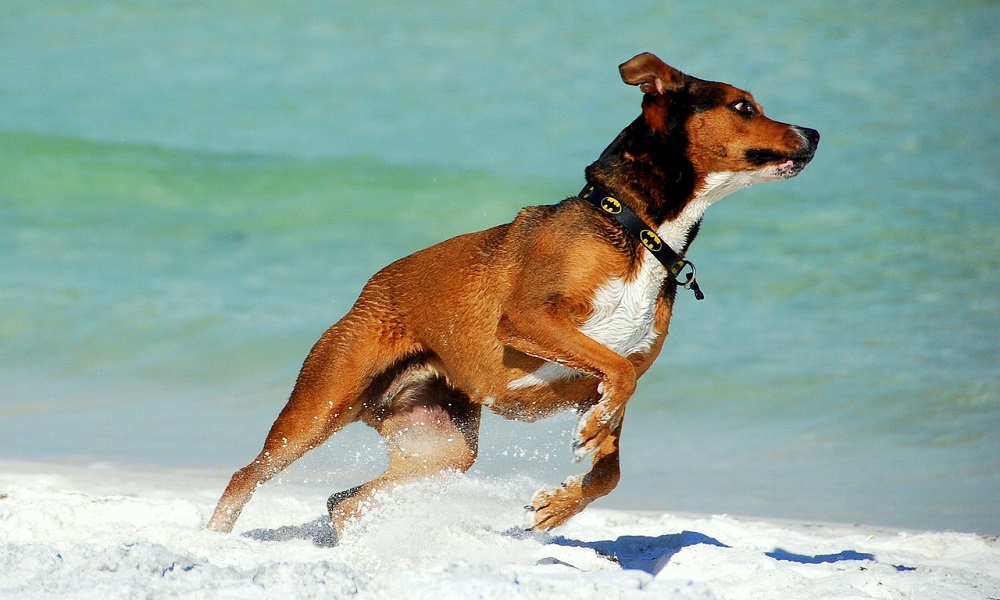 10 Dog Brak Collar in 2023 – Reviews
1. Our Top Pick – NBJU Dog Bark Collar
Top Pick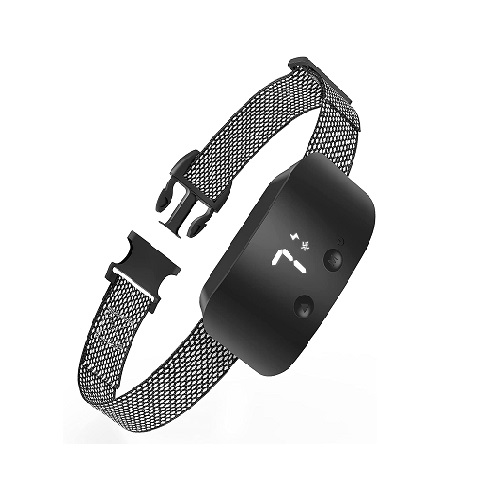 NBJU Dog Bark Collar
The perfect solution to stop your dog's barking and improve overall behavior with Dual Anti Barking Modes
The NBJU Bark Collar comes with the 7 adjustable sensitivity and intensity beep vibration, which is very effective to stop the barking without any harm to the dog. An innovative upgrade was implemented in this new version bark collar where it first simply warns the dog by delivering beep or vibration.
Usually, the dog stop barking as soon as it gets the warning beeps only and the collar does not deliver any shock furthermore. But if the dog ignores the warnings then the collar delivers different levels of shocks. There are 7 levels of adjustable shocks and 3 training modes including beep, vibration, and gentle safe shock.
A particular triggering sensor included with this bark control collar helps to detect and filter your dog's barking frequency before its activation. If the range becomes between 1000-2000kHZ, then the collar emits signals. It doesn't even start for the nearby dogs barking, shaking head or other ordinary sounds.
There are three basic training modes come with this anti-barking collar including beep and vibration. Select the most suitable mode according to your dog's nature. It will assist your dog to stop barking with no harm. Here used waterproof material allows safe use of the collar both indoor and outdoor.
Available double-layered silicone sleeves protect your dog's neck from electric shock. The smart technology features sixty-four kinds of training methods to guide your furry friend. The amazing lithium-ion battery supports around 15 days by charging only 30 days.
Key Features:
The particular triggering sensor prevents false triggering
7 adjustable sensitivity level with 3 training modes
Features human intelligent protection mode
Prevents barking with no harm to dogs
Waterproof, very safe, and convenient in the water
What We Like:
Adjustable strap with strong buckle
Available LED display shows the shock level with different modes
Features 64 kinds of training methods
4 silicone protective cover protects the dog's skin
Fully charged within only 30 minutes and works about 12 days
What We Don't Like:
Bit hard to set than other collars
2. PetYeah Dog Bark Collar – 5 Adjustable Sensitivity
Runner Up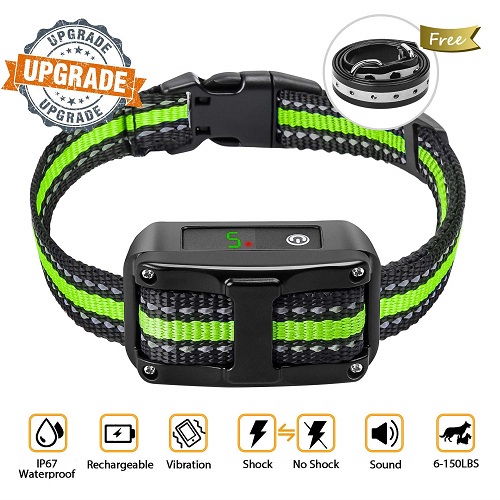 PetYeah Dog Bark Collar
An excellent humane collar recommended as a problem solver. It doesn't hurt your dog and isn't causing discomfort
We heavily researched dozens of bark collars, reading many reviews, and then decided to list this collar as the runner up regarding most ethical form of training. It works brilliantly and makes it easy to ensure that the pet is effectively trained. It comes with Dual Anti-Barking Modes to prevent dog barking and controlled by a microprogramming system to detect the sounds.
The collar features smart test mode where if the sensitivity level is adjusted to the lowest position, the receiver goes to the test mode. You can also check the receiver by shouting at the sensor microphone if needed. You can recognize the receiver works fine when it makes both sound and shock. A digital display attaches with the receiver to show the different intensity level with the red or green light.
The intelligent dual training mode shows beep and vibration for the red light, or beep, vibration, and shock for the green light. Every time the device will beep for 3 seconds and then vibrate for 3 seconds when it is triggered. There is no limit on the number of times of this trigger mode.
Actually, in non-shock mode, it continuously triggers as long as the dog barking is detected. In shock-mode, the device performs six different steps for continuous dog barking and after completing six steps, it becomes stable to the initial state to save pets. On the other hand, in automatic protection mode, you will get the facility of pressing any button to allow this device to re-enter work mode.
This bark collar is perfect for all size of dogs like Chihuahua to German Shepard or other breeds. There is an adjustable collar with 8-24 inch length fit with any size of the neck. Available high-quality nylon strap ensures your dog's safety and visibility. In this way, you could find your dog in the dark, dusk and thick foggy environment. The built-in USB rechargeable battery fully charged within 2-3 hours and supports about 10 days of use.
Key Features:
Comes with intelligent dual-mode and automatic protection system
Available new smart test mode with an intelligent identification chip
Adjustable & high-quality reflective nylon strap with reflective stripes
fits all dogs from 8 to 120 lbs
Features beep+vibration and beep+vibration+static shock mode
Lithium-Ion battery Capacity: 480mAh
What We Like:
Prevents anxious barking at first time use
Available intelligent sensor can smartly detect dog barking
Filter unrelated sounds effectively and stops false triggering
Training your dog instead of punishing
Displays the sensitivity level and power indicator
What We Don't Like:
This collar may sometimes cause severe pain
3. TBI Pro UPGRADED Q6 Rechargeable Bark Collar
Best Budget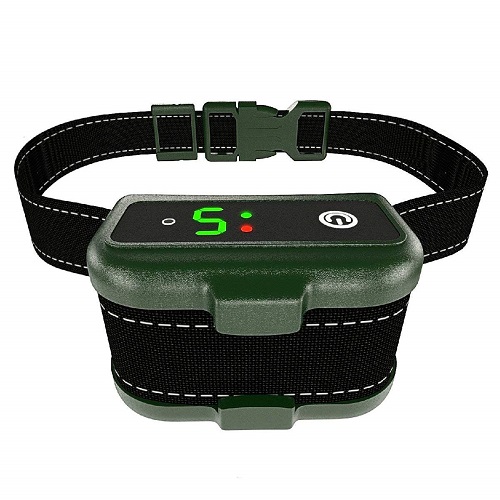 TBI Pro Bark Collar
Collect the famous TBI Bark Pro V3 Bark collar within the best budget and make a communication bridge between you and your pet
TBI Pro is the well-known bark control device rich with all intelligent features to assist you automatically correct your pet's barking. The newest version is professionally engineered and developed with the support of leading dog trainers. An advanced intellectual anti-injury chip is implemented in this breakthrough innovative technology.
This collar comes with 5 levels of adjustable sensitivity and 3 different training modes including beep, vibration, and safe shock. It's recognition technology automatically distinguish the dog's bark from other noises, which effectively stopping the barking in one minute with no harm to the dogs of all types.
TBI Bark Pro V3 is designed with leather collar and nylon materials for all dog sizes. For short and long-haired dogs, it has two different sets of electrodes. It also features switchable shock and vibration modes which allow you to shut off the shock feature. The adjustable digital screen makes it easier to select the appropriate level to train your dog and stop the barking based on its behavior and nature.
This anti-barking collar contains the most intelligent barking detection process which completely stops false triggering. In this case, the collar only triggers your dog's barking but not the other nearby dog's barking. For your dog's safety and security, this collar features built-in no bark receiver which turns into an automatic protection mode to turn off the collar if activated more than 6 times in 1 minute.
It is the top-selling bark collar contains the best rechargeable battery in it supports up to 14 days per single charge. The solid, lightweight, and waterproof material allow safe use of the collar both at indoor and outdoor in snowy and rainy weather. Amazon is rating this collar 4.2 from more than 3500 users. So, it is apparent that many dog owners are satisfied with this no bark collar and find it as an effective aid to reducing their dog's barking.
Key Features:
Features microprocessor-controlled bark detection technology
The digital display shows the levels of sensitivity, vibration, and shock
The rechargeable battery sustains up to 14 days per single charging
The automatic protection deactivates the collar if activates 7 times in a minute
Uses IPX7 waterproof design
What We Like:
Produce vibration, sound, and electric shock
Adjustable intensity and sensitivity level
Each mode has 1-5 adjustable levels of intensity
Display vibration and beep mode indicator
You don't have to worry about snowy or rainy weather
What We Don't Like:
Improper use can reduce the longevity of this collar
4. DogRook Dog Bark Collar with 5 Sensitivity Levels
The DogRook Dog Bark is an Anti-Bark Training Collar completely new creation of the DogRook brand and most suitable for small dogs who is more than 6 weeks. Though the collar is best for younger dogs, but you can be customized it for any range of dogs. The receiver of the collar can be set to any of the 7 levels of sensitivity.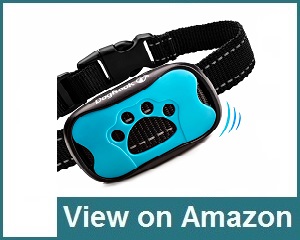 The sensitivity level depends on the size of the dog and the amount of background noise. For small dogs, set the sensitive level at 1. There are simply two different buttons on the receiver for navigating the different levels of sensitivity. Without any particular reason, the collar doesn't send any correction signals.
This anti-bark collar is made of strong high-quality nylon strap with reflective stripes. It is easy to adjust and stop barking for dogs weighing 11 to 110lb and 9 to 22 inches dog's neck. The strap customs a black buckle and there is a plastic tri-glide for easy strapping. There are two lines of reflective stitching comes with the strap that makes the collar as a more useful tool to train the dog in the night or dark.
This Dog Bark Collar comes with two pairs of plastic probes. There are two different lengths useful for both short-haired and long-haired dog. It uses two replaceable alkaline batteries though you need just one at a time. Amazon is rating 4 out of 5 from more than 2000 users. Many dog owners satisfied with 100% service and warranty for full 1-year and very confident to make training sessions.
Key Features:
The harmless dog training collar including 7 safe vibration and sound levels
Only two buttons control the sensitivity level from 1-7
Quality nylon strap with reflective stripes
Suitable for dogs weighing 11 to 110lb
Ensures total customer satisfaction with 1-year service guaranty
What We Like:
Works in automatic mode to stop barking
Humane bark collar with dual mode
Available USB charging cable
Adjustable for small, medium, and large dogs
Very safe and effective for dogs
What We Don't Like:
Inconsistent device may stop working after few months
5. POP VIEW Bark Collar Version Humanely Stops Barking
The Pop View is a vibration type bark collar best suited for medium dogs feature four buttons for the vibration and shock mode to adjust the sensitivity level and power button. There are seven levels of sensitivity and three training modes including sound vibration and static shock featured with this collar.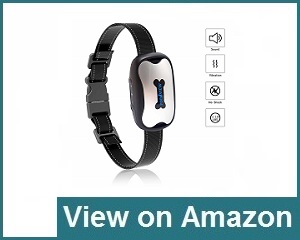 A small LED screen helps to show you the current sensitivity level and definitely reach in a high-quality expectation. This intelligent no bark dog collar helps to deter your dog's annoying barking without giving them pain or anxiety-causing shocks. With this feature, you are free to choose the most suitable mode to effectively stop barking.
The no shock unit can desperately detect your dog's vocal cord and primarily sends audible warning beeps.  If the dog continuously barking rather than stopping after warning beeps, the device set into the next vibration mode. In this way, your dog quickly associates with this no bark collar device and controls barking.
It is a solid, quality product ready to meet your expectations. The universal size is adjustable for small to medium-sized dog's neck. The waterproof design allows the collar to wear in both indoor or outdoor training sessions. The manufacturer company offers a 30-day money-back guarantee and 100% refund for defective goods.
Key Features:
Delivers 7 progressive correction levels
Prevents your dog of continuous aggressive barking painlessly
A great and easy product which make your life much less annoying
Waterproof and adjustable
Very affordable price range
What We Like:
Humane intelligent no-bark collar made of resilient nylon webbing
Works great and very easy to use
Magically works a dog training tool
Pet owners are pleasantly surprised by the quick results
Available three training modes static shock, vibration, and sound
What We Don't Like:
May works for the short time
6. PetSafe Basic Bark Control Collar for Dogs
This easy-to-use bark control collar is special for large dog training. To use this collar, you don't require any programming to send appropriate signals. When your dog starts barking aggressively and doesn't stop anyhow, then the static correction automatically rises to the next level until it stops.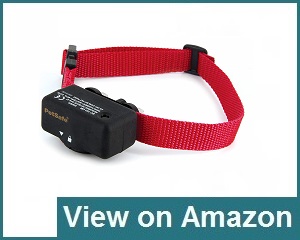 You can customize the static correction into 6 levels to reduce excessive barking regarding your dog's behavior. It is safe and effective to recognize another dog barking or other noises and ensures no false corrections. The automatic safety shut-off features stop correction for 3 minutes if the dog barks 15 times or more within 50 seconds.
PetSafe also allows your dog to enjoy all types of outdoor activities at yard, park or open place. Since the collar is designed with waterproof material and submersible up to 5 feet, so your dog is free to enjoy swimming, skating on the snow or jumping in the pool. The collar also comes with RFA-67 battery and work quickly to generate consistent correction each time the dog barks.
Key Features:
Available 6 levels of automatic correction raise with the dog's barking
Features vibration sensor and requires no programming
The waterproof, lightweight design enhances more freedom to the dog
Great for dogs weighing more than 8 lbs
Offers a 1-year limited warranty
What We Like:
Suitable for any environment, both indoors and outdoors
The static corrections automatically adjust to stop barking
Identify the difference between the dog's bark and other noises
Low battery indicator alerts about battery level
Helps to enjoy less barking and gives you the peace of a quiet living
What We Don't Like:
Not appropriate for small dogs
7. Downtown Pet Supply Citronella Dog Collar
Downtown Pet Supply No Bark dog training collar is specifically renowned as the bark control collar and it is recommended for that dogs who have very bad incessant behavior. This collar comes with one spray device, spray refill, battery and user manual. It is suitable and adjustable for dogs from 8 lbs to more.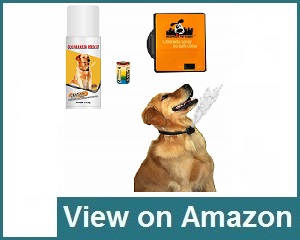 There is a built-in microphone perfectly detects the dog's bark and distinguishes each bark from other external noises. The citronella spray releases to prevent the dog's barking when the sound from the bark and vibration from vocal cords match the same criteria.
Here is used a very reliable, high quality and durable nylon so that the collar will not break or lose anyhow. This spray collar is very safe, effective and completely humane. It never induces anxiety, stress or aggression which may harmful for your dog.
It is also non-offensive to people and more effective to reduce your dog's behavior from excessive barking. The manufacturer offers 60 days warranty for arising any issue. So, feel free to purchase this ultrasonic collar to train your dog for a quiet and happy living.
Key Features:
The extremely safe device that assists your dog to stop aggressive barking
Provides short bursts of citronella spray
Fits for dogs which is more than 8 lbs
Not causes of inducing anxiety, stress, or aggression
Simple battery insertion with a secure cover
What We Like:
Doesn't apply shocks and loud beep to control barking
The collar set stores 15 sprays of citronella for the user's availability
The humane safe and very effective dog bark collar
Features four senses like smell, sound, sight, and taste
Assists your dogs to remember and train faster
What We Don't Like:
Not fit for dogs are below 8 pounds
8. PetSafe Gentle Spray Bark Collar for Dogs
If you are looking for the Best Spray Bark Collar then this PetSafe Anti-Bark Device would be the perfect solution for you. It is designed to stop annoying barking of your dog with a burst of spray. The collar uses a microphone and a vibration sensor to accurately detect a dog's barking.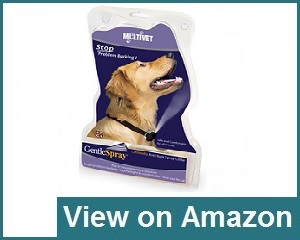 The collar emits a weak but efficient spray so that the dog doesn't attempt to bark again immediately. It gives off 20 to 30 sprays per refill. It is especially recommended for dogs weighing 6 pounds and above but safe for all sizes and age including the puppies.
Usually, this PetSafe Anti-Bark Collar features both citronella and an unscented spray refill cartridge and allows you to choose the right one which works better for your dog. The adjustable collar strap makes it easier to use at any size of the neck.
Since the collar is water-resistant so it can be worn both indoors and outdoors activities like walking in wet grass, playing in the light rain or snow. It comes with a free SUB charging cable and replaceable 6-volt alkaline battery. The front-facing led indicator ensures the battery is running low. So, if you desire to enjoy a peaceful night at home or walk outside, the PetSafe Bark Collar would be the best option for you.
Key Features:
Advanced bark detection technology ensures to send no accidental spray
Uses the light citronella or unscented spray to alert your dog it's time to be quiet
Used spray refill cartridges are easy to replace
Waterproof and automatic safety shut-off
Available rechargeable lithium-ion battery
What We Like:
Features citronella spray to interrupt annoyance barking
Proper apply this soft spray completely stops barking
The on/off button enhance the battery life longer
The available sound sensor senses bark
The lightweight collar comfortable for any dog
What We Don't Like:
Not effective for very large dogs
9. SportDOG Brand NoBark Rechargeable Bark Control Collar
Sportdog bark collar allows you to customize the bark control type and find out the best one from 3 training modes and 10 levels of static stimulation. It uses a unique bark sensor system to provide you with the most authentic and reliable bark detection solution.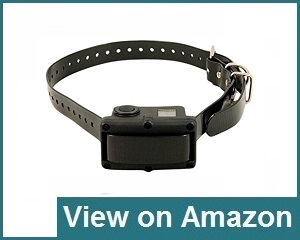 This device emits static stimulation via the contact points when detects vibration from the vocal cords or sound of the bark. Here, if your dog barks more than 15 times in 50 seconds the system unit will automatically shut off for 3 minutes.
In learning mode, the stimulation begins at the lowest level and grows to the upper level each time if the dog barks repeatedly within 30 seconds. This automatically maintains the correction level and helps to stop your dog's barking.
After the first time, if your dog starts barking again, the stimulation will start at the final level. But when your dog properly trained when it should not bark, then the initial warning correction is reduced.
With other features, this collar also has a unique method of detecting false triggers through its latest silent partner technology. Finally, you can also choose the correction level from the user-selected mode. In this case, the collar will correct your dog until it stops barking.
Key Features:
Available 3 selectable modes and 10 static stimulation levels
3 modes are Temperament Learning, Progressive Correction, and User-Selected
Waterproof and submersible to more than 25 feet
Completely recharge within 4 hours and lasts 3-6 months per charge
Suitable for 8 pounds or larger dog breeds
What We Like:
Designed with perfect bark-technology and safety feature
Provides a firm, fair, and consistent correction when detects sound
Features long term rechargeable battery
Available complete operating guide
Waterproof and deep submersible
What We Don't Like:
Only suitable for dogs up to or more than 8 pounds
10. Our K9 Training Made Easy Bark Collar – ​Adjustable Shock & Vibration
The only safe vibration bark collar features seven levels of shock adjustment with seven levels of sensitivity adjustment. These features make this collar as the most suitable Shock Collar for dogs of all sizes. Some dog owners consider this as the Ultrasonic collar because of its ability to send beep(sound) or silent signals.
Basically, K9 Anti-Bark Dog Collars have gently rounded silicon prongs, but not sharp, keen metal prongs like prong or pinch collars. This is the only intelligent anti-bark dog collars comes with a safety and shut down process. If your dog starts barking and doesn't stop even after 3 cycles the collar will automatically shut down and turn off.
This bark collar also features 7 adjustable sensitivity levels to lead effective training sessions even for large hunting dogs. It can adjust own self to control the sensitivity according to the length of the dog's bark. Here, on the 1st bark, the dog will hear a beep or ultrasonic warning for 1.5 seconds. On the 2nd bark, the dog will also get another same warning for 2.5 seconds.
Within 40 seconds if the dog bark again, then it will get an ultrasonic warning for 4 seconds or static shock for 0.5 seconds. This process will be continued for 4th to 7th bark and if your dog keeps barking continuously, the bark collar will turn into reset mode for 1 minute to give your dog a chance to calm down.
If the dog activates the reset mode of the collar 3 times repeatedly, the safety protocol of the K9 device will be triggered and instantly shut down the collar to stop unnecessary stress to your dog. This bark collar adjusts dogs from 4lbs to 160lbs and it is comfortable and best suited to use in all weather for the rainproof feature. So, enjoy this most effective and harmless no-bark collar to train your dog and get the best response within a short time.
Key Features:
Very humane and gentle to stops aggressive barking
Available safety, shut-down technology
Comes with soft, silicone rubber prongs and LED screen
Adjustable and suitable for dogs from 4 to 160lbs
Pain-free and water-resistant
What We Like:
Designed with 7 unique training and correction levels
Only takes 2 hours to charge fully and lasts up to 12 days
Water-resistant collar works in splash, rain, and snowy weather
Smart, no-bark dog collar very effective and humane
Satisfaction guaranteed with moneyback guarantee
What We Don't Like:
What is a Dog Bark Collar?
A dog bark collar is an amazing tool that controls your dog's barking whenever necessary. There are different types of bark collar available in the market may help you to train your dog's not to bark continuously at anywhere. That means, with these collars you can teach him to stop barking for any particular reason. In this way, the dog feels discouraged to disturb you or your neighbors.
Moreover, the excessive barking may very dangerous for dog's health and they become too exhausted for their too high heart rate. So, bark collars can be a good option to support them and help you to build a strong bond with them. However, these collars are completely safe for your dog and do not harm in any way.
How Does it Work?
Basically, all bark collars work by detecting your dog's barking by sensing the vibrations and then deliver a static electric shock, or emit an ultrasonic sound or a slight correction to warn them to stop.
Most of the time, a microphone within the collar detects your dog's suspicious activity including aggressive barking or growling and responds by taking certain action to discourage it.
The level of correction must be mild but it may increase the punishment level until the dog stops the aggressiveness. Make sure about the correct position of the collar to let them feel the punishment.
There are also have some other anti-bark collars work differently like sends an irritating sound that only the dog can hear. It is very effective for dogs because they only hear the noise when barks. In this case, the dog can realize that he needs to stop barking.
Some collars apply spray methods, like citronella spray which spreads very bad smell and dogs don't like it actually. When the dog gets the bad smell of the spray, he can realize that he has done something wrong and automatically stops the aggressive barking or any type of annoying behavior.
Different Types of Bark Collars
There are different types of barking collars are available in the market and their diversity comes into various selected modes and static stimulation levels. Here we have discussed about following types of barking collars and hope you can get a clear idea to purchase the most suitable one for your dog.
Electric Bark Collars
These are the type of bark collars deliver a small static electric shock to the dog, which intends to be hurtless, and harmless, but a strict response to barking. There are different types of shock can be delivered from different types of shock collars.
Some of them are radio-controlled electronic device, some are designed with tone and vibrational settings, and some advanced technology features built-in GPS locator to determine the dog's position.
Moreover, most electric collars contain a microphone in it to sense the barking to deliver shocks. The other devices arrange with the dog's body and vibrate with barking and respond consequently. Basically, the intensity of the shock levels may different according to the dog's age, size, behavior, and breeds.
Ultrasonic Bark Collars
An Ultrasonic Bark Collar emits a high-frequency sound to deter your dog's barking. Whenever the dog barks abnormally, an annoying high-pitched ultrasonic sound starts delivered from the bark collar, and the dog can realize the sound is related to the barking. As a result, the dog ultimately stops barking and don't feel interested in bark again without any reason.
Although ultrasonic collars have sincerely avoided static shock but won't harm your dog in any means. These sounds are also inaudible by humans. Since dog proprietors can't hear the noise, therefore they don't realize how annoying or how much it hurts to dog's ears. In this case, the collar may pick the noise from neighbors barking dog and keep emitting the ultrasonic sound.
Vibration Bark Collars
Unlike other types, vibration collars use a sensor to detect bark from the particular dog and produce vibration to stop barking. It works like a cellphone vibrate when you set it to do so. That is why vibration bark collars are more humane and safer than other static or ultrasonic collars.
Here, you can also adjust the intensity level of the vibration and educate your dog with changing its behavior when needed. There is a remote variant you can activate simply press the button. They work well on small dogs like Shih Tzu or Chihuahua dog breeds but for an owner of a Pitbull or Dalmatians Dogs, this collar won't be much effective. They also not useful on long-haired dogs like Komondor or Afgan Hound.
Spray Bark Collars
These collars are new addition instead of using shock or sound, they use the spray to stop dog barking. The basic feature of this collar is, it sprays a small burst scented with citronella to the dog's snout when it barks.
Actually, the spray comes out when the microphone of the collar detects the barking. These spray collars are completely harmless for your dog, your tinny family members, and environment. Pet proprietors consider spray collars more humane than other static stimulation collars and most of the time practically it has proven the effectiveness of these collars.
Since spray bark collars are less frightening, so you may choose a spray version according to your dog's size and breed to get the most effective result. It is a prior solution to dog proprietors who feel uncomfortable with static shock or ultrasounds for their pooches. Spray collars also allow you to refill the solution several times and saves your cost.
Important Features to Consider When Buying a Bark Collar
Dogs are different in size, age, and breeds may react differently and not one collar fit for all. So, consider the following factors and very easily narrow down the product lists to finalize the best bark collar for your dog.
Dog's Weight
The most vital consideration dog owners should remember while purchasing the best dog bark collar. Usually, manufacturers designed different products based on various dog's weight. They produce collars for dogs those are minimum at 3 pounds and a maximum at 120 pounds and sometimes beyond that. Puppies under 3 pounds should never wear any bark collar for their safety health. So, consider your dog's actual weight and follow the manufacturer recommendation to get the best output.
Dog's Neck Circumference
It is another important factor you should consider the neck circumference of your dog. Though this is fitted similarly like a normal dog collar, but you must make sure the circumference of your dog's neck to match with the perfect fit. Measure the area where the dog's neck meets the back and compare the value with the collar's length for proper adjustment.
In this case, you can follow the indication in the description where they suggest the type of breed corresponding to the collar type like bark collar for small dogs (Chihuahua, Beagle) or large dogs (German Shepherd, Bulldog, etc). It is a very good idea to select for one which is a bit longer but adjustable.
False-Trigger Proofing Feature
False-trigger is a common limitation from the most barking collar. In this case, the device can't detect the original sound if it comes from other dogs or noise. For example, if your dog plays with other dogs at the yard and makes noise together, the collar may detect these noises and consider them as coming from your dog.
Therefore, the device may deliver negative stimulation to your dog who hasn't even done anything. As a result, the dog may get confused as to what he did wrong to get the punishment. So, false-trigger proofing feature is actually a useful feature especially when the collar works via sound. With this feature, the device can accurately distinguish any noise and sound which comes out from your dog.
Safety and Security
It is another important issue you need to consider that the collar you intend on buying is completely safe and secure. No pet proprietors want to use any ordinary anti-bark collar for their dogs.
So, for ensuring safety issue primarily you can choose the company which is associated with either Electronic Collar Manufacturers Association (ECMA) or the PETT (Partnership for Electronic Training Technology). Both of these associations ensure the optimum safety of all types of dog collar.
Otherwise, you can also check the warranty of the product which is another way to ensure the safety level. You can also read customer reviews and ensure the effectiveness of this particular product.
Type of Bark Collar
In the previous section, we have discussed various types of bark collars and each of them has different unique characteristics. So, you have to decide which one would be the best suited regarding your dog size, age or breed.
Usually, for the smaller size, a spray or vibration bark collar should be the best type. With that, dog owners with a larger dog should look for static or ultrasonic collars. Ultimately, the type you pick depends on the collar which your dog feels comfortable in using.
The Sensitivity of the Device
Adjust the sensitivity of the collar so that your dog doesn't hurt or get punished for other noise or neighbor's dog barking. If the sensitivity level cannot adjust, move on to the next in your list. The more settings a device has, the better the delivery you will get when it comes to fine-tuning.
Some Benefits of Using Dog Bark Collars
There are some potential benefits of using dog bark collars, but it is important to use them responsibly and carefully. Here are a few potential benefits:
Reducing excessive barking

: Dog bark collars are designed to help reduce excessive barking, which can be helpful for both the dog and the owner. Excessive barking can be a nuisance and can disturb neighbors, so reducing it can improve the overall quality of life for everyone involved.
Improving behavior

: Some dog bark collars can be used to correct other undesirable behaviors, such as jumping, digging, or chewing. This can help to improve the dog's behavior overall and make them easier to train.
Safer than other methods

: Compared to other methods of bark control, such as citronella sprays or shock collars, some bark collars may be considered safer for the dog. For example, vibration or ultrasonic bark collars do not cause any pain or discomfort to the dog.
Customizable settings

: Many modern bark collars offer customizable settings, such as adjustable sensitivity levels or different types of correction. This allows the owner to find the most effective and humane way to reduce barking without causing unnecessary discomfort to the dog.
However, it is important to note that dog bark collars should only be used as a last resort and with careful consideration. Using them improperly or excessively can cause unnecessary stress or harm to the dog, and may not address the underlying cause of the excessive barking.
Some Important Tips
Choose the right type of bark collar for your dog's needs and personality.
Make sure the bark collar fits properly and is comfortable for your dog.
Introduce the bark collar gradually and use positive reinforcement training alongside it.
Test the bark collar before using it to ensure it is working properly.
Avoid leaving the bark collar on for extended periods of time or overnight.
Monitor your dog's behavior and adjust the bark collar's settings as needed.
Avoid using bark collars on puppies or elderly dogs.
Use bark collars as a last resort and only after trying other methods of bark control.
Always prioritize the safety and well-being of your dog.
Final Words
On the above, we have added almost all necessary information about bark collars to help you finalize the most appropriate product regarding your dog breed. Many dog owners who are simply tired of their dog's barking and always worried about disturbing their neighbors. But a quality dog bark collar may release them from this tragic situation and improve the relationship.
So, if you need to buy a bark collar, you can get an idea from this brief discussion and make sure about the best bark collar about your circumstances. Our shortlist of the best products and detailed buying guide will definitely make your task easy to find the right one that will best suit your furry friend.
Frequently Asked Questions
Are bark collars safe for dogs?
Yes, undoubtedly bark collars are safe and they won't hurt your dog. Sometimes your dog may show less interest to wear this collar because it can get pretty annoying. Also, a bark collar is a short-term device designed to discourage your dogs from aggressive barking.
How effective are bark collars?
Actually, the effectiveness depends on the model of the collar. Electronic bark collars are much efficient to stop dog barking. But sometimes it is needed a spray or ultrasonic collar to overcome the dog's fear and make a good communication without hurting them.
How long the dog should wear a bark collar?
There is no certain time limit for all dogs but it is useful to use for a short period. If the dog corrects his barking behavior, you should switch back to a regular collar. Never use a bark collar as normal dog training collars.
Can I use a bark collar on my small breed dogs?
Yes, you are free to use an anti-bark collar on small breeds by choosing the right size of the collar. Always snug-fitting collars work best rather than loose-fitting collars. In this case, it is vital to consider the weight of the device regarding your dog size and weight. Sometimes heavy collars may cause strain on the neck of your pet dog.
Do bark collars really work for howling or whining?
Yes, definitely a bark collar work for howling or whining if it is sound-activated, can detect the sound from the dog. It works well for both vibration and sound detection. For vibration detection, the sensor of the collar needs to perfectly define if the sound is really from the dog or by another source.