As a responsible dog owner, you must want to keep your furry friends safe and secure. That's why you save them on leashes when going for jogging in the park, train them to stay in the yard, put up fences, feed them high-quality foods, and take them to the vet for regular checkups and proper care.
In a word, you do everything necessary to keep them safe. Despite all that, even the most caring dog owners have lost their pets. It is one of the worst feelings in the world if you lose your loving pet when visiting family and friends. An unbearable fear and anxiety keep you occupied all the time.
Thanks to today's modern technology for inventing GPS trackers. These nifty devices not only for human uses can now also be used in monitoring the activities of your beloved dogs. A GPS tracker attached to the dog's collar ensures to keep you up to tabs on their whereabouts and bring them home much more quickly.
You'll never have to worry about your pet getting lost by using this tracking device. We've collected and reviewed some of the best GPS dog trackers available on the market based on their quality of materials, advanced technology, network type, Amazon ratings, price range, and other considerations.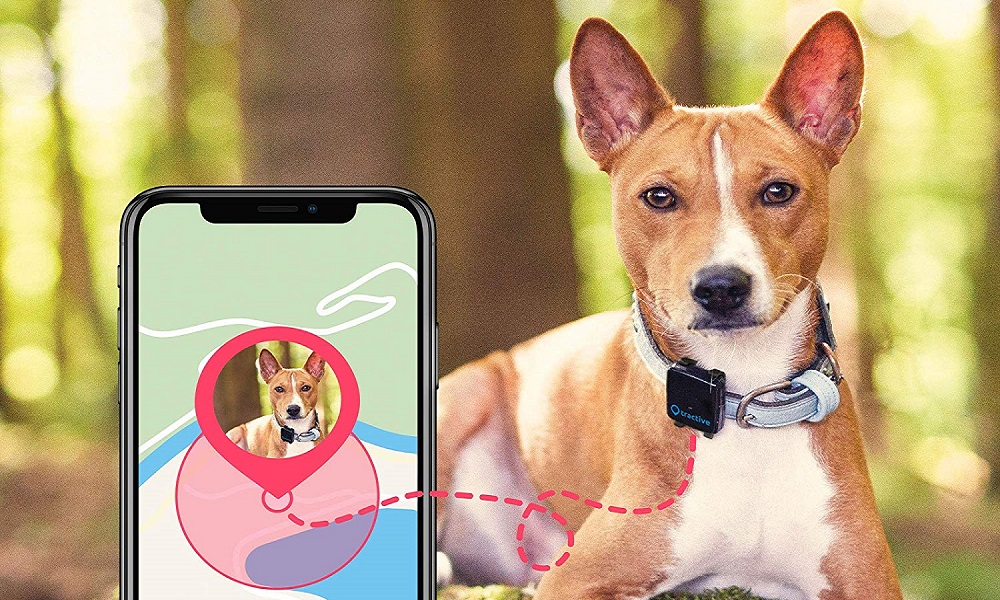 10 GPS Dog Trackers & Collars in 2023 – Reviews
1. Whistle 3 / GPS Pet Tracker & Activity Monitor
Top Pick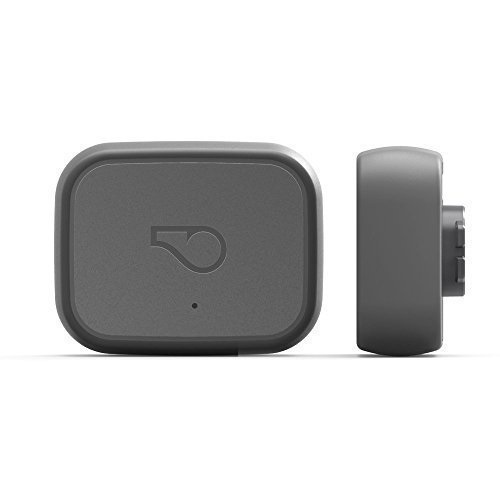 Whistle 3 GPS Pet Tracker & Activity Monitor
Whistle 3 is the top-rated GPS location tracker allows you to tracks your dog's daily activity in addition to his location and set up proactive alerts
We have found the Whistle 3 GPS as the best dog tracker which gives you the best chance to know where your dog is and what they are doing. The device, like most emergency gear, uses an embedded GPS transponder like cellular data signals to communicate your pet's current location.
Through this system, you will get a notification from your pet via an app, that has the ability to identify the real-time location. GPS Trackers are more accurate than Bluetooth Trackers, which can communicate only within the Bluetooth range of the phone. Some GPS collars meticulously monitor your dog's activity as like fitness tracker.
Pet parents like the hardware and software combination of the Whistle 3 GPS Pet Tracker & Activity Monitor. It is easier to use than any other models and completely secure for dogs when attached to a collar. Mainly, this dog tracking device is favorite for pet owners who are worried about their dog's outdoor activity.
The Whistle 3 pet tracker is a small unit weighs less than one ounce and the dimension is approximately 1.6 x 1.3 x .6 inches. It securely attaches to collars up to 1 inch wide and uses GPS technology to define your dog's location via 3G cellular service on the AT&T network. The combination of both GPS and 3G ensures reliable network coverage all over the US.
This tracker has a long-lasting battery lasts up to 7 days for normal using. It is also durable and waterproof supports your dogs to swim in the pool, playing in the rain or snow. This device allows you to follow your pet's travel for the past 24 hours and is highly recommended for pets up to 8 lbs. Amazon is rating this pet tracker nearly 4 out of 5 through 4500 positive customer reviews which make this device extremely reliable for smart dog owners.
Key Features:
Comes with smart GPS tracking technology
Long battery life lasts up to 7 days depending on your pet's activity
100% waterproof allows your dogs for swimming with tracker
Suitable for pets weighing up to 8 pounds
Requires a monthly subscription fee
What We Like:
Connects to pet's collar and track their location with activity
Easy to track your pet's location, activity, position, distance traveled and more
Less weight and small in size for your pet to wear
Powered by At & T & Google maps
No need to contract new phone
What We Don't Like:
Not appropriate for dogs are less than 6 pounds
 2. Link AKC Smart Dog GPS Location Tracker
Runner Up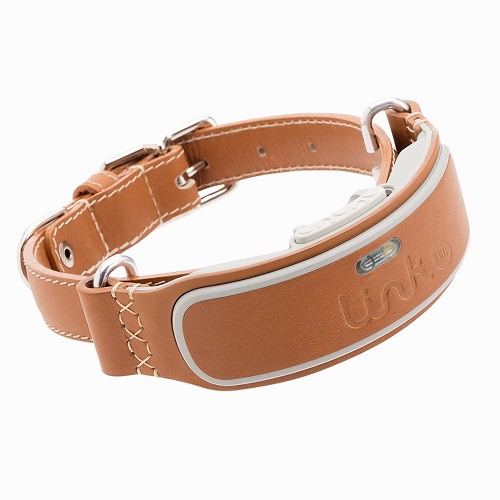 Link AKC Smart Dog Collar with GPS Tracker
The activity tracker works with iOS and Android, highly recommended to keep your dog safe, healthy, and happy
The LINK AKC smart collar is a collar-type tracker which recommended as the high energy dog lifesaver. It is the only GPS and activity tracker designed for dog comfort, fit and fashion. It uses a cellular system via a smartphone through the AT&T network to track your dog's movement, location, activity and more.
The durable, stylish GPS collar features two options including classic leather collar and sports collar. The classic collar is designed with Italian leather that pairs nicely even with the most sophisticated pups. On the other hand, the sports collar is made of reflective fabric stretch for active pups to show off their athletic style.
This GPS pet tracker works very fast and shows accurate result about your pup's real-time location. It also provides customized activity level for your dogs from the American Kennel Club (AKC).
The other special feature of this Link tracker is, you can record, share, and remember special walks, hikes, and other adventures with your dog. It also helps you to store important vet records and set health reminders.
The Link AKC Smart Dog Collar sends you an alert if the dog is in an environment that is too cold and too hot. The LED Light feature is also handy at night to see and be seen. This fashionable collar naturally fits the dog's neck and also supports up to 30 minutes in 3ft of water for its waterproof feature.
This GPS Tracker requires the installation of an iOS and Android app with a monthly subscription fee. You can store vet records with other important records in this app to ensure the dog ownership easily.
This collar includes an extended size guarantee regarding your pet size and your choice. You can charge the tracking unit through a USB port to make it easier to charge the dog tracking device and your cell phone simultaneously.
Key Features:
Keeps track of your dog's activity location and so much more
Highly recommended for activity level recommendation & pet monitoring
Lightweight, fashionable, durable, and waterproof
Waterproof up to 3 feet for 30 minutes
Recommended for dogs more than 10 lbs
What We Like:
The tracking unit can be used any collar widths between 0.5″ to 1.5″
Allows you to record and share special walks with adventures
Available free collar size with exchanging facility
Great accuracy, very easy to detach and reattach
Three months of free service
What We Don't Like:
Not recommended for dogs are less than 9 pounds
3. FitBark Dog Activity Monitor
Best Budget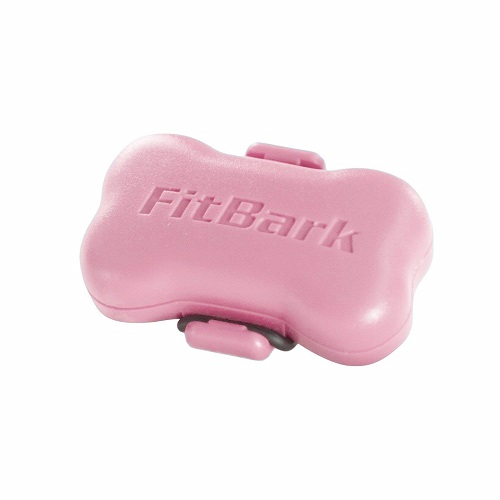 FitBark Dog Activity Monitor
Designed with a beautiful sensor to monitor your dog's daily activity within a budget-friendly range
Every pet parent desires to choose a healthy lifestyle for their dogs and in this regard, FitBark is highly recommended for both dogs and their owners. Naturally, a dog is an ideal partner with whom you can do your regular exercise. They are devoted and sincerely enable to commit about physical activities of their owners.
According to the price range, The FitBark is the best budget pet tracker suggested for pet proprietors who don't want to sacrifice quality for the price. It is designed with a nice sensor that consciously observes your dog's regular activity and sleeps. It is the modern way to keep your dog active, healthy, enthusiastic and delightful.
Surprisingly, this GPS tracker looks like a bar of bath soap rather than a stumpy dog bone. Whatever dog owners look at it, actually it is a nice-looking dog tracking device amazingly lightweight too. It is only 0.32 ounces in weight seems nothing more than an ornament to your dog's collar.
FitBark Dog Activity Monitor allows you to track and manage your pet's real-time location including its position over iOS and Android device through the internet. It comes with completely waterproof construction and exceptional and quite impressive battery life for almost 14 days. The FitBark works impeccably with the FitBit system which allows you to monitor the fitness progress both you and your pooch together.
Key Features:
Track your dog's overall behavior including rest, active and playtime
Very lightweight design, only 0.32 ounces
Very nice looking and properly fits for dogs of any size
Rugged and waterproof construction
Long-lasting battery life is 14 days
What We Like:
Monitor regular activity 24/7 and set the health goals
Share memorable moments with friends and family
Doesn't required monthly fee and cellular signal
Healthy, funny, and inspiring GPS tracker
Great for small dogs like chihuahua
What We Don't Like:
User complains that after using few months numerous glitches appear
4. Whistle Tagg GPS Pet Tracker
The Best Dog Tagg GPS Tracker provides both pet owners and their beloved pets safety and security with advanced GPS and wireless location tracking system that enable monitoring on the laptop, desktop and mobile devices. It is the 10-Time award-winning pet tracking device uses the nation's leader GPS tracking technology.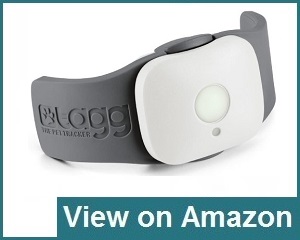 Tagg can track your pet's real-time activities by using the nation's largest wireless technology. This device allows your furry friends from long distance and alert you via text and email. It helps to keep them safe from danger at home when you stay outside. Do not confuse with the common microchip.
This dog tracker easily attaches to your dog's existing collar. The new release activity tracking feature allows you to learn how active your pet about their health and exercise.
Veterinarians recommend, 30-60 minutes of exercise per day is enough for dogs. Tagg pet tracker provides you the information about daily activities of your pet in one simple view and lets you know if the pet is getting enough exercise.
A healthy dog is a happy dog. So, compare your pet's day-to-day activity levels and set goals for good health. You can install the App to the iPhone or any Android smartphone give you a convenient way to stay in touch with your dog.
You can locate your pet on a map, receive alerts and also get driving directions of their current location. More than thousands of positive reviews of active customers enriched the product quality to the pet parents.
Key Features:
An Award-Winning GPS Pet Tracker allows you to know your pet's real-time location
Sends Text and Email Alerts if the pet gets out
You can install the App on your iPhone or Android smartphones
Allows to set your pets running Collar
Recommended for pets under 10 lbs
What We Like:
Facility to observe your pet's daily activity level
Get alerts via text or email if your dog goes out of his range
Very easy to track your dog's current location
Lithium-ion battery last up to 1 month
Very small monthly fees included
What We Don't Like
Not suitable for dogs are more than 10 pounds
5. Findster Duo+ GPS Pet Tracker Free of Monthly Fees
The Best Real-Time Dog GPS Tracker rewards you for keeping your dog healthy. It is the best in class of wearable technology for dogs and cats. Findster Duo is the ideal solution for real time pet tracking which ensures your pet's fitness, overall activity, and extra safety during walks.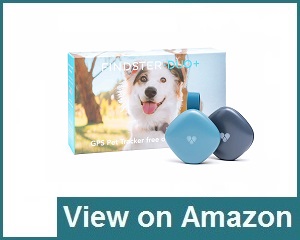 It is the first GPS tracker for pets that doesn't require any subscription fee and no SIM card or cell phone coverage. It works in the USA, UK, and any other country even if you are totally off-grid. Additionally, Findster Duo+ is enough efficient to track more than one pet by free of subscriptions or extra fees.
The tiny and smart GPS finder comes with 2 modules, where one is for your pet and the other one is for you. The amazing MAZE technology features wireless communication in a radius up to 3 miles. Actually, the coverage range depends on the surrounds where the dog lives in and it might be only 0.5 (half) mile in urban areas.
This tracker is very small in size and weight only 21 grams recommended for pets above 8 lbs. The proper dimension is 0.5 x 2 x 2 inches and very suitable for adjusting in the collar. The waterproof construction allows your pet up to 3 feet depth in water. The battery life lasts up to 12 hours if it becomes always on but you can extend up to 3 days if two 30 minutes walk per day.
Key Features:
The best real time GPS tracker without monthly fees
No cell coverage required for pet activity monitoring
Rewarded for keeping your pet healthy and safe
Allows you to track more than one pet without subscriptions
Waterproof and shockproof
What We Like:
Available MAZE technology that ensures wireless communication
Track accurate location within great range
Small and lightweight device, easy to carry out
Amazing product, very easy to use
No subscription fees applicable
What We Don't Like:
6. Loc8tor GPS Pet Tracker
The Loc8tor Pet tracking system is the Best Radio GPS Tracker categorized by optimum accuracy and incredible lightness. Mainly, it is designed for cats but suitable for a large range of small dog breeds like ferrets, tortoises or Chihuahuas. It contains a pet tag and a handheld locator and they communicate with each other through RF-based technology.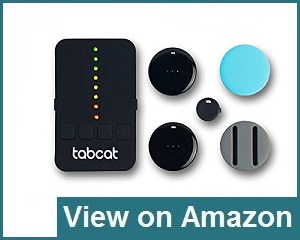 You can also consider this as the best microchip dog tracker where a built-in microchip works to identify your lost pets. It is the unique Loc8tor renowned as the world's leading pet finder saved thousands of pets around the world each year. Pet parents can use this handheld locator up to 4 pets with a separate pet tag of each one.
Loc8tor works just like a key finder but has a larger communication range helps to locate your dog more easily when it vanishes from sight. In this tracker collar, you need to maintain a very simple process to register your pet's tag to the locator.
You just need to activate the tag's battery and set the tag within arm's length of the locator. Then, you should press one of the 4 buttons on the locator only for 3 seconds. If you hear the beep, that means the tag is successfully registered and completely ready to use.
The tracker works both at indoors and outdoors to the maximum range of 400 ft even through walls, doors, buildings, and other hard places. It also features a dual directional technology system that provides both audio and video cues to control your pet in right directions. Like other professional training collars, Loc8tor pet tracker assists you to train your dog too.
Key Features:
The most accurate pet tracking device easily locate your pet
Designed with the highest quality and award-winning technology
No subscription fee requires like other GPS pet trackers
Communication range is around 400 feet
The average battery life is 7 months
What We Like:
Works as both dog and cat tracker
Features state-of-the-art RF-based technology
More secure than any other pet tracker
The small light weight tag weighs only 5 grams
Provides dogs and their owners real peace of mind
What We Don't Like:
Comparatively short life time
7. Tractive 3G GPS Dog Tracker Device with Unlimited Range
Tractive 3G is the Best Lightweight and Waterproof GPS pet tracker made by an Austria-based company specialized in pet-related apps. This tracking device comes in the form of a tracker unit that connects location information to the GPS app and you can access on any device. It consists of 3 equal attractive versions where all versions come in the form of a rounded cuboid measuring 2 x 1.6 x 0.6 inches (height x width x depth).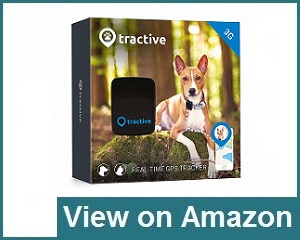 Tractive GPS tracker defines a safe zone where your pet can move freely. The interesting thing is it sends an instant notification if the pet leaves the defined range. After receiving any notification, you can track your pet by the tractive GPS app. In this case, you will receive your pet's real-time location. When the live tracking mode is on, you can follow a map through the app. It allows you to view both your pet's current position and previous locations.
The tracker device fits into most collars via a clip provided in the package. There are different versions of this collar with different colors like white, blue, or pink. From the name of this product we know, this is the lightweight, small and unobtrusive pet tracker, your pet doesn't get any trouble to use it.
Tractive GPS dog collar uses in more than 150 countries, allows accessing your pet's location via the free Tractive GPS App or in any browser. It has no range of limitations like other GPS collars. The single device weighing up to 35 grams only and is recommended for more than 10 pounds of pets. It is shock-resistant and waterproof. The rechargeable battery supports 2-5 days in only 2 hours of recharges.
Key Features:
The lightweight and waterproof GPS tracking collar
Ensures you the best service through your cell phone
Define a safe area by an invisible fence feature
The rechargeable battery supports 2-5 days
Completely waterproof device can withstand up to 3 feet
What We Like:
Always track the real-time location of your pet
Highly durable, virtually indestructible, and shockproof
Offers unlimited live tracking
Worldwide coverage more than 150 countries
Ensures premium customer service
What We Don't Like:
Not recommended for small dogs, less than 8 pounds
8. Girafus Pet Tracker RF Finder Longest Range
Girafus is the Best GPS Cat Tracker Collar that can be truly trusted for the safety of your pet. It is designed to be two units connected together with a special system. Here the handset works as the receiving box to receive RF signals from the other part. The handset tag is attached to the collar via a Velcro strap that can send signals within a range of 500 meters or 1600 feet.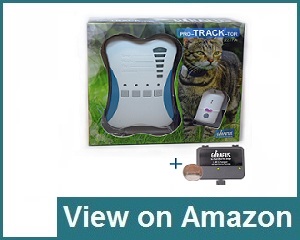 The Girafus pet tracker is a lightweight device which you can carry in your pocket and make four device connection. When the pet crosses the range, the tracking device scans the surrounding area within 500 meters including houses, garages, and shops via sounds and LEDs. The tag is attached to the pet's collar and allows you to detect the accurate directions and distance in which your pet is hiding.
Most of this tracker maintains a frequency about 150-200meters where Girafus cat tracker offers a safe 2.4GHz Radio Frequency Technology with a range of 2.40 to 2.48MHz about 500 meters area. It works free without any subscription fee and quite affordable for easy installation. This tracker allows you to chase up to four different pets together in all different directions.
The entire system weighs 39.2 grams in total where the base unit is 35 grams and the attached tag is only 4.2 grams. The actual size of the base unit is 95 x 65 x 14 mm and the tag unit is 38 x 25 x 11 mm which is too small and light appropriate for cats. The improved rechargeable battery lasts up to more than 4 months for the base unit and 30 days for the tag.
Key Features:
The GPS Dog locator receives and displays your dog's GPS Collar location
The used Tags are possibly the smallest and lightest in this GPS Tracker field
It can cover the range up to 500 meters or 1600 feet
Features Rechargeable Batteries and charger
Available lightweight pet module only 28oz with battery
What We Like:
Helps to find pets if is hiding in garages, neighbor's house, cellars, and many other places
In the search area, the direction indicator shows the correct direction
This tracker also sends low temperature alerts
Fits properly almost every collar
Works great and highly recommended by pet owners
What We Don't Like:
The plastic casing for the tracking device is too fragile
9. Find My Pet GPS Tracker Tags
The Best Nano Gps Tracker recognized as the world's smallest and lightest pet tracking device. It is manufactured by Trackimo an American GPS tracking solution company supplies various tracking devices for car, child, pet, and others. It provides the most accurate location of your pet when it goes out of range.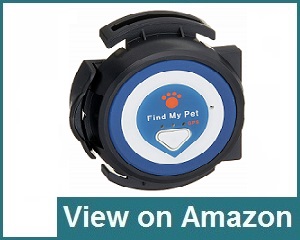 The device connects with the GPS satellites and also use available Wi-Fi, Bluetooth signals, and cell phone networks to track your pet location. The smartphone app lets you know when the networks or Wi-Fi are being used to identify your pet. This tracking device works anywhere within the network with a complete guarantee.
The Find My Pet Tracker provides you the safe zone in where you don't need to track your pet's activity. But you will receive an instant alert if the pet steps outside from the defined safe zone. The device allows you to decide how frequently you want to get the update about your pet's location with the minimum interval being 1 minute.
This Nano pet tracker is small, round, and designed with dynamic blue and white shades. The size measures 1.4 inches in diameter and 0.7 inches in weight. It can be attached to the pet's collar by a plastic clasp. You can add more than one pets as you want and keep all of them in tracking for all the time. The average battery life is 2-4 days, but it may be extended on usage and your environment.
Key Features:
The smallest pet tracking device lets you know the most accurate pet location
Wi-Fi and Bluetooth enabled works in any network
It works at any distance within GSM (2G) cellular network coverage
Shockproof and doesn't damage easily if used in roughly
Waterproof and has a rechargeable battery
What We Like:
Provides most accurate location through GPS satellites
The designated app can ensure the used network Wi-Fi or cellular
You can track your dog anywhere in the worldwide
Facility to add multiple pets for tracking all the time
Available low battery charging alert
What We Don't Like:
Comparatively low battery life
10. SportDOG Brand TEK Series 2.0 GPS Tracking System
SportDog Brand provides the Best GPS Dog Collar technology to track your dog's real-time location without any monthly subscription fee. You can include up to 20 dogs to each system without any additional charge. It allows you to keep your dogs location, and related other data including their current speed in MPH, distance traveled and other related activities.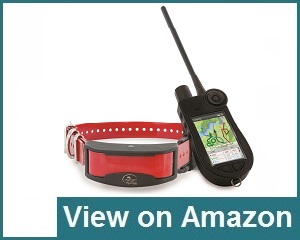 Through this SportDog GPS Tracking System, you can locate up to 10 miles without any cell service. In terms of accuracy and reliability, the TEK 2.0 GPS tracking system exceeds all other systems on the market. It features 1 to 100,000 preloaded topo maps with lifetime updates without any subscription.
Both the handheld device and the collar are fully waterproof and submersible up to 25 feet. Due to its rechargeable feature, you can easily charge both units through the USB cables. It takes only 4 hours for one full charge and lasts up to 24 hours and more.
The device allows you for both viewing and listening to the direction and status of the dog. It shows the direction of each dog, their moving path and whether they change movement or stopped. This GPS Tracking system is designed in the field with cold, rain, snow, mud, heat, dust and wind.
Finally, it is the most recognized brand in the electronic dog tracking world and dog training categories ensure optimum safety and security.
Key Features:
The multi-dog tracking device can tracks up to 21 collars for 10 miles of range
Features 1:100,000 preloaded topo maps with no subscriptions
Bluetooth headset compatible with getting voice updates
Rechargeable lithium-ion batteries charges in 4 hours and lasts up to 24 hours
The DryTek technology making the GPS Collar submersible up to 25 feet
What We Like:
This system uses satellite technology to trace location
Multiple dog tracker with direction and location
Easily get the direction of each dog with their path
You can use in the cold, rain, snow, dust, mud and everywhere
Can cover the range up to 10 miles
What We Don't Like:
What is a GPS Dog Tracker?
A GPS tracker provides you the real-time updates on your pet's location and enhances your ability to find out missing dogs in any situation. American Humane Society noticed that more than 10 million dogs and cats are missing every year and they are guessing that, out of every 3 pets 1 will be lost in their lives. But a GPS tracker helps you to locate your dog very quick before occurring something serious.
Actually, the GPS tracker is a device which we can use on smartphones or other mobile devices via a cellular network. It is just like a transceiver, transmit and receive signals through satellites to tell you the exact location of the device.
In this point, you should have the clear concept that the satellite generates information about the device, not the dog. If the dog wears the device, then you can get the position of the dog through the technology.
Who Needs a GPS Dog Tracker?
There are plenty of reasons for buying a GPS tracker for your dog. Every year, millions of pets go missing from their owners. It is completely unexpected and no one in the world wants to lose their dogs even accidentally though it happens every day. So, a dog tracker would be the best option to locate your pet if it goes out of your eyesight.
GPS tracking devices contain the technology which helps to identify your dog no matter how far it goes. When you can watch on the screen about your pet's real time location, it means it can never indeed be lost. This device provides you peace of mind and the real control to apply on your pet from far away.
Most of the time dogs are not well behaved and show poor attitude even misbehavior. A quality tracking unit can assist you to observe its real time activity including playing, sleeping, and other movements.In this time, it becomes easy for you to take the necessary steps to guide them. A tracking device is also tremendous if the pets get lost in unfamiliar surroundings, then you can find out his location via the GPS tracker.
Microchip vs GPS Tracker
Never be confused about microchips with GPS Pet trackers. Usually, microchips contain pertinent information about your pooch where the pet tracker works to transmit and receive signals from the device of the pet's neck to the tracker.
Microchip Technology
Microchips are tiny circuits but wonderful for helping veterinarians or pet owners to identify their pets immediately. Commonly, the microchip technology uses Radio Frequency (RF) and contains all information about your pet including the chip ID, dog's breed, description, vaccination schedule, vet's contact details, and even the owner's information.
But these devices have some limitations like they can't tell you the accurate location of your dog. Otherwise, it is affordable, permanent, easy and quick to install with lower price. You never have to worry about the microchip malfunctioning if your pet swim in the pond, get soaked in the rain or roll around the mud. There are no batteries required because the Radio Frequency based microchips don't need a power source.
GPS Tracking Technology
On the other hand, GPS trackers are larger than microchip use the global positioning system (GPS) to identify the original location of your pet. The GPS tracker for dogs sends you the exact location through SMS or email alerts.
If you stay in the area with GPS signals, the tracker will be able to detect your pet's accurate location. Unlike Bluetooth trackers, these trackers let you track your pet's activities anywhere in the country.
Through the continuous location updates on a map, a GPS pet tracker can track your pet everywhere in the world. Additionally, with location tracking these devices can monitor your pet's fitness and overall health factors.
There are few trackers help to analyze your dog's activity signs like playing, sleep, pulse rate, calories burned, respiration data and more. The GPS tracking technology allows pet owners to set a virtual fence within a range and get alert when the pet exit or enter in the specified area.
Various Types of Dog Tracking Devices
In the present market, there are different types of pet trackers are available. One is old technology while the other is featured with the comparatively new one, enriching on the progress of the modern age. Almost all the trackers we enlisted work fine. Here are a few types of pet monitors by category.
GPS Pet Trackers
These tracking devices depend on the satellite above the earth and provide better accuracy to detect the exact position of the device. The prime advantage of these trackers is that they allow you to open a virtual map through your smartphone, laptop, or computer to locate the real position of your dog.
There are more technologies provide connectivity with some other applications so that, with locating your dog, you can also evaluate, monitor, and manage its activities. GPS pet trackers greatly increased the precision of the service and enlarged the coverage area.
Radio Pet Trackers
In these pet trackers, there is a radio transceiver attached to the dog's collar and a handheld radio for your own. It works very simply, just needs to press a button on the handset which transmits radio signals to the dog's collar.
The collar then transmits back your dog's approximate position to your handset's screen. These are preferred for hunting dogs to locate their correct position. These are also recommended for pet owners who live in the area where no GPS coverage or cellular services are available.
Bluetooth Pet Trackers
These tracking devices are affordable and more convenient to use. They cover just a small range of area. There are some excellent Bluetooth trackers in the market has a radius about more than a mile. They are comparatively affordable in price and best suited for small pet animals. In Bluetooth trackers, you need to install a special app and turn on the device to connect with the pet.
Activity Pet Trackers
It is the best option if you want to track your dog's real-time activity. Many pet parents like the design and usability of this app than other trackers. Here the used tag is small in size and you don't need to worry about your pet chewing it off.
They have a longer battery life which is more than 60 days for single time charging and works precisely within the range to provide all updates about your pet's overall activities. There is no reason so that you can dislike this tracker or fell dissatisfaction.
Subscription Free Pet Tracker
This is another type of pet tracker has no subscription fee to identify pet location. Actually, these are radio wave tracker don't require any subscription or monthly fee for regular using. Most of the pet trackers don't need any subscription for the lower range.
But there are also some pet trackers like MARCOPOLO by Eureka Technology allows you to cover for 2-mile and more range. Pet owners who feel discouraged to use pet tracker for subscription fees, these types of tracking devices are ideal for them.
Things to Consider When Choosing a GPS Dog Tracker
The type of pet tracker you desire to choose depends on a few important factors and as a pet proprietor, you should keep some basic ideas about these including your dog's size and age, area and location, or the range of the collar. Here are some other things you can consider before finalizing a Best GPS tracker for dogs.
Location
Location is the most important thing you should consider for the accurate positional determination. It is not a good choice to use a GPS tracker through a poor cell phone service for a large area of the range. In this case, a Radio Frequency (RF) tracker will be the best option for both you and your furry friends.
For the urban area, cell phone services are good even for large dogs like Bulldog or Hunting dogs. You can also use Bluetooth trackers for small dogs like Shih Tzu. These trackers work fine to find your dog easily.
Activity Tracking
There are some GPS tracking devices are available in the market designed for monitoring activity training. It seems amazing if you track your pet's activity levels and fitness levels through this technical device.
You can also customize the activity level according to your dog's playtime and diet. An effective training strategy you can meet with this pet tracker to keep your dog happy and healthy regarding great shape, weight, age, and breed.
Size and Weight
The size and weight of the GPS tracking device should be considered very seriously because it plays a key role to ensure your dog's optimum comfort. It should be small in size and lightweight which helps to keep your dog happy and comfortable while wearing this device.
Don't choose any tracking device which is too large for your dog because it may hurt your dog's neck. The best GPS tracker always is lightweight and fit securely on the dog's collar. So, choose the tracking collar which covers the largest range but small in size.
Waterproof
Most of the GPS trackers offer this excellent waterproof feature with different submersible depth. A tracking device which is not entirely waterproof may not work when your dog will reach in the water.
Lacking this feature in the tracking device may reduce your dog's enjoyment and opportunities to surfing in the water like swimming, splashing in the pond, snowing and more others. So, it is obvious to choose a GPS dog tracker which is completely waterproof, shockproof, and even dustproof to allows your dog in everywhere in the range.
Battery Life
The other vital consideration you must focus before buying a dog GPS tracker. The battery life is necessary because it affects the functionality of the tracking device. You should know how long the device can track your dog on a single charge?
Quality GPS collars always provide a long-lasting battery to facilitate you as much time want to locate your pet. Long-lasting batteries require less charging time and allow to move somewhere far away.
GPS accuracy
GPS accuracy is a crucial factor to consider when choosing a GPS dog tracker. The tracker should be accurate enough to locate your dog's position with a high degree of precision. This is especially important if your dog tends to wander off or you live in an area with many obstacles, such as buildings or trees, that may interfere with the GPS signal.
A high-quality GPS tracker should be able to provide an accuracy of a few meters or less, which will help you quickly find your dog if they get lost or if you need to monitor their location in real-time. Be sure to check the GPS accuracy of the tracker you're considering and read reviews from other dog owners to ensure the accuracy is reliable.
Real-time Tracking
Real-time tracking is an essential feature to consider when choosing a GPS dog tracker. Real-time tracking allows you to monitor your dog's location continuously, so you can quickly find them if they get lost or are in danger.
A high-quality GPS dog tracker with real-time tracking capabilities will allow you to see your dog's location on a map in real-time through a smartphone app or web-based platform. This can be especially useful if you're away from home and need to check on your dog's location.
Keep in mind that real-time tracking typically requires an active cellular connection, so you'll need to make sure your tracker is compatible with your cellular provider and that you have sufficient signal strength in your area. Some GPS trackers come with built-in cellular service, while others require you to purchase a separate plan.
Durability
Durability is another crucial factor to consider when choosing a GPS dog tracker. You'll want a tracker that can withstand your dog's activities, including rough play, swimming, and outdoor adventures.
Look for GPS trackers that are designed to be water-resistant or waterproof, as this will ensure they can handle any exposure to moisture. Additionally, the GPS tracker should be built with sturdy materials that can withstand being bumped or jostled without breaking or malfunctioning.
It's also essential to consider the type of collar attachment that comes with the GPS tracker. A secure attachment will ensure that the tracker stays in place, even if your dog is running around or engaging in energetic activities. If the attachment is flimsy, the tracker could become dislodged, and you may not be able to locate your dog if they go missing.
Subscription Fees
When choosing a GPS dog tracker, you'll want to consider any subscription fees that come with the device. Some GPS trackers require a monthly or annual subscription to use their services.
Subscription fees can vary depending on the device and the services they offer. Some trackers charge a flat fee for access to all features, while others may charge additional fees for advanced features such as real-time tracking or geofencing.
If the tracker offers unique features that will help you keep your dog safe, it may be worth the subscription cost. However, if you don't need advanced features, you may be able to find a more affordable option without a subscription fee.
Some Important Tricks
GPS pet trackers feature a variety of types, shapes, and sizes and there are no general or universal principles. So, to choose the best tracking device keep some specific requirements in mind which we have given below:
If you live in a densely populated area then pure self-contained GPS tracking system will be more reliable than others.
If you prefer to customize a safety zone for your pet, the tracking device will allow you to select a range of area as "safe and secure" for your dog. Then, when the dog crosses this designated area, automatically you will receive an alert.
If you want to observe your dog's location history, the device will support you to watch a different amount of information on the dog over different time.
The long-lasting battery facility is vital for a quality dog tracker. If you have enough scope to recharge the battery every night after using then battery life is not be an issue. But if it is needed to run the device continuously for multiple days by single charge then long battery life will support you better.
If you agree to pay a monthly subscription fee then you can connect this device with a cellular network for a small monthly payment.
Now the decision is yours! We hope, you will choose the best tracking device for your pets and set up a better control to keep them safe and secure.
Final Thoughts
GPS trackers are all about keeping your dog safe at both indoor and outdoor. The tracking technology supports you to find your pet quickly in an emergency. There are so many products available in the market and some of them provide you the full-facility through the network of GPS satellites, WiFi, and cellular service.
To pick out the best option, carefully define the purpose of using the device, lifestyle, environment and other conditions. We hope, these reviews on above helped you to meet with the right choice for the dog's safety and your confidence.
Frequently Asked Questions
How does a GPS dog tracker work?
Mainly, a GPS tracker uses satellites through a Global Positioning System to identify your dog's real-time position. Some devices work with wireless internet connections or cellular networks. There are also some other trackers use Bluetooth technology. Regardless of the type of network technology, almost all trackers work in the same principle of signal transmission and reception. The technologies define how the signals would be transmitted and received.
How can GPS trackers be attached?
There are different ways of attaching these trackers designed by different manufacturers. Honestly, the majority of pet GPS trackers can be attached to a dog's collar. Moreover, some devices come with their designated collars and some dog trackers can be fitted onto existing collars. So, as a pet owner, you should check local laws while attaching the tracker onto the collar.
Is the GPS dog tracker compatible with my Smartphone?
Actually, manufacturers always make the design of GPS trackers to work with the existing devices. Some of them have a special preference for Android devices only and some arises with both Android and iOS compatibility.
There are also have some tracking devices work amazingly with 3G or 4G cellular coverage but not exactly for 2G or 2.5G. So, if the GPS dog tracker is compatible with your smartphone, read the product description thoroughly to control the device compatibility.
How many pets can I track with a GPS pet tracker?
If you place a device on one animal, then you can track only one animal. But if you provide several animals the same device, then you can track the same number of animals.
How much budget is needed as a monthly subscription fee for a quality GPS pet tracker?
The cost is not so high as you imagine. Pet trackers feature real-time tracking via an app with a monthly subscription fee. Normally, the monthly fee is approximately $10-$12 and it would be more than $30 for some special cases.