Cat cone collars come in handy when your cat is dealing with a skin-related issue like a rash or a burn or if he has had an incision or a cut from going through a medical procedure lately. Whatever the thing might be, it is essential that your cat is restrained from biting, licking, scratching the sensitive area so that the process of healing is not interrupted.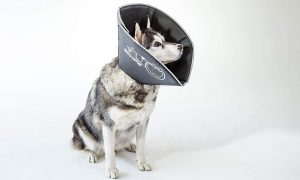 Skin rashes, wounds, or incisions might produce an uneasy feeling for the animal and then they try to overcome that by further scratching or licking the area. It is necessary to stop your cat from exploring the wound as it would not only slow down the healing process but may also cause serious infections that would be hard to deal with later.
To stop your fur friend from going near a specific body part, the best solution is to use a cone collar. It might not sound so pleasurable to your cat but it is your best option to stop them from ruining their already existing wounds.
Choosing the best cone collar might be a tricky job as there are many different options available in the market. So, to make the part easier for you, we have gathered the information about the 7 best cat cone collars for you to choose from according to your cat's needs.
Image
Product Name
Key Features

Our Top Pick

Our Top Pick

Product Weight- 7 ounce
Made of soft foam-backed nylon
Water-resistant and easy to clean material

Check On Amazon

Runner Up

Runner Up

Product weight- 2.39 ounces
Made of breathable cotton fabric
Bite and scratch-resistant material

Check On Amazon

Best Budget

Best Budget

Product weight – 1.7 ounces
Made of high-quality PVC material
Edges are covered with soft flannel

Check On Amazon

Best Cute Collar

Best Cute Collar

Product weight – 3.2 ounces
Made of soft and ultra-light materials
Features reinforced stitching

Check On Amazon

Best Soft Collar

Best Soft Collar

Ultra-soft fabric covering
Made of soft memory foam
Covered with durable fabric material

Check On Amazon

Best Recovery Collar

Best Recovery Collar

Made with high-quality plastic material
Padded neckline for comfort
Velcro closure and easy to clean

Check On Amazon

Best Custom Fit Collar

Best Custom Fit Collar

Made of durable canvas
Provide maximum comfort
Strong straps for adjustment

Check On Amazon
Best Cat Cone Collars in 2022 – Reviews
1. All Four Paws Comfy Cat Cone Collar
Top Pick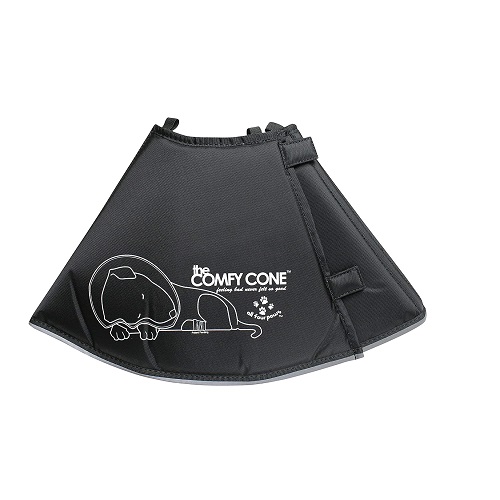 The Original Comfy Cone Recovery Collar
This patented soft cone e-collar is available in different sizes and features a calming black interior, reflective materials with removable plastic stays
We have considered the All Four Paws comfy pet cone collar as the top pick in our list. This black one comes in various sizes for extra small, small, medium, large, and extra-large cats. Thus, you won't experience difficulties in finding the perfect size for your cat. It features a padded construction that makes it comfortable without irritating.
Furthermore, this patented soft item is made of premium soft foam-backed nylon; it features water-resistant and repellant materials that are easy to clean with soapy water. The tight gauge prevents pets from accessing the material with their claws. Also, the calming black interior gives your cat a soothing effect and eliminates scary reflections.
In addition, the collar has reflective material around the edges to help identify your cat should in case he steps out in the dark. The product has optional removable plastic stays that help you choose how flexible or firm the cone should be on your cat.
The three Velcro straps enable easy adjustment and on-off. Again, the elastic loops around the neck enable further fastening for extra security or to thread your cat's collar through. Thanks to the special design that makes it foldable for storage when not in use.
All Four Paws is effective and best at keeping your pet from constantly biting and licking his wound. Not to worry, your feline can still eat, drink and sleep comfortably while he has the cone on his neck. Likewise, the collar can be reversed inside out as desired. You can flip this upside down to convert it into a chest and neck cover to serve as a wound protector.
Key Features:
Features Velcro closures for custom fit and adjustment
Reversible inside out and upside down
Features loops at the neck for collar attachment
Has calming black interior for maximum reflection
Reflective edges promote safety and easy identification
Pros:
Soft and comfortable
Removable plastic stays
It does not obstruct views
It has different sizes for a perfect choice
Cons:
The collar makes a loud and crunching sound
2. Amakunft Adjustable Cat Cone Collar Soft
Runner Up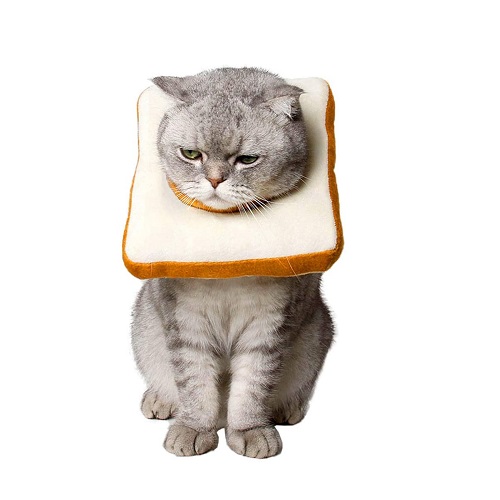 Amakunft Adjustable Cone Collar
This adjustable, comfortable, soft, and lightweight collar is made with high-quality pure cotton. It is well-stitched, scratch-resistant and machine washable
Amakunft Adjustable Cat E-Collar comes as the Runner Up to aid recovery and put a smile on your cat's face. Unlike other plastic ones, the Amakunft is comfy and soft without making disgusting noise when your cat bumps against furniture or floor. It enables unlimited sight while eliminating obstruction. Cats experience normal eating and drinking with this collar on their neck.
This pet recovery collar is stuffed with high-quality pure cotton that supplies consistent softness and healthy sleep. It is very light and comfortable for cats not to get tired of having it on for long. It is a perfect choice for after surgery and does not irritate. Similarly, it is an ideal moving pillow for kittens and pups that love to lie around lazily.
The adjustable neck enables easy on-off and remains snug on cats with a smaller neck circumference. Thanks to the well-stitched material that does not pull off over time. The material is scratch-resistant; it is machine washable and easy to dry.
Beyond the comfort, the collar is functional and prevents your feline from having his claws or mouth on affected areas. In addition, it has a cute design that comes in a bread-like shape to appeal to your cat while recovering.
Key Features:
Features Lycra neckline for extra comfort
Adjustable neck circumference for a perfect fit
Lightweight and cute bread-like design
Provides unlimited sight view
Soft and comfortable
Pros:
Allows your cat to drink, eat and play comfortably
Suitable for rest and quick recovery
Easy to use and machine washable
It is affordable
Cons:
It does not prevent lower body access
3. Vivifying Adjustable 5.7-8in Pet Cone
Best Budget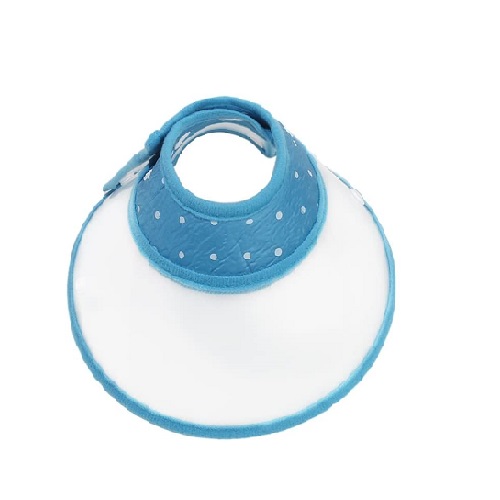 Vivifying Pet Cone Collar
This best budget collar is made with PVC materials and features covered edges. It is transparent, scratch-resistant, comfortable and easy to use
Vivifying Pet Elizabethan collar is suitable for puppies, cats, and small dogs, like Poodle, Teddy, Corgi. with the best budget price. It has a classic and elegant look that makes your cat appear like a gang star even while recovering. This offers a distinct comfort that makes it superior to other similar products. In addition, it has sufficient depth to refrain cats from licking and scratching on wounds.
It is made of durable PVC materials, and the edges are well covered with premium soft flannel to prevent smacking on your belongings. Also, this remains strong and won't fold or squeeze on your cat's neck. It is lightweight to ensure your feline friend does not carry additional weight.
Similarly, the moderate transparency won't keep your pet blind or unaware of his surroundings. It is scratch and bite-resistant that even the fuzziest cat cannot ruin. Again the collar aids the healing process and prevents pets from biting others during dermatology/ surgical procedures.
Moreover, the unique button closures have three pairs of snaps for easy fastening and loosening. It keeps the collar stable and prevents it from falling off your cat's neck. The cone is comfortable and easy to use; you don't need to break your budget before getting your cat collar. This is one of the best and most comfortable plastic items for a feline buddy.
Kye Features:
Adjustable Velcro closure
Foldable for easy storage
Lightweight and easy on-off
Scratch and bite-resistant
Features a padded neckline
Pros:
It does not restrict cat view
Provides optimal comfort
Highly effective and easy to clean
Multifunctional tool for recovery
Cons:
It obstructs the cat's daily activities
Not durable as described
4. Alfie Noah Recovery Cat Collar
It is a perfect choice for cats that dislikes plastic collars. The adorable lion-inspired design with two attractive ears makes your feline cuter and feels as brave as a lion. It comes in six sizes with perfect neck circumference for small and large pets.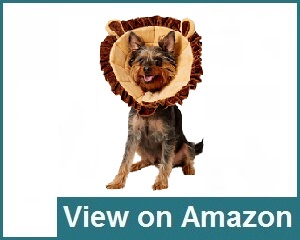 This is made of soft and ultra-light materials that feel so comfortable on your pet. It features high-quality fabric and foam, which is scratch and bites resistant. Moreover, the reinforced stitching makes it sturdy enough to prevent ripping apart.
In addition, the Alfie pet recovery cone item does not produce disturbing noise whenever your cat bumps around. Unlike other cone collars, you don't need to worry about it getting punctured or ruined over prolonged usage. The functionality is top-notch and effective to prevent your feline friend from directly feasting on injured areas.
Also, the adjustable unique Velcro closure enhances easy fastening and snug fit to ensure the collar sits securely on your cat's neck. The versatility makes it suitable for both cats and dogs. It is machine washable, easy to remove dirt and stains, and easy to air.
Key Features:
Prevents licking of injured areas
Has adjustable two-strap Velcro closure
Available in six different sizes
Produces no disturbing sounds
Easy to wear and machine washable
Pros:
Adorable lion-inspired design
Allows your cat to eat and drink
Bite resistant, sleek and stylish design
Made of soft ultra-light materials
Ideal for cats and dogs
Cons:
The depth of the collar is excessive
5. SunGrow Pet Recovery Elizabethan E Collar
The best soft cat cone collar to purchase for your feline buddy is the SunGrow. It has a comfortable and calming effect that successfully protects wounds. The three Velcro tabs keep the cone in place and allow adjustability for small and large pets. Besides, this premium product is water-resistant and bite-proof.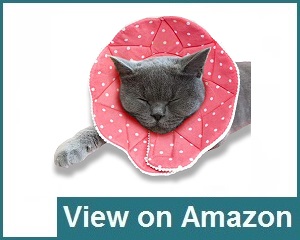 The SunGrow cone is made of ultra-soft fabric covering memory foam. It supplies premium comfort with added soft fabric around the edges, meaning your cat can sleep properly while having it on. Also, the lower and wider construction, thus, cats can see well and won't get stuck in narrow paths of stair railings.
Apart from the cute appearance and design, it effectively prevents your pet from licking or biting injured areas. This multipurpose cone can be flipped backward to protect the wound around the lower body region. Its versatility makes it a perfect target for kittens, adult cats, and small dogs with nine to ten inches neck circumference.
Furthermore, the cone is durable and won't get punctured like other inflatable collars. It is washable, easy to spot stains, and dries fast.
Key Features:
Fits pets with nine to ten neck circumferences
Three fully adjustable Velcro tabs
Soft-edges and wider construction
Offers unrestricted view
Water and bite resistant
Pros:
It does not make disturbing noise
It does not obstruct peripheral vision
Provides optimal comfort for cats
Adjustable, comfortable, and calming collars
Reversible and washable
Cons:
6. Depets Adjustable Recovery Pet Cone E-Collar
Our next recommendation is the Depets which is the best recovery cat cone E-Collar. This is most effective in stopping your cat from disturbing the healing process. It has a padded neckline with soft fabric to prevent irritation and provides maximum comfort. Cats can sleep with the cone on and enjoy every other activity. Also, it has enough depth to keep your pet from mouthing wounded areas.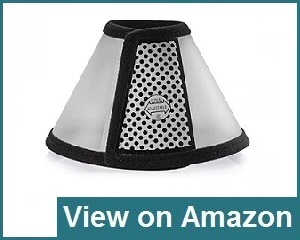 The cone is made of high-quality materials that won't break over rigorous use. Likewise, the entire construction of the collar has a lightweight effect on your pet, meaning your cat won't feel any additional weight as it moves around. The Velcro closure allows secured tightening and easy loosening according to the circumference of your cat's neck. This flexibility makes the collar ideal for various pets.
Furthermore, it comes with soft fabric edges to promote breathability and protect your properties from been ruined as your cat smacks around. The transparent feature of the collar allows cats to see their surroundings without obstruction. Cleaning is one of the simplest tasks to do here.
Key Features:
Ultra-light plastic collar
Adjustable neck circumference
Made with transparent PVC
 Closes with Velcro taps
Well covered edges
Pros:
Multifunctional cone collar
Padded neckline
Simple to attach to your cat's neck
Water and scratch-resistant
Easy to clean
Cons:
Might obstructs pet's daily activities
7. ZenPet Cone E-Collar for Cats
Our furry pets get hurt, and wounds could be irritating, which would lead to severe skin problems. However, you should prevent your pets from touching, scratching, and licking the body parts with this. We selected ZenPet as the best custom fit cone collar for your cat because it is designed with a canvas to provide premium comfort and is durable.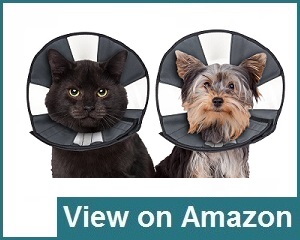 The product is well-padded within to further provide premium comfort for your pet. As your feline wears this cone, there would not be an obstruction to its view, and the cat would sleep, eat, drink, and sleep comfortably till the wound heals. The durability of this cone is undoubted because it is bite and scratch-resistant, and the rounded edges ensure your walls and furniture are safe.
Interestingly, this recovery collar comes with in-built transparent windows for visibility. It has different sizes, and there is a fuzzy fastener, which allows the collar to adjust to the circumference that fits your pet. In addition, cleaning is very easy, and you can wear it on your pet with its everyday cone.
Features:
The side windows allow for viewing
The product's surface is bite and anti-scratch
Flexibility allows your pet to eat, sleep, and play
Adjustable Velcro sizing
Easy to wear for pets
Pros:
Does not disturbs daily activities
Foldable and easy to store
Secure and custom fit
Durable and well padded
Soft edge for added comfort
Cons:
The product is more structured
How Does Cat Cone Collar Work?
The purpose of a cat cone collar is to stop the cat from chewing, licking, or scratching the parts on the body that he is not supposed to. It restrains the cat from chewing the stitches to relieve the feeling of unease or to groom a wound vigorously which leads to self-mutilation.
The cone also helps in preventing the cat from clawing his face after going through eye surgery or having a lesion that would tempt the scratching.
However, using a cone collar is not a permanent solution. It must be used on temporary basis and only after your veterinarian advises you to. You should not use a cat cone collar just to stop your cat from licking and scratching its body. Try to find the source of the problem that's causing your cat discomfort by taking him to the vet and then treat the cause accordingly.
How to Put Cone Collar on Cat's Neck?
In the case of an emergency, you can put a cone collar on the cat yourself, however to get it done more accurately and professionally, you should let your vet do the job. Below mentioned steps should be followed while trying to put a cone collar on your cat's head:
Picking up the Cat

: Try picking up your cat gently by placing one hand on her belly and holding him close to you. With your other hand, hold his chin in place. Move him to an even surface such as a table. If the cat is scared, place a cloth over his face and wait for a few minutes until he is relaxed. After that, place the cloth under the cat and try lifting it up with the help of the cloth in a way that he's bundled up in it and then place him on the table. The best time to put on a collar on your cat is when he is either relaxed, tired or asleep.
Holding the Cat in Place

: It's better if you have someone's assistance. Have that person hold the front legs of the cat with both of his hands and lean over on the table in a way that his arms are pressed against the side of the cat. This will help in keeping the cat in position. Try keeping your cat calm by talking to him in a reassuring tone.
Sliding Collar on the Neck

: While the other person is holding the cat in place, your cat is most unlikely to cooperate. Stand behind the cat and try placing the smaller end of the cone collar onto its head sliding towards the neck. Pull the cat's ears in the front very gently.
Enclose the Collar

: Close the strap that you have placed inside the cat collar. This would help in securing the cone in one place and prevent it from falling out. Make sure you place it firmly and not too tight that might impair the cat's breathing. Another way of securing the collar in place is bypassing a ribbon through the loops and tying it up gently.
Things to Consider When Choosing Cat Cone Collars
Cat cone collars, also known as Elizabethan collars or e-collars, can be an effective way to prevent cats from licking, biting, or scratching at wounds or incisions. Here are some things to consider:
Type of the Cone
There are a number of available types in the market which include cones that are made up of soft fabric, plastic and even the inflatable ones. The cone that you want to choose must work best according to the location of the wound on the body of your cat, its nature and the environment of your house.
Size and Fitting
It is essential that you find the cone that fits your cat perfectly without causing him discomfort. The cone must stay in one place without moving around. Measuring the cat's neck or collar would help in this scenario. You must place it snug enough that your cat doesn't wiggle its head out of it but not tight enough that it may restrain the cat's breathing.
Material
There are different types of materials that cone collars can be made of, such as plastic, fabric, or foam. Consider which type of material would be most comfortable for your cat.
Adjustable
Adjustable collars are quite a great option. Additional adjustable straps, loops and Velcro always come in handy when you want to alter the fitting according to your cat's comfort. Some cone collars have soft, padded edges or adjustable straps to ensure a good fit.
Cost
Cone collars can vary in price. Consider your budget when choosing a collar, but remember that the cheapest option may not always be the most comfortable or effective for your cat
Comfort and Relief
If you want your cat to wear the collar you have to make sure that it is comfortable enough otherwise your cat would keep trying to wiggle himself out of that misery. Things like padded rims add a lot of comfort. Another thing that you must consider in order to keep your cat comfortable is to make sure that the collar is not blocking excess of their peripheral vision which could make the animal quite anxious.
Longevity
The last thing that you want to happen is the collar snapping or trapping your cat. An ideal collar must be durable in a way that it is strong yet flexible.
Easy to Use
As this is being placed on the neck of a live animal, it should be as stress free and easy to handle as possible. Quick and secure locks such as Velcro or loops and hooks are the assets that you must look for in a collar. This way you can place it on your cat without hassling around. Look for collars that are easy to assemble and adjust.
Mobility
Cone collars can make it difficult for cats to move around and access their food and water bowls. Look for collars that allow your cat to eat and drink comfortably.
Cat's Hygiene
An important factor that you must consider is that it must be easy to clean keeping in mind that your cat's hygiene would be dependent on it since he is going to eat, drink and perform other activities while wearing that collar. Plastic collars are the easiest to clean but if you are going for a padded one make sure that it can be washed in a washing machine before buying it.
Benefits of Using Cat Cone Collars
Here are some benefits of using cat cone collars:
Prevents licking and biting

: Cone collars can prevent cats from licking, biting, or scratching at wounds or incisions, which can interfere with the healing process.
Provides a barrier

: Cone collars create a physical barrier between your cat and their wound, which can help to keep the area clean and protected.
Protects against self-injury

: Cats can accidentally injure themselves by licking or biting at wounds, or by scratching at itchy or irritated skin. A cone collar can help to prevent this type of self-injury.
Affordable

: Cone collars are an affordable option for preventing self-injury or protecting a wound, and can be reused if necessary.
Reduces stress

: Although cats may not like wearing cone collars, the collar can actually help to reduce stress by preventing your cat from obsessively licking or biting at an injury, which can cause further irritation and discomfort.
Versatility

: Cone collars can be used for a variety of purposes, such as after surgery, to prevent your cat from aggravating an allergy or hot spot, or to protect a wound or incision.
Promotes faster healing

: By preventing your cat from interfering with the healing process, a cone collar can help to promote faster healing and reduce the risk of complications.
Safe and effective

: When used properly, cone collars are a safe and effective way to protect your cat's health and well-being.
Final Thoughts
After getting through surgery or while recovering from an injury, your cat would need extra attention. It is your job to make sure that they don't mutilate their wounds or spread the infection in other parts of their body by fondling with their injuries.
Cone collars are the best option to keep your cat from licking, biting, scratching or chewing the site of injuries. You just have to find the right one that suits the nature of your cat and in which he is the most comfortable. Consulting with the veterinarian is necessary regarding how long does your cat needs to wear the cone.
Frequently Asked Questions
What is a cat cone collar?
A cat cone collar is a special thing with extended sides that is designed specifically to restrain a cat from biting, scratching, licking or biting open wounds, skin rashes or stiches to ensure their proper healing.
Can cat sleep with cone collar?
Yes, your cat can eat, drink, sleep and perform other life activities while wearing a cone collar. The more time they spend with this, the quicker they will get used to it.
Can cats eat with cone collar?
Yes, a cat can eat while wearing this. Just make sure you clean the collar properly so that the hygiene of your cat is not compromised.
How long do cat cone collars lasts?
Your cat is supposed to wear the collar as long as the injury is completely healed which depends upon the condition of the wound. The duration might just be a few days or it could even last a few months.
Can my cat eat and drink while wearing a cone collar?
Yes, your cat can eat and drink while wearing a cone collar. However, you may need to adjust the height of your cat's food and water bowls to make it easier for them to access their food and water.
Can my cat groom themselves while wearing a cone collar?
Cats may find it difficult to groom themselves while wearing a cone collar. However, you can help your cat by gently brushing them or wiping them down with a damp cloth to keep them clean.
Are there any alternative options to a cone collar?
There are alternative options to cone collars, such as inflatable collars or soft, flexible collars. Talk to your veterinarian about the best option for your cat based on their individual needs and condition.
How long will my cat need to wear the cone collar?
The length of time your cat will need to wear the cone collar will depend on their individual needs and the type of injury or condition they are recovering from. Your veterinarian will provide guidance on how long your cat should wear the collar.