The pinch collar is a metal collar, considered as the best training tool for almost any dogs, small or large. It can be consist of various links of different length and you can expand or short it by adding or removing links.
In many countries, it is also known as prong collar, an actual dog training collar. Recent studies have shown that many dog owners believe it is cruel and even injure a dog. Actually, till now it is a controversial training item and the effectiveness of this tool totally depend on the right use.
The proper fit through a professional trainer makes it completely safe especially on large and strong dogs. In fact, it looks pretty your dog when walk with you by wearing the collar. Through this article, we have recommended the top ten best dog pinch collars as a very helpful training apparatus to teach your dog about good behavior.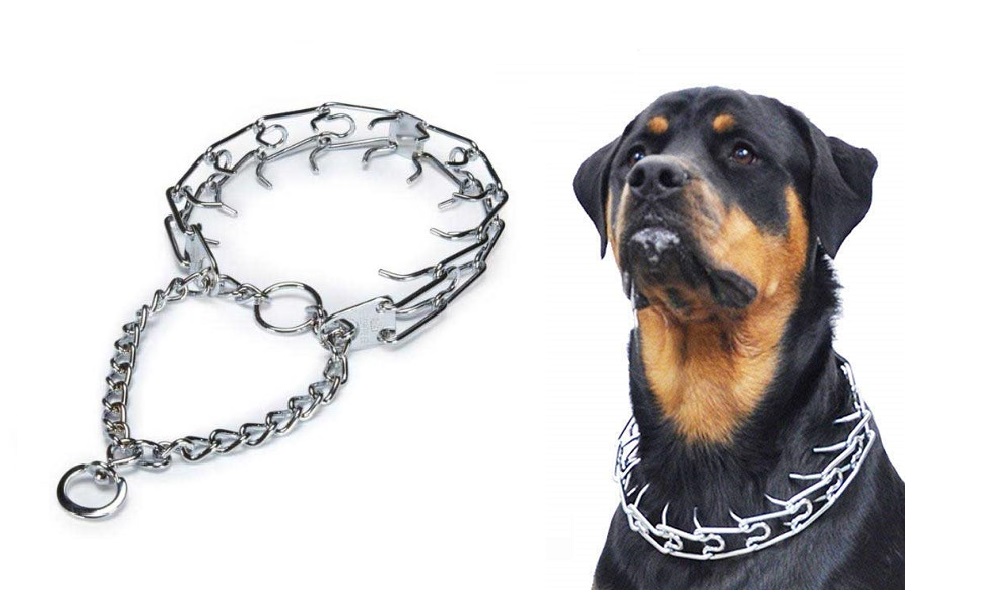 10 Dog Pinch Collar in 2022 – Reviews
1. Our Top Pick – Herm Sprenger Dog Pinch Collars Review
Top Pick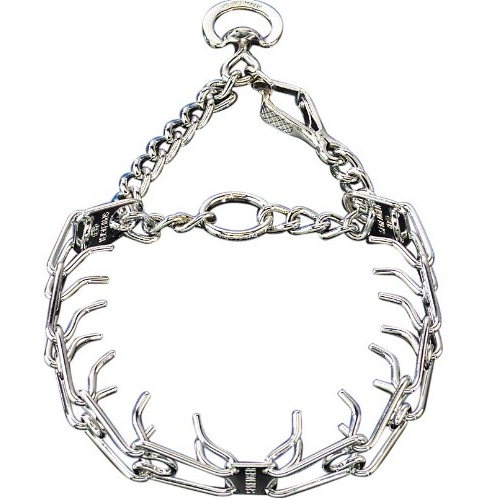 Herm Sprenger Dog Pinch Collars
The Chrome Plated Pinch Collar built for ensuring the highest safety and allows the fast release of the dog
Herm Sprenger entry into our list of the best pinch collar for dogs is considered as one of the top-selling collars in the market. Its quick-release features allow fast relief and easy attachment. It is recognized as a popular obedience training tool and provides exceptional control over your pooch.
This is designed to apply pressure around your dog's neck equally. It puts pressure about every half inch by pinching the skin in a band and does not apply direct pressure to the throttle. The ends of links are safely rounded so that you can train your dog with little tugging or pulling.
Herm Sprenger training collars are made in Germany and designed with the finest quality of materials and craftsmanship. You should be sincere about the proper fitness while applying on the dog's neck and remember below the dog's ears is the best position for perfect fitting. Sometimes you may need to add or remove links for a comfortable fit. These have 4 available sizes to support dogs in different ages and breeds.
Key Features:
Allows dog neck circumference up to 22 inches
Ensure the highest safety
Easy to put-on and put-off
Provide a comfortable snug fit
Made in Germany
What We Like:
Designed with high-quality chrome-plated steel
This features quick release snap to your dogs
Makes communication between dogs and owners easier
allows quick release of the dog
pressure evenly spread over dog's neck
What We Don't Like:
Limited guarantee against breakage, tarnish or rust
2. Best Pinch Collar for Small Dogs – Coastal Easy Dog Prong Collar Review
Coastal Easy Pinch Collar ensures maximum strength and durability and featuring a convenient buckle for easy removal. It's a natural choice of dog owners as the best training collar for their small dogs.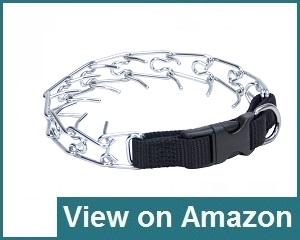 The 100% soy fibers are the prime ingredients that make this collar stronger and long-lasting. These fibers are eco-friendly and have a soft, cashmere feel that your pet loves much.
It distributes pressure around the whole neck rather than centralizing in specific areas to keep it safe from neck strain. The limited closure doesn't let the collar become too tight on the neck so that your dog always feels comfortable to wear it.
The nylon loop of the collar with a side-release buckle allows for easy on and off within a second. Pet proprietors are very impressed to use this as a safe and effective training tool. It is enough efficient training tool to control your dog's unwanted behaviour in a proper way.
Key Features:
Distributes pressure equally around your dog's neck
Provides a convenient buckle for easy removal
Ensures maximum strength and durability
Efficient to control the dog's unwanted behavior
Quick and easy to on and off
What We Like:
The chrome plated collar is the perfect tough and safe
Provides effective and safe restraint for training
Won't tarnish rust or break loop
Features plastic clasp instead of solid chain
The brilliant design makes it more comfortable
What We Don't Like:
Not suitable for large dogs
3. Best Pinch Collar for Large Dogs – Darkyazi Adjustable Pet Collar Review
Dog proprietor who has large or medium-large dogs but always show aggressive behavior, the Darkyazi Adjustable collar is appropriate for him. You don't need to scream or punish your dog, just pull the collar to control immediately.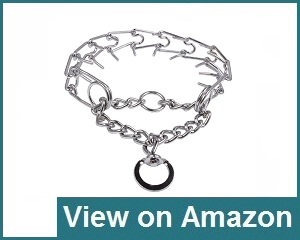 It is great for training aggressive dogs which are normally difficult to guide. The stylish design with a metal buckle supports the fastness and allows easily put on or removed from the dog within a second.
This item is made of stainless steel with a special technology for a long time using. It is renowned for maximum strength and durability than others and you can easily adjust for a suitable fit by simply removing and adding links.
This collar has also rounded and smooth prongs help to save your dog's neck from harm during pulling. It is safe for dogs and much effective for training your pet.
Key Features:
Best suited for large dogs
Only high-quality materials are used
Very easy to use only by pulling
Smooth and rounded end save your dog from injury
Adjustable fitting helps to set properly on dog's neck
What We Like:
Great training tool for aggressive dogs
Proper using immediately stop dog pulling
Used metal buckle supports easy on and off
It is clean and completely free of sharp edges
This collar won't harm your dog's neck
What We Don't Like:
Not appropriate for small dogs
4. Best Pinch Collars for Dog Training – Pettom Dog Prong Review
The Pettom collar is ideal for training aggressive dogs and best suit to control all kinds of small, medium and large dogs. It is the safe alternative of standard choke chains. It is designed with electronically welded steel that added additional strength and provides a heavy-duty yet safe performance.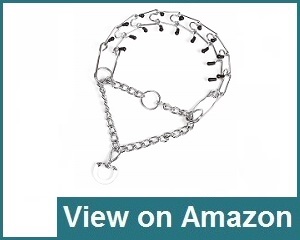 Along with durability ends are also smooth and rounded to prevent injury and ensure no harm to your pet while pulling at walking. The removable blunt-cut rubber tips on every gear apply equal pressure around the dog's neck to protect the trachea.
It is easy to control your dog by applying firm pull the collar to communicate through desired actions. You can easily add or remove prongs from the collar as needed for proper fit to your dog's neck. This is rust resistant and qualifies a long-lasting performance to train up your dog.
Key Features:
Designed with an electronically welded steel
Ensure a safe but effective performance
Smooth and rounded prongs help to prevent injury
No rust, tarnish or break
Imported from the USA
What We Like:
Easy to control by applying desired actions
Significantly influence dogs for regular walking
Best suited for dogs of all sizes
Blunt cut rubber tips prevent harm to the dog's neck
You can add or remove links to fit better on the dog's neck
What We Don't Like
You should be sincere while training new puppies
5. Best Pinch Collar for German Shepherd – Wellbro Training Metal Gear Review
Wellbro Metal Gear is a consummate training solution for dogs made with a combination of high-grade sturdy nylon material with stainless steel. The used metal buckle reinforces the fastness and allows easy-on and easy-off instantly.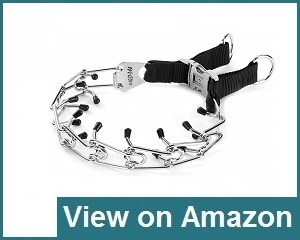 Structurally this training collar ensures the durability with long-lasting performance. The rubber blunt-cut doesn't harm your dog's neck and keep your dog free from injury while pulling.
The metal ring affords a secure leash attachment point that provides the facility to manage easily. You can adjust the length by adding or removing prongs to reach the proper fit. This metal dog collar is enough sturdy, heavy and most suitable for large dogs like German Shepherd.
Key Features:
The metal fasteners guarantee solid durability
The handles made of high-grade Nylon material
Ensures long-lasting performance
Blunt-cut rubber tips prevent harms to dog's neck
Offers easy-on and easy-off in a second
What We Like:
Quick release shiny metal buckle for easy attachment
The opportunity of adding and removing prongs for proper fit
It is rust-resistant, looks smooth and well-furnished
Available metal D ring for secure leash attachment
Easy and safe to put on and take off
What We Don't Like:
Too much heavy to fit for puppies or small dogs
6. Best Metal Pinch Dog Collar – Mayerzon Dog Prong Training Review
Mayerzon offers the best metal pinch collar designed with all high-quality stainless steel spike and rubber tips. It helps to correct pressure around the dog's neck to keep save the trachea with other sensitive areas.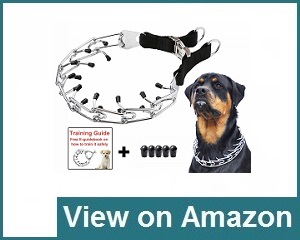 According to actual size measurement, it is 23.62 inches long with 0.16 inches diameter. But you can adjust the collar's length regarding the size of your dog's neck for a proper fit. By adding or removing spike you can change the length and even make this suitable for medium to extra-large dogs.
A prong collar should fit snugly on the neck because a loose fit will not give the effective correction to control your dog. Don't put this on the dog's neck through its head; it may injure your dog's eyes. So, the procedure of putting a pinch collar is, at first unfasten one of the links and take it on your dog's neck then fasten it.
The real benefits of a prong collar keep your dog free from punishing it and release you from screaming with all anxieties. You just pull the leash of the collar to control the dog in your way. That's why it is considered a great tool for training aggressive dogs which are tough to manage. The manufacturer company offers 12 months warranty with 2 months money back guarantee. So, if you feel any discomfort to use this item, you may return it and get a new one.
Key Features:
Designed with high-quality stainless material
Facilitate to adjust the length
Suitable for small, medium, large, and X-large dogs
Offering quick and easy-on and easy-off
Money back guarantee for faulty products
What We Like:
Most effective and safe for dog training
Ensures safety while moving out dogs to the park or open areas
Quite simple to use and provide perfect fit
Available safe prongs with rubber cap
Veterinarians and most experts recommend this collar
What We Don't Like:
Some owners confused about the comfort level
7. Best Sprenger Pinch Collar – Extra Links for Dog Prong Review
Herm Sprenger Extra Links pinch collar provides you the ultimate flexibility as a safe and effective dog training tool. It is designed with only the finest materials to ensure high functionality and performance. There are various links are included with different sizes like the Chrome Plated (2.25mm, 3.0mm, and 4.0mm), Stainless Steel (2.25mm, 3.0mm, and 4.0mm), and Antique Finish (3.0mm and 4.0mm).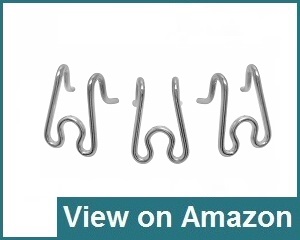 It is easy to attach or remove collar links to increase or decrease the length to get a more custom fit. This features safety ends to keep your dog's neck safe from injury while pulling the collar. So, it works great on strong pullers or large dogs during walking or outdoor activities. It is also helpful to control the dog's behavior by applying obedience training.
The highest quality raw materials made this item more efficient and long-lasting. There are several sizes of this collar from small to extra-large and you have the opportunity to choose the suitable one regarding your dog size.
Key Features:
Safe and effective dog training tool
Designed with high quality, special raw materials
Features adding or removing length for more custom fit
Extra Links allow for the ultimate flexibility
Best for large dogs
What We Like:
Safety end of collar links keep safe your dog's skin
Ensures sophisticated production methods
Dedicated technical team to control consistent quality
Fiber-reinforced polymer material
Stainless steel prong collar
What We Don't Like:
Bit difficult to fit properly for small dogs
8. Best Plastic Pinch Collars for Dogs – Starmark Review
Starmark provides plastic pinch collars, which have a reduced chance of breaking and doesn't create any pain on your dog's neck. Like metal prongs, the pinch is not too intense to hurt your dog when pulling.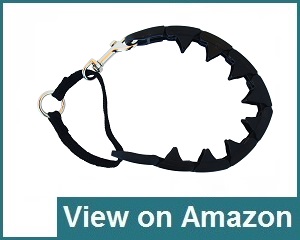 The collar promotes effective contact with your dog and helps to control aggressive behaviors. The certified training and behavior specialists have ensured the optimum safety and quality performance of this collar item.
There are various available sizes of this collar from largest to very small but after choosing a particular size you can adjust the length according to your dog's neck size. It is very easy to add and remove links from the collar for better adjustment.
This also comes with a regular round ring where you can attach a leash to moves around the material more freely. Here, the round leash ring works as a sort of hook to connect with an additional collar. The leash is the only metal substance but it is totally rust-resistant and allows you to use it in the rain and water.
Key Features:
Designed with plastic material
Safe for the dog's health
Very much effective to control your dog's behavior
You can adjust the length by adding or removing links
Never gets hurt your dog
What We Like:
Only intended for training purposes
Ensures all gentle and effective training sessions
Ultimate training collar for calming down aggressive dogs
Comparatively less sharp & hurtful
Made by certified experts
What We Don't Like:
No metal use, only plastic construction
9. Best Leather Pinch Collar – Herm Sprenger Ultra-Plus Prong Review
Herm Sprenger Ultra-Plus is a safe, practical and effective dog training collar fits on dog's neck up to 12-inch size. It is constructed with high-quality, steel chrome plate which makes the collar more sturdy, durable and long-lasting to use.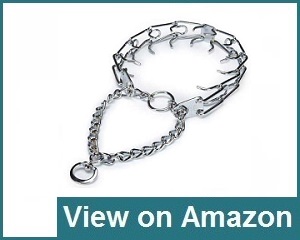 The safety end of each link keeps your dog's neck safe while pulling and distribute the pressure equally rather than concentrating on a specific area. The solid closure steel chromium plate provides a secure connection and makes a fastening around your dog's neck which is easier to operate and safer for your dog.
Like other Herm Sprenger prong collar, it is also easy to adjust the size by adding or removing links. The symmetrical placement of the prong allows natural interaction for optimal communication.
Key Features:
Constructed with high-quality ingredients
Center plate allows for equal pressure
You can adjust the size by expanding or remove links
Easy to operate through natural contact
Available in small medium and large size
What we like:
Available in small, medium, and large dogs
More contact points offer much better control
Rescue your dogs from some very bad habits
Highly recommended if your dog has leash reactivity
Stops pulling completely
What we don't like
Not recommended for nickel-reactive dogs
10. Best Herm Sprenger Pinch Collar – Prong Training Collar Review
The world-renowned professional training collars come with martingale design. It produces safe pinch for the most effective collars to lead the safety training session.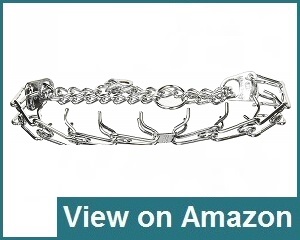 These are made with polished chrome-plated steel and each end of the prongs is properly rounded and doesn't hurt the dog's skin. The collar fits on the dog's neck comfortably if you wore it just under the jaw right behind the ears of your dog.
For easy movement, you may add a side release buckle with the collar. If you feel trouble opening and close the object, then the side release buckle quick-snap will help you to operate it. You may also just unclip the buckle and place the collar around your dog's neck and clip it for proper adjustment.
The original center place structure and balanced prong placement allow normal contact with your dog for optimal communication. Along with great economic benefit, you will love the convenience of this collar when applying to your pooch.
Key Features:
High quality, polished steel chrome plated dog prong collar
Facilitate to add integrated slide release buckle
Considered as pressured safe, effective dog training tool
Fits dogs up to 14-inch neck
Made in Germany
What We Like:
Features a solid fastener plate for secure connection
More safe and humane version of a pinch collar
Very practical, safe, and easy to use
Helps to correct your dog's behavior quickly
Cost-effective
What We Don't Like:
How do Pinch Collars Work?
Pinch collars work similarly to choke but contain metal spikes on the inside that pinch your dog's neck when you pull on the leash. You can attach the leash at the back of the collar when you walk your dog. The leash play vital role to control your dog when you pull on the collar.
The prong of every link surrounds your dog's neck and he feels equal pressure when starts to pull the tension in the leash. As a dog pulls the links become tight on the neck creates an unpleasant sensation on the skin and forces the dog to fall back into step as you walk.
When you put the pinch collar on your dog it simply fits like a piece of jewelry and each prong directly fit into the loops of another piece. A small metal ring also comes with each collar to attach dog's leash and generally sit on the back of the dog's neck.
Looking for some different options? Make sure to check out our dog calming collars articles.
How to Fit a Prong Collar Properly
Normally, pet proprietors should put off the prong collar after daily training sessions. Like choke collars, it should not be put on the collar all the time on your dog's neck. There is a common problem of new trainers that, they don't remove enough links from the collar to get a comfortable fit. As a result, it hangs down on the dog's neck and does not work properly. So, it is important to fit the pinch collar in the proper way before using it.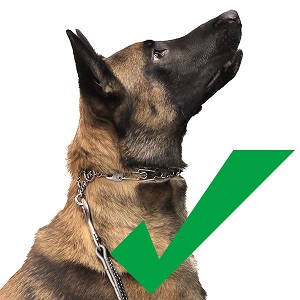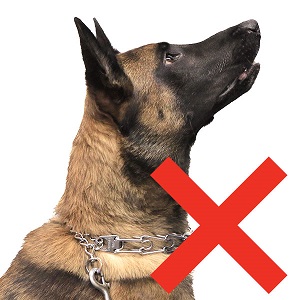 The proper fit means when the collar sits exactly under the jawline and adjusts snugly around the neck. It is the completely wrong way when the collar is too loose and drops down during walking. The correct position refers to sit the collar exactly behind the ears and up under the jawline.
Some pet proprietors or trainers try to put the collar on their dog by slipping it over their head and moving it down on the neck. Actually, it's the completely wrong procedure because pinch collars are made to be put on and put off by unhooking links and unsnapping the collar from around the neck. The correct way to unhook a collar is to pinch one of the links and pull it apart.
In most cases, the handler connects the collar behind the dog's ears and it is the easiest place to access links. But when the rings connect the leash under the dog's chin indicate the wrong place and that time you should rotate this to set the rings in the proper position on the dog's neck.
You May Also Like: Best Dog Dental Spray
Things You Need to Know Before Using Prong Collar
The Origin of Prong Collar
Many pet proprietors think prong collars are not enough pretty and definitely hurt their dogs when pulling the leash. But actually, it is a great training tool to communicate with your dog at training time or outdoor activities. It provides equal pressure around the entire neck of your dog and does not harm or damage the trachea if used properly.
Set the Collar Properly
Always be sincere about proper fit and ensure a comfortable snug fit right below the ears. Try to adjust the collar at the upper part of the neck so that you can do better communication during the training period. If the collar doesn't snug around the neck, there is the possibility to slip down and it may cause skin injury of your dog's neck. So, make sure a proper fitting of the prong collar before applying practically.
Considered as A Life-Saving Tool
Sometimes it can work as your dog's life-saving tool. Many pet proprietors don't willing to take their dogs outdoor because they can't control them for aggressive behavior. At outdoor, dog pulls, lunges, or runs desultory, and it becomes risky for their life. Otherwise, when a dog continuously lives at home without taking a walking or regular exercise it can practice bad manners at home like barking, chewing or jumping.
Day by day, these aggressive behaviors can reach at out of control for their owners and the owner becomes fed up and decides to leave them from home. In this case, the proper use of a prong collar may build a nice relationship between dog and owner and save the dog's life.
Not all prong collars work same: There are various manufacturing companies have designed collars with different features to train dogs. Renowned brands use high-quality material with a rounded point on the tips so that they do not poke to the dog's neck.
According to collar features and dog's behavior, trainers should choose the right one. Try to be confident and be fair while communicate with your pooch through collar item. Repeat the same instruction for a long time so that the dog understands about the command.
Read More Collar Reviews: Best Dog Flea Collars
Proper Use
Like other dog training tools, pinch collar is often misused by dog owners. Actually, it is not to be used for the only pull, rather you should use this to make a communication which you demand from your dog. It is not mandatory to wear the training tool all the time (24/7). The only time you can provide the pinch collar when you walk with your dog, run at the park or continue a training session.
So, you have to manage a purely positive trainer who is more humanitarian to guide your dog. It is unfortunate that some pet proprietor does not follow any instruction about pinch collar before use it.
Basic consideration for a Pinch Collar
After managing the pinch collar when you found it as safe, proper and suitable for your dog then you seek a skilled and certified trainer to ensure that you are applying the tool safely. Along with skillful trainer and suitable collar you should consider following issues to get better output.
Set the collar on your dog's neck in the correct orientation.
Admire your puppy with good words.
Commendation your loving puppy and encourage for its good behavior while putting the collar.
Help your dog by gently pull up on the leash to seek his attention to you and instruct him in your way.
More caring, affection, love, and praise encourage your dog to follow you.
If your dog violates your command, pop the leash immediately. Sometimes you can also generate some verbal sound when pooped.
"Never Give up", repeat your commands until your dog understands the proper behavior.
Some Misconceptions about Pinch Collar
There is a lot of dissension about the use of this training tool. Some dog owners simply dislike using this collar because they think it can hurt their dog. But it is indispensable to teach the dogs good behavior. Moreover, I have talked with many professional trainers and they show me pinch collars are misunderstood by a lot of dog owners.
Prong Collar Hurts Your Dog
It is a common misconception that, pinch collar hurts the dog's trachea and wound the skin. That's why pet proprietors have a kind of fear about this training tool. Actually, it is totally wrong because the links only affect the skin of the dog, doesn't directly reaches the trachea.
Most collars do not put pressure to trachea unless it strangles the dog. As a dog owner or professional dog trainer, you should never strangle your dog even when train him. It is very unethical and ineffective to do so.
They Don't Hurt Your Dog
Some pet proprietor may have a different opinion. They think since your dog is not reacting much mean they don't get hurt. It is true that some dogs don't react as much because they become used to with that for long time using. But as a dog lover, you won't want to keep your dog in constant pain.
As a dog owner, I never want to hurt my pooch unless it crosses out the correct manners. Sometimes, your dog becomes excited to see you after a long period of time or want to go out with you to walk around. But you don't upset for their excitement and put them the pinch collar as punishment.
Pinch Collar Can Be Used on Every Dog
Actually, it is also a wrong conception. Pinch collars are not for every dog because it hurts a lot to puppies and small dogs for their thin skin and the prongs might bite into them. It might cause bleeding or extreme pain on your pooch and in that case, you should use another collar to guide him.
These types of collars are absolute to train your dog but not more than that. You can always use provide positive punishment on dogs because it is the best way to train them. By talking with several professional trainers I have got that, pinch collars are better suited for those dogs that have fatty necks where the prong doesn't bite easily. For thinner necks, you should choose a different collar.
Final Verdict:
Personally, I have no hesitations on pinch collar because it is highly effective when the dog walks with you. If you can properly operate this tool, you have nothing to lose and everything to gain through your pooch.  In this case, I recommend you to a professional trainer to show the proper use of the collar and you can understand the correct way of doing it. It is safe, effective and allows you to enjoy life more and strengthen the bond you have with your dog.
Frequently Asked Question
What is dog pinch collar?
The pinch collar is a type of metal chain placed around your dog's neck. It is designed with small metal rings linked together and each has a set of prongs. These prongs pinch to your dog's neck while you pull the leash and the dog follows your own way. It is possible to adjust the fitness by removing or adding the links to the collar.
How to put on prong collar on dog's neck?
You should not put the collar on a dog through its head to save their eyes from injury. Just unfasten one of the links or the buckle, then put it into your dog's neck and fasten it.
How to change the size of the pinch collar?
It is very easy to change the size by adding or removing links from a pinch collar to change sizes. It should fit properly on your dog's neck to provide him maximum comfort.