As human beings, we love our canine friends very much and a good dog collar is badly needed for their overall safety. It helps to control, track and train your dogs about all good manners. It should be made of a comfortable and skin friendly material. You also should have enough expertise to use this in a proper way.
All quality collars assist more than the basic purpose which we will describe briefly in this guide. We have spent more than 72 hours researching and checking 50 different types and observed used materials, sizes, various colors, and styles.
Then we've selected the 10 best dog collars because it prioritizes safety and durability, those scored high points in every category and proved enough efficiency to make both you and your dog's life easier.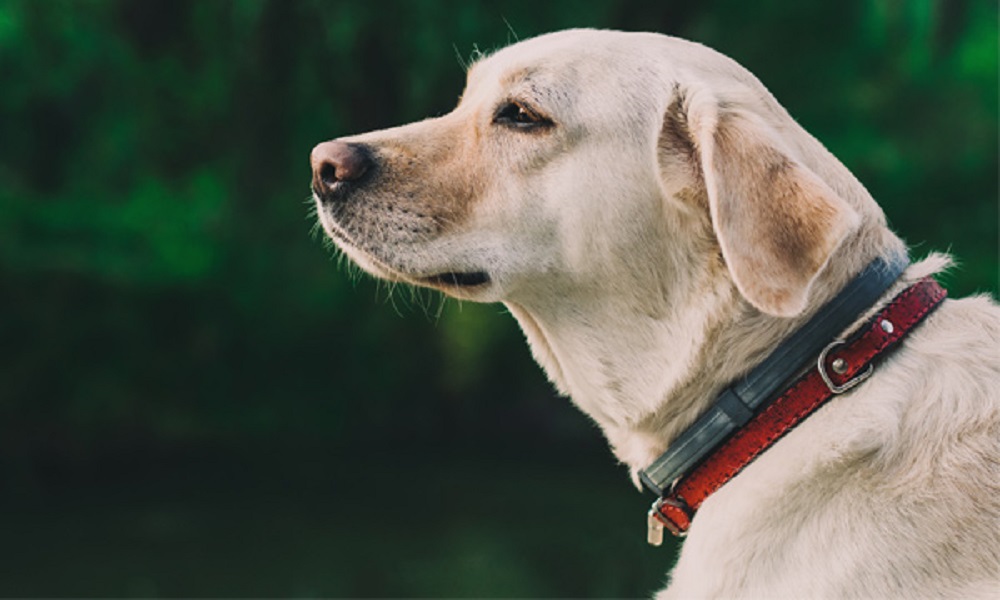 10 Dog Collars in 2023 – Reviews
1. Our Top Pick – GoTags Personalized Dog Collar
Top Pick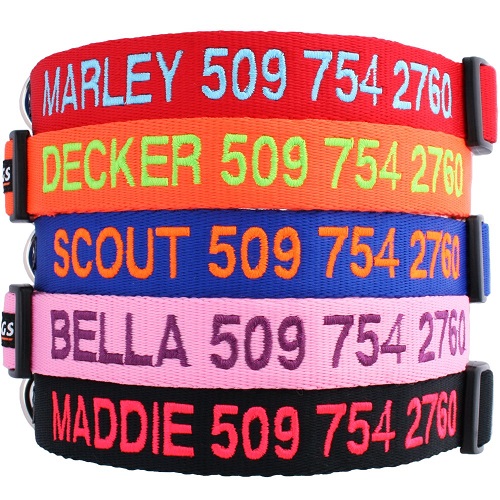 GoTags Personalized Dog Collar
Recognized as the best which comes with the permanent and long-lasting identification technology for your pet
Pet proprietors who like embroidered things, GoTags is best for them. It is the great identification for your pet comes with your dog's personalized name and phone numbers permanently embroidered onto the long-lasting collar. It has four different sizes and very easy to adjust with the accurate circumference of your pet's neck.
It is made of high-quality nylon webbing, a secure plastic side release buckle for easy and quick release, and a stainless D-ring for leash attachment. The edges of the collar are smooth and comfortable to use.
To define the accurate size of your dog's neck, wrap it snugly by tape and take the measurement. Then adjust its length range for a comfortable fit. Suppose, if the circumference of your dog's neck is 14" inches then select a 12"-17" inch adjustable collar.
There are 15 embroidery thread color and 5 basic colors to choose from blue, black, orange, pink and red. Within White, Black, Neon Pink, Baby Pink, Navy Blue, Sky Blue, Red, Gold, Turquoise, Purple, Neon Yellow, Neon Green, Neon Orange, and other more colors your only concern is getting the suitable one regarding your dog's compatibility.
Key Features:
Great for identification pet
Embroidery is permanently sewed
High-quality, smooth nylon webbing
Heavy-duty stainless steel D-ring
Easy and quick-release plastic buckle
Available 4 sizes and 15 embroidery color
What We Like:
The personalized embroidery ensures your dog's safety
Sturdy, but soft-touch comfortable collar
Super adjustable, perfect for dogs and growing puppies
Waterproof, machine washable, and easy to clean
Great in quality, highly recommended
What We Don't Like:
Comparatively price is bit high
2. Blueberry Pet Essentials 21 Colors Classic Dog Collar
Best Budget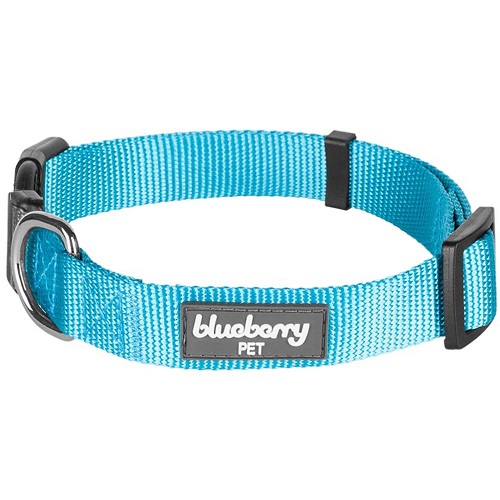 Blueberry Pet Dog Collar
Durable nylon fabric, eco-friendly plastic, and metal D ring ensure the optimum quality within the best budget
If you're looking for a budget-friendly collar which is secure and sturdy but not reflective, then the Blueberry Pet Classic is the best option. It is available in a range of stylish solid colors including red, black, purple, pink, blue and more, and suitable for dogs have a neck size up to 26".
The Blueberry makes for a simple and effective way to put the collar around your dog's neck. You can also customize the size if needed. This collar is designed by heavy-duty nylon fabric with eco-friendly plastic buckles and chrome-coated durable metal D-ring for strength and durability. The neoprene inner layer confirms the good comfort for the dog when pulled forcefully.
We do recommend this classic collection to really complete your dog's fashion for everyday wear. The wide range of colors allows pet owners to find out the best suits for their dog's coat or harness.
Key Features:
Strong, durable, high-density nylon webbing
Eco-friendly quick-release plastic buckles
Available leash and harness separately
Chrome-plated D-ring
10 color design options with 4 collar sizes
Ensure a complete matching look
What We Like:
This makes bacon as your dog walks
This works well for goats too
The chew resistant, durable, and strong collar
Waterproof and machine washable
No frying of the fabric
What We Don't Like:
Bit tough to release the clasp
3. PetSafe Gentle Leader No-Pull Dog Head Collar
Thanks to the Gentle Leader for ensuring awesome benefits of stress-free walks for dogs. Headcollar is also known as Head halter looks like a muzzle but use in a very different purpose. The design helps to dog owners to communicate with their pet very easily only by pulling the leash.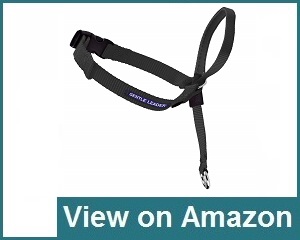 It is the best choice for controlling general aggression of dog's behavior, anxiety, and obsessive disorders. It is also effective to protest lunging, jumping, and excessive barking. Most of the dogs adapt with this very easily and respond quickly within minutes.
Petsafe made this item from lightweight nylon which is extremely durable with a neoprene padded nose loop for total comfort. It features a two-loop design where one loop goes around the dog's neck and the other one around its nose. Both the neck strap and loop adjusted separately and free to make the custom fit collar. It is one of the most versatile design on the market available in five sizes and suitable for dogs from 5 to 130 pounds.
Key Features:
Made from lightweight and durable nylon
Completely adjustable and comfortable both neck strap and nose loop
Ensures easy and quick control
Helps to prevent unwanted aggressive behavior
The package includes fitting instructions with a comprehensive DVD
What We Like:
Ensure your dog's complete freedom
Allows dogs for running, pulling, and jumping
The comfort padded design keeps your dog calm
The vet recommended collar allows full range of motion
Easy to fit and guaranteed quality
What We Don't Like:
The snap clip is a bit hard to snap
4. Illumiseen LED Light Up Dog Collar
This USB Rechargeable Collar is fantastic for keeping your dog visible at night. You can always use this on your dog's neck and go out for a walk or a run in darkness. It is a flexible strip of LED light ensures your dog's identity during the night. It also improves you and your dog's safety and makes easy for drivers to see the pooch on the road and take the necessary steps from a large distance to preventing accidents.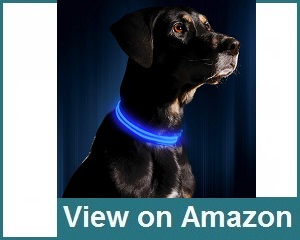 Moreover, Illumiseen is the best and biggest in the LED dog collar industry and constructed of durable materials so that you can rely on it to last your dog's lifetime. A small USB port built into this dedicated to charging the rechargeable battery. It becomes fully charged within 1 hour and lasts for multiple walks means more than 5 hours' worth of light.
There is a 27 inches long adjustable strap attached with this which is suitable for any breed and size of the dog. This LED collar also comes with 6 different colors to choose from – bright orange, ruby red, neon blue, cotton candy, neon green, and sunburst yellow.
Key Features:
Made of strong and durable materials
Not super expensive but ensure a lifetime guarantee
Six LED light color options with six sizes
3 LED light Mode- Steady, Rapid flash and Slow
Rechargeable battery with USB charger
Comfortable, User-friendly, and fully adjustable
What We Like:
Allows dogs to move at the dark night
The highly visible glow collar keeps your dog safe
Protects from road accidents or other unexpected danger
Long lasting and features a lifetime guarantee
Very adjustable and weatherproof
What We Don't Like:
5. Soft Touch Collars Padded Leather Dog Collar
This soft-touch leather collar ensures extreme comfort for your dog. It comes in small to extra-large size and very easy to pick the right one for your dog. The total length is 24 inches, it is soft padded and beautifully stitched reinforces against wear and tear.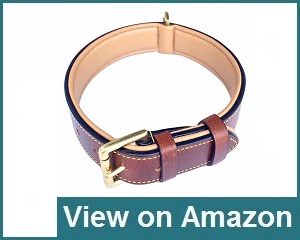 Additionally, it has a two-tone design and looks very fascinating after putting the dog's neck. There are several variations of colors and you can choose any one by matching with your dog's fashion. Along with various colors, it has also 3 different sizes so that you can absolutely adjust the measurement.
The buckle is made with solid brush golden metal hardware which is scratch-free, rust-resistant and ensures maximum durability. Another excellent feature is, this comes in a generous lifetime guarantee and allows returning anytime for any reason. So, undoubtedly you can depend on this due to its construction and longevity. read full review
Key Features:
Genuine leather construction
Internal soft padding ensures maximum comfort
No harsh chemicals or dyes are used
The D-ring and buckles are made with solid brush hardware
Comes in various sizes and colors
Superior quality and lifetime guarantee
What We Like:
Looks awesome with the matching padded dog leash
Soft sheepskin leather padding at the inside
Features rust resistant sturdy D-ring
Amazing customer service after delivery
Pet proprietors love the stylish and long lasting design
What We Don't Like:
Not sufficient adjustment holes for proper fit
6. Herm SPRENGER Ultra-Plus Prong Dog Training Collar
Herm Sprenger Metal Prong is used as a dog training collar suitable for large breeds like stubborn and those dogs show aggressive behavior. Most cases prong collars look like harsh but very efficient as a training tool, especially for destructive dogs.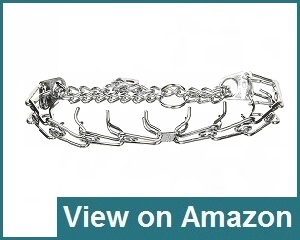 It is made from stainless steel and features a patented center plate structure like proportioned prong placement for highest efficiency. The solid closure plate makes it easy to clasp the collar around the dog's neck and clip it to the leash. You can easily adjust the size regarding your dog's neck by adding or removing links.
Usually, prong collars are long enough and effective for thick coated dogs but completely safe to prevent injury. Many pet proprietor reviews about the quick result mean how quickly it helps to change their dog's behavior. For very large dogs you may need to collect individually some additional links to adjust with the dog's neck.
Key Features:
Designed with very high-quality chrome coated steel
Safe and secure as an efficient dog training tool
Very effective for dogs up to the 14-inch neck
Made in Germany
Quality guaranteed
What We Like:
It is safe, secure and easy to use for pet proprietors
Features safety end of the pet and the owner
Facilitate to add or remove links to adjust with the proper size
Available solid fastener plate ensures secure connection
Available center plate allows for correction
What We Don't Like:
It is bit tough to put on and off
7. If It Barks – 1.5″ Martingale Collar for Dogs
Conceptually, it is similar to prong collar allows you full control of your pooch by spreading out the pressure around dog's neck when tightened like traditional items. Rather than metal links martingales made from nylon webbing and have no prongs. It is considered as the safest correction helps to prevent your dog from aggressive manners.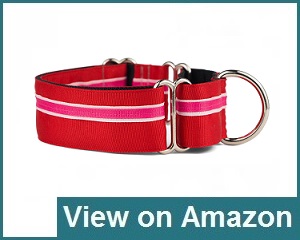 Moreover, this is designed to keep your dog from slipping out when they bolt after a squirrel. It is especially effective for small and large dogs that have thick necks like Italian Greyhounds breeds. The martingale collar is most suitable for almost every dogs and regular use takes away the risk of the dog breaking out of ordinary collars.
This wide martingale is designed with two loops of webbing where one loop wraps the dog's neck and other controls how far the collar open or close while your dog pulls. It is renowned for its unique style, quality, and durability.
Key Features:
Made with quality materials
Sturdy and durable construction
Provides optimum control over aggressive dogs
Keeps your dog comfortable on walks
Stylish design made in the USA
What We Like:
The easy cleaning durable grosgrain ribbon
Strong nickel plated D-ring
Durable stitching for strength
The perfect collar for dog obedience
Comfortable and stylish handmade product
What We Don't Like:
Great collar, but not long lasting like other collars
8. EzyDog Neo Classic Waterproof Dog Collar
The Neo collar is best suited for large dogs and recognized as the most standard in the industry for its comfort and functional level. The construction makes it incredibly sturdy, durable, sporty, waterproof and rustproof. It radically reduces the odors won't absorb oils so that easy to clean and quick to dry.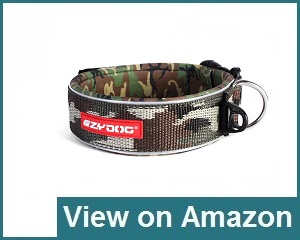 In this collar, the soft rubber neoprene is reinforced with nylon webbing for more strength. The rolled edges are soft and provide a soft comfortable finish against dog's neck. Like others, the hook and loop adjustments help to make the proper sizing. The quick release buckle offers the easy-on and easy-off facility.
This classic design comes in a separate built-in ID Clip to firmly attach your dog's tags. It also provides a strong rugged Stainless-Steel D-ring for secure leash attachment. The integrated reflective piping allows greater visibility in low light conditions to enhance the safety at nighttime around your dog's surrounding.
Key Features:
Suitable for large dog breeds
Soft rubber neoprene with nylon webbing reinforced the strength
Best in comfort, style, and durability
Welded stainless steel D-ring
Waterproof, easy to clean and quick drying
What We Like:
Features Velcro for fast and easy adjustment
Completely waterproof classic wide durable dog collar
The quick release buckle helps to easily get on and off
Greatly visible at low light condition
Nice thickness, sturdy, durable, and comfortable
What We Don't Like:
Not recommended for small dogs
9. Pupteck Medium Fancy Dog Collar with ID Tag
The Puptech Basic collar is special for small dogs of different sizes who are in between one to eight weeks old. It comes in two different sizes; small and medium. The small size adjusts between 7-10 inches neck size and the medium size adjusts between 9-12 inches necks.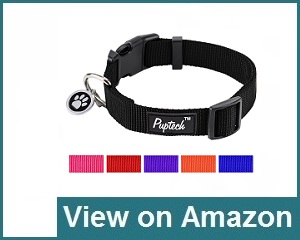 Puptech is made of pure nylon material and is quite comfortable for specifically young puppies. At the beginning of life, puppies have soft and sensitive skin, and owners should be careful about using this. Puptech ensures more snug and comfortable design for puppies. It is properly stitched and the edges are completely finished to save your pooch's sensitive skin.
The durability holds up against all the biting and pawing of puppies. It also contains a BREAKAWAY plastic buckle for a clasp. Breakaway means the buckle automatically open when it receives extreme pressure. Actually, it's a safe idea to protect your dog from danger. Moreover, a durable metal D ring is included with the collar used to hold a leash but you can hang an ID tag and a leash on the D ring if necessary.
Key Features:
Made from high quality, durable, light-weight, and nylon material
Easy and quick-release plastic buckle
The strong metal D ring is sewn into the collar
That breakaway buckle snaps and unsnaps pretty easily
Customizable ID tag
What We Like:
Most suitable for puppies or small sized dogs like Chihuahua
The adjustable length keeps your dog much comfortable
Lightweight, and ensure firmness
Very convenient to adjust with the neck size
Amazing product for every day wear
What We Don't Like:
Not suitable for large or extra-large dogs
10. Pawtitas Reflective Dog Collar with Stitching Reflective Thread
The Pawtitas reflective collar is ideal for growing pups. It is extremely flexible, made from thin, soft nylon and ambient light to provide maximum visibility in low light conditions or deep darkness. Though it is highly reflective the brightness actually depends on the used color. There are a wide variety of colors and some colors generate higher reflection than others.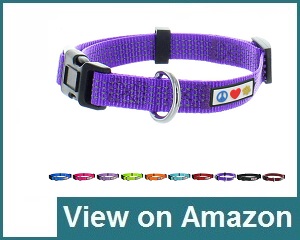 Especially the inner part is quite soft and comfortable enough to save your dog from skin irritations, scratches, or chaffs. The properly sewn edges also relieve dogs from injury. The manufacturer designed this collar ergonomically with easy functionality which helps for easy walking, running, or outdoor use.
This uses a black plastic buckle which is strong enough to withstand the pressure of frequent handling. The attached metal D ring is used for hanging the leash.
It is rust and tarnish-resistant and contributes to the 'overall water safety' of the collar. The ring is also located nearly the buckle and helps to avoid pressure around the dog's neck and makes it to wear more comfortable.
Key Features:
Outstanding for puppies and extra small dogs
Reflect ambient light in extreme low light conditions
The ergonomic design makes the functionality easier to use
Variety of different colors generate various color intensity
Recommended for optimum safety and comfort
What We Like:
Features reflective stripes stitched into the collar
The adjustable design helps to fit properly
Available safety buckle and D-ring for leash
Available matching leash and collar in this product
The high quality great collar for puppies
What We Don't Like:
What is Dog Collar
The dog collar is a piece of material put on the dog's neck to identify and control its movement. It is the most common form of directing and training dogs. Sometimes these are very useful to guide dogs manually, as they offer a handle for seizing.
Few of them come in identification tags and medical information helps to identify the dog and if it gets lost. In some cases, collars are used in conjunction with a leash and work as a common alternative to a dog harness.
Types of Dog Collars
Flat Collars: These are the most basic type of collar, made of a simple strip of material with a buckle or snap closure. They are suitable for most dogs, but may not be effective for dogs that tend to pull on their leash.
Martingale Collars: Also known as limited slip collars, these are designed to prevent a dog from slipping out of the collar. They have a loop of material that tightens when the dog pulls on the leash, but will not tighten to the point of choking the dog.
Choke Chains: Choke chains are a type of collar that tighten around a dog's neck when pulled. They are not recommended for use with dogs that pull on their leash, as they can cause injury or discomfort.
Prong Collars: Also known as pinch collars, prong collars have a series of metal prongs that pinch the dog's neck when pulled. They are not recommended for use with dogs that are not trained to wear them, as they can cause pain or injury.
Harnesses:

A harness

is a type of collar that goes around a dog's chest and torso. They are recommended for dogs that pull on their leash, as they distribute the pressure more evenly and reduce strain on the neck and spine.
GPS Collars: GPS collars are designed to track a dog's location using satellite technology. They can be useful for dogs that like to roam or are prone to getting lost.
LED Collars: LED collars have small lights that make the dog more visible in low light conditions. They can be useful for night walks or for dogs that like to run off-leash in open areas.
Fashion Collars: Fashion collars are designed to be more decorative than functional. They can be made of a variety of materials and can come in many colors and patterns.
It's important to choose the right type of collar for your dog's needs and behavior. Consult with a professional dog trainer or veterinarian if you're unsure which type of collar is best for your dog.
Reason to Buy a Quality Dog Collar
Security
Safety comes first! So you have to ensure a well-made, reliable, and secure collar for your dog's optimum safety. Analyze few issues like used materials, size, weight, and type regarding your dog breed to maintain the quality level.
You need to be aware of the ring of the collar which should be made of durable metal and securely fastened to it. A suitable length is also mandatory for proper fit on your dog's neck. You also have to know how to wear the collar and the accurate position for a comfy and snug fit.
In case of loose fit, the dog's head may easily slip out and a tight fit may hurt on the trachea and cause of death. So don't be confused to choose a quality thing with its proper use.
ID Tags
Dog owners know the importance of "Dog's ID" if they lost their pet. Securely attaching the identification information to your pet's neck diminish the possibility of getting lost even it decides to go on a solo adventure.
In this regard, dog collars are the universal tool where you can attach the microchip which reserves your dog's overall identity. It provides the facility to get your dog back faster when the ID Tag contains the detailed address and phone number.
Since the essential identification tag hangs on it, so you should be sincere about the quality and reliability of this. Without wearing collar a dog seems to be a stray or feral and deserves less importance when need to help it at all.
Style
Along with security and identity tags, it is also used as a fashion accessory. There are lots of designs and don't mistake choosing the best suit regarding your dog's dresses. On special occasions, sometimes a fashionable design helps to present a lot about both you and your dog.
Most of the luxury collars are not made for durability, so if your dog is a bit rough and aggressive then avoid this. Actually, a well-behaved dog deserves fashion accessories.
Benefits of Using Dog Collars
There are several benefits to using dog collars, including:
Identification

: One of the primary benefits of using a dog collar is to provide identification for your dog. A collar with a tag that includes your dog's name and your contact information can help your dog be returned to you if they ever become lost.
Control

: Dog collars can be used to control your dog's movements and prevent them from running off or getting into dangerous situations. Collars can also be used to attach a leash, allowing you to guide your dog during walks or training sessions.
Training

: Some types of collars, such as choke chains and

prong collars

, can be used for training purposes. However, it's important to note that these types of collars should only be used under the guidance of a professional dog trainer.
Style

: Dog collars come in a wide variety of styles, colors, and materials, allowing you to choose one that suits your dog's personality and your own personal taste.
Overall, dog collars are a useful tool for pet owners, providing identification, control, training, and style benefits. However, it's important to choose a collar that fits properly and is appropriate for your dog's size and behavior.
Things to Consider Before Choosing the Dog Collars
There are a number of features to consider about before purchasing a new one for your dog like:
Materials
It is compulsory that the collar should be soft and smooth and totally free from harsh chemicals which can tease on your dog's neck.
Leather and nylon are the basic sources for primary construction. Sometimes polyester and other synthetic materials are also used. You will get the preference regarding your dog's requirements and get the privilege to select the material you want for your pet.
Durability
Sturdiness is another vital attribute of dog collars, especially for aggressive chewers. Few dogs found the collar more palatable than its regular chew and destroy it by chewing aggressively. So you have to look out for maximum durability so that it lasts at least several years. Be sincere about leather collar because they can crack and harder to clean. Synthetic collars dry faster and absorb odors. That's why a quality collar should be flexible, lightweight, and chew proof.
Weight
It implies strength and structure of the product. Usually, metal collars are heavy in weight and not suitable for small breeds. Leather collars are more durable than nylon and create more pressure on the dog's neck. So, always choose strong durable but lightweight items so that your pooches don't feel tired to enjoy the training session. Moreover, thicker collars are heavier and consume more weight can hurt your dog's trachea.
Breed
It is a vital consideration you should think about before buying one. Larger dog breeds like Boxers or Bulldogs would do better with collars. But most of the time it would be very hard to sort out the suitable one for smaller breeds such as Yorkies or Chihuahuas who feel trouble adjusting with various collars. For outdoor walking, it is safer to use a harness than a collar. As a training tool, it is more popular for a specific dog breed.
Leash Compatibility
Consider the type of leash you will use with the collar and ensure that they are compatible. Some collars have built-in leash attachments, while others require separate attachments.
Size
Proper size is the basic concern for an ideal collar. So, before purchasing, sort out your dog's measurement to determine the appropriate size. For a 14 inches neck order a 12-16 inches collar to fit snugly.
Select a small with for pups and thicker with for larger dog breeds. It is more comfortable to wear a wider collar because it distributes the pressure across the larger area of your dog's neck. There is no permanent size that may be the best for your dog but you have to relate to your dog's neck with the best quality collar.
Some Safety Tips
There are some important safety tips you should remember. Here, we have listed a few tips you can follow to stay your dog safer.
Ensure your choice is properly sized regarding your dog's neck. Too big size can easily slip out and those are so tight can hurt your dog's trachea also cause breathing problems.
Don't use a prong collar on puppy's neck because it can damage to the throat and spine.
Never use a collar all the time. It disrupts the normal life of the dog and can damage its necks.
Manage one which fits with your dog's lifestyle. If the dog likes to spend most of the time in the water, then picking out a leather collar should not be a good idea.
Choose a type of collar which works best with your dog's personality like a nylon collar that allows the dog in water and playground without any disruption.
Always try to keep the collar clean and check for damage to the buckle, or the longevity before tears itself.
Don't use a training device 24/7 if your dog has not aggressive behavior.
Usually, it should not provide a choke collar to any dog
Final Verdict
There are various styles, colors, and effective features of collars on the market and really it is a big challenge to find out the desired one based on your dog's nature. We hope our detailed product reviews and buying guide will help you to make the right selection. Actually, authentic information assists you to narrow down your choices easily.
During the choosing time, remember your dog's demands and personality so that you could be enough confident about the collar that will work best and be around your dog's neck for a long time to provide proper training. If you feel, consult with professionals about your choice and take the necessary guideline to use the device properly.
Frequently Asked Question
What's the best collar for an active dog?
If your dog loves to go with outdoor activities, running on the ice or hill and spending time in the swimming pool, then you should collect a hard-wearing collar which is easy to maintain after using. In that case, Neoprene is probably the best choice because it performs very well in water, mud and heavy use. A machine washable item is most suitable for the pooch who likes to play in the mud.
Can I buy a collar for my growing puppy?
It's a big challenge to wearing a collar and walking on a leash for your small canine. In this case, it should be soft, thin, lightweight, and much big for the best suit in its neck. Don't be strict on your pup after wearing a collar because it may seriously injure him.
How to found a dog collar?
It is not hard to choose a dog collar. Basically, you should remember a few factors while purchasing like the size of your dog, his or her age, breed, sensitivity, behavior, choice and comfort. The style could be also a considerable issue when your dog behaves like a fashion lover.
How to measure the proper size of a dog collar?
The wrong size can create a big problem for both you and your dog. Too large may slip out from your dog's body and too tight may badly injure your pooch. So, how can you get the right size? Normally, you have to measure your dog's neck by using a tape to get the actual size. Moreover, here is a common list of collar measurements.
Large breeds (More than 85 pounds) 3 inches plus
Medium breeds (Bellow 85-10 pounds) 2 inches plus
Small breeds (Less than 10 pounds) 1 inches plus
Does a dog collar can hurt on my dog's neck?
Actually, pulling on a collar is not the actual cause of harm your dog immediately. It helps to train your dog and get them back in line. But sometimes it may cause of your dog's neck injury when pulling or running fast to the end of the leash.
How often should I replace my dog's collar?
You should replace your dog's collar if it becomes worn or damaged. It's also a good idea to replace it if your dog outgrows it or if you want to switch to a different type of collar.
Can I leave my dog's collar on all the time?
It's generally safe to leave your dog's collar on all the time, as long as it fits properly and is comfortable. However, some pet owners prefer to remove the collar at night or during certain activities, such as swimming or playing rough.
How do I clean my dog's collar?
The cleaning instructions will depend on the type of collar and the material it is made from. Most collars can be wiped down with a damp cloth and mild soap, while leather collars may require special leather cleaner. Be sure to follow the manufacturer's instructions for best results.
What type of collar is best for training my dog?
The type of collar you use for training will depend on your dog's behavior and your training goals. Consult with a professional dog trainer to determine which type of collar is best for your dog's needs.
Can I attach a leash to any type of dog collar?
No, not all types of collars are designed to be used with a leash. For example, a fashion collar may not have a leash attachment. Always check the collar's specifications to ensure that it is safe and appropriate for use with a leash.